Boldly declaring that static camera shots are boring, British YouTuber and Maker James Bruton took to creating an AI-Driven, 3D-printed robotic camera operation rig for his studio.
This seems like a gargantuan undertaking, even for a simple automated camera rig. But Bruton is more than up to the task, being a robotics fanatic and a former toy designer.
The Automated, AI-Driven Camera Rig is capable of following its subject all around a set, keeping them in focus, and moving across the floor, as well as adjusting multiple axes automatically, and keeping focus.
The camera uses some hefty servos to operate the two-axis pan and tilt camera gimbal, which he designed in OnShape and 3d printed. The entire system is battery-powered from heavy-duty LIPO batteries embedded in the three-wheeled Omni-driver base.
In the gimbal, he inserted his Panasonic Lumix GH5 Mirrorless camera and lens. Moreover, Bruton attached a follow focus gear to his camera lens, and connected that to a third server to control the zoom, while he relied on the camera's autofocus to maintain sharpness.
He then turned his attention to a three-wheeled Omni-driver which contains motors for each wheel in order to move the entire rig across his YouTube set.
From there, Bruton hooked up a Jetson Nano Control board and then used open-source gesture control software to train the entire rig to react to hand gestures and facial changes. The camera is then connected to the board through HDMI in order to use the video signal to interpret the visual data.
This took some testing and tweaking of the algorithm to not only recognize the movements but to reduce the lag time in the camera rig reacting. Bruton was also able to have the camera automatically zoom out in order to keep his head from being cut off.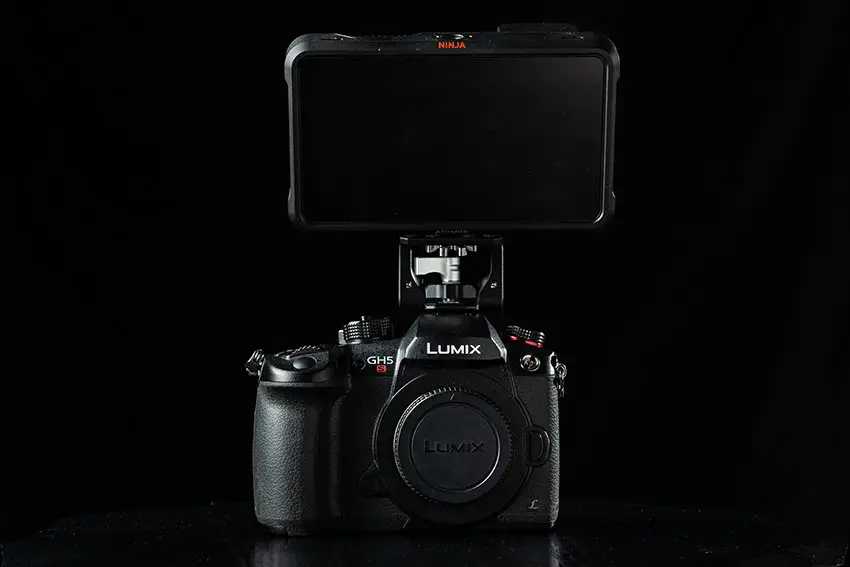 The camera will zoom in as Bruton moves away from the rig and widens as he gets closer, and Bruton also is able to stay in focus using the auto face tracking feature of the GH5.
Bruton also wanted to have some manual overriding features, and therefore he wired in some foot pedals in order to take control of any axis or zoom feature with a manual press of the proper foot switch.
The tracking values are also customizable so that the camera will revert to the programmed location with another press of button. He also attached a viewing screen to verify that the camera is always keeping him in frame.
The result is that the camera rig is able to organically, and reactively follow a human subject as they move about the scene, and the user can fine-tune the code to make the speed and reactivity of the robotic camera rig to their liking.
Granted, this project isn't going to find its way onto a professional set, but for those looking to do some live streaming with a one-man crew, having a robotic camera-operated gear that can anticipate one's every move and keep it in focus can be of great benefit.
So if you want to build your own rig, Bruton has published his code, along with all the 3D-modeled CAD drawings on GitHub. You can also follow Bruton's progress on this and other robotic projects he seems to love to create on his XRobots website, his YouTube Channel, and his Instagram page.
[source: James Bruton on YouTube]
Claim your copy of DAVINCI RESOLVE - SIMPLIFIED COURSE with 50% off! Get Instant Access!