You may remember that last month in November we posted about the new Tascam DR-701D multi-track recorder, the next evolution of the popular DR-70D field recorder for DSLR shooters. The DR-70D successor has some rather intricate features such as the addition of HDMI In/Out, Timecode via SDI, design improvements and a few more interesting features. Not much has been seen from this new recorder recently, but just this past week, our good friend Curtis Judd from LearnLightandSound.com posted his review of the new Tascam DR-701D, which you can see below.
Here's a Summary of what Curtis likes and dislikes about this field recorder:
Pros:
4 x XLR inputs with good pre-amps – better than predecessor's
Good build quality
Easy to read LCD screen even in outdoor conditions
Continuous gain knobs, rather than ones with steps
HDMI Timecode from Camera
Records a stereo mix in addition to 4 solo tracks
Can be powered by USB battery packs for hours
Decent price point at $599
Cons:
Not so great battery life (when powered by 4 x AA's)
Limited is digital, not analog, cannot compensate for abrupt changes in volume and clips
Internal timecode clock drifts easily (with 5 frames in his test) when not fed constant TC
Menu is one long string of (18) pages, as opposed as separate sub-menus on separate pages
I really like Curtis' reviews, his style is pretty straight forward and easy to understand for all of us wanting to get some solid info on a new audio recorder or microphone. At the moment I am in the market for a new external recorder having sold my Tascam DR-100 Mark II, which served me for over three years, but I feel I need to step up to a more serious recorder with more XLR inputs and advanced features.
I think the Zoom F8 is great, but it's out of my budget (it's $1,000 – while the DR-701 is nearly half that at $600), and while I was considering the older DR-70D, now with the new DR-701D it seems that getting the new recorder is the way to go, as it has all I need – 4 x XLR inputs, a more flat design that can be easily mounted below or above my rig and also independent gain controls for each channel. The Timecode is a real plus too. I really don't need the additional XLR inputs or advanced features of the Zoom F8, so for now the DR-701D is on the top of my list.
Do you guys have any recommendations? What do you think of the DR-701D? I'd love to see your comments below.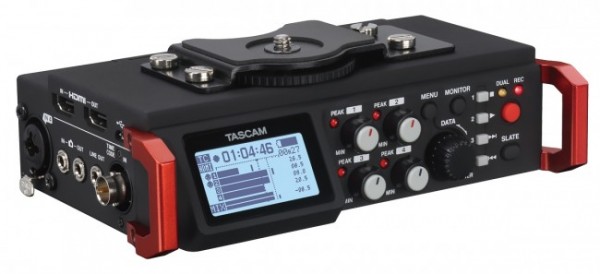 Tascam DR-701D Features
Record 4 Channels + Stereo Mix
4 XLR/TRS Inputs with Phantom Power
Dual Built-In Omnidirectional Mics
Stereo 3.5mm In for Stereo Mic
3.5mm Camera In/Out
BNC In for Sync to SMPTE
HDMI in Supports Start/Stop from DSLR
Writes Time Data to Recorded Audio Files
Records Up to 24-Bit/192kHz
Mount to DSLR or Tripod
DR-701D Tested Camera List
HDMI Clock Sync, Start/Stop Trigger & HDMI Timecode Supported Cameras:
HDMI Clock Sync & Start/Stop Trigger Supported Cameras (HDMI Timecode Not Supported):
If you want to learn more about getting great Production Sound for Video be sure to check out Curtis Judd's online course here.
Claim your copy of DAVINCI RESOLVE - SIMPLIFIED COURSE with 50% off! Get Instant Access!