Having the ultimate 8K video editing setup doesn't necessarily mean that it'll work for every editor, even though it is still nice to watch and see what crazy systems some folks come up with for post-production these days.
In the video below, Linus Sebastian from Linus Tech Tips showcases his version of the ultimate 8K video editing rig, complete with two top-of-the-line 8K monitors, a $10,000 graphics card from NVIDIA, and enough computer power to blaze through heavy workloads.
The shining star of this system is the Dell UP3218K 31.5″ 16:9 8K IPS Monitor, one of the first computer displays available for purchase with such a high resolution. With 100% AdobeRGB Coverage, a professional 10-bit panel for accurate color work, and a 60Hz refresh rate, this monitor is a real pleasure to work with when it comes to video editing.
Each unit has a whopping 7680 x 4320 resolution, forcing the user to scale Windows 10 up to 300% with lots of screen real-estate to spare. In fact, due to the insane resolution, the monitors require four DisplayPort inputs to operate, meaning that you have to use a graphics card powerful enough to run both panels simultaneously.
And, before you think that these 8K displays are absolute overkill, let's take a closer look at the graphics card used in the build. The entire system is powered by a single, recently-introduced NVIDIA Quadro GV100. For a ludicrous price tag of more than $10,000, the card features 32 GB of HBM2 Memory which is more memory than any average video editor would ever need. In addition, the GPU comes with 5,120 CUDA cores and 620 Tensor Cores, typically used for AI and Deep Learning Applications.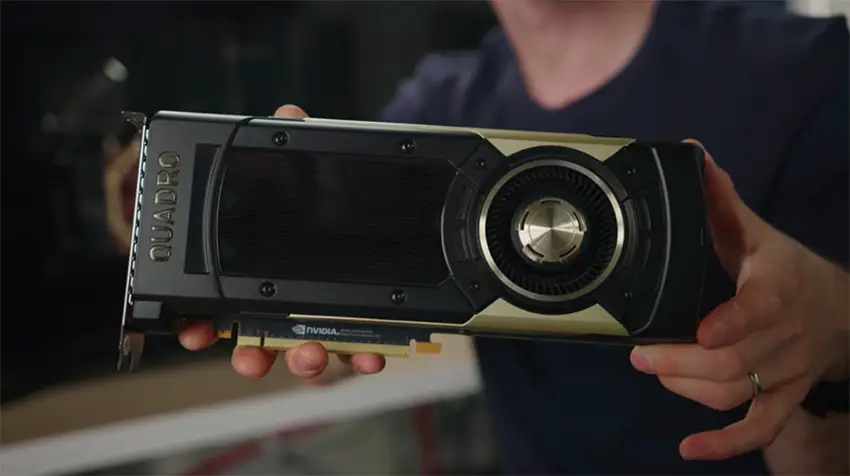 Instead of AI work, however, the card is used for video editing in this system, with the CUDA cores attributing to solid performance inside of  Premiere Pro CC which is well known for running more efficiently with NIVIDA graphics.
To summarize the other components in the system, the heart of the build is the Intel i9 7980XE 18-Core Processor with up to 2.4 GHz Turbo Boost. It's mounted on the Asus WS X299 Sage Motherboard which also accommodates 128GB G-Skill Trident Z RAM and two Samsung 960 Pro 512GB SSDs. The workstation is powered by a C-Sonic 80-Plus Titanium 750W PSU for maximum power efficiency, all housed in a simple and sleek Corsair 600Q Chassis with a clean, matte-black finish.
For the audiophiles out there, the workstation uses Audioengine A5+ Powered Speakers which aren't the most professional set of speakers available. However, they do possess a flatter sound signature than many rivals on the market, making it perfect for video editing.
The Odyssey LCD-2 headphones, on the other hand, with their open-back design and planar magnetic drivers deliver strong, accurate, and powerful-sounding acoustics for editors trying to get more intimate with their audio. Lastly, the audio hardware is rounded out by the Modi 2 DAC and Valhalla 2 Headphone Amplifier by Schitt Audio (yes, it's pronounced exactly how you think it is).
Mainly due to the 32GB of GPU Memory, 128GB of system memory, and of course the 18-Core Intel processor, the workstation can handle individual streams of native 8K footage with ease and no dropped frames. However, when dealing with multiple layers of 8K footage, color effects and other various layers, the custom PC does begin to choke under the strain of the system's processing demands.
So, for editing 4K footage on a regular basis, it would be safe to say that this beast has more than enough power to handle the task. The only problem I see is that you'll have to shell out more than $25,000 to get your hands on such a system, which unfortunately is still beyond the scope of most content creators out there.
[source: Linus Tech Tips]
Claim your copy of DAVINCI RESOLVE - SIMPLIFIED COURSE with 50% off! Get Instant Access!