Packing and storing valuable gear is always a challenge especially when you have to fly or lug around multiple hard cases for a remote shoot. Luckily, Pelican Cases, a name synonymous with impeccable quality and legendary durability, unveiled a brand new line-up of super-light travel cases called Pelican Air. These new lightweight cases are pretty cool as they not only retain the solid construction and durability users can expect from a Pelican case, but are also 40 percent lighter compared to existing popular models, thus helping out shooters who often are faced with substantial charges for excess baggage on plains. The new Pelican Air cases will be available in a total of six travel-ready size variations. Pelican Cases were able to shed a considerable amount of weight for the new Air line-up thanks to a lightweight HPX2 resin and the next generation of Pelican's proprietary formula that rebounds to stress without breaking.
One of the new cases is the 1535 Pelican Air case, which sports the same dimensions as the popular wheeled carry-on 1510 case and complies with current airline regulations, has been designed with the frequent flyer camera and audio professionals in mind.
By all accounts this case (and the rest of the Air cases) has the potential to be very popular among video professionals as it can be carried on a plane in the overhead compartment. Other models include the more compact 1485, 1525, an the bigger 1555, 1605 and 1615.
Pelican Air Features
Super-Light Proprietary HPX² Polymer
Proven Tough Double-Throw Latches
Automatic Purge Valve Balances Air Pressure
Watertight O-Ring Gasket
New Style "Conic Curve" Lid Shape
Crushproof and Dustproof
Stainless Steel Hasp Protectors
Rubber Overmolded Handles
New Removable Polycarbonate Card Holder With Front or Side Placement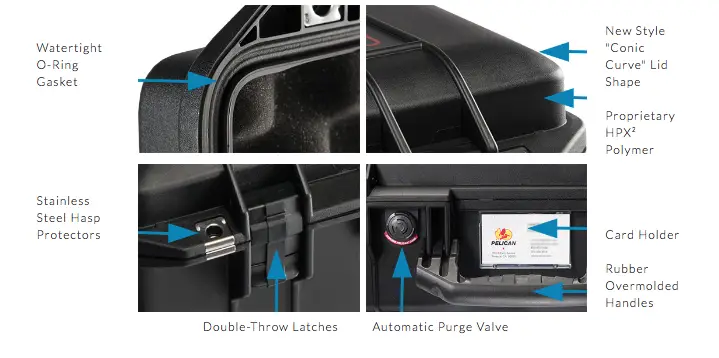 "The Pelican brand is synonymous with protection and has set the gold-standard in the protective case market for more than 40 years," said Lyndon Faulkner, President and CEO of Pelican Products. "While using the Pelican classic case design as the basis for the new line, our engineers have spent the past two years re-imagining the classic case with a focus on taking out weight while maintaining the same high level of performance customers have come to expect from Pelican. This revolutionary Pelican Air case design underscores Pelican's continuing commitment to innovation and making a legendary product even better."
The Pelican Air cases will be available in the following configurations:
No Foam (empty)
Pick N Pluck™ foam – cube shaped foam that is fully user customizable
Padded Dividers – newly redesigned with a fully-sewn tub, felt exterior and high-visibility yellow interior, making it easier to identify equipment
TrekPak™ – a completely new divider system with rigid, customisable panels and locking pins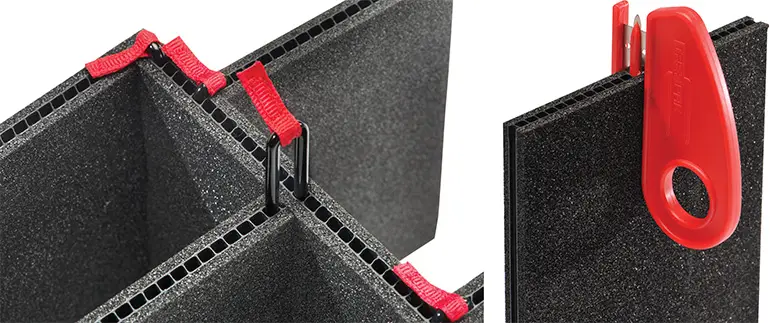 The new Air cases also feature the new TrekPak divider system, which saves space, can be adjusted in seconds and is completely customizable. The TrekPak divider system has been quite popular with the rest of the Pelican lineup and adored by many filmmakers due to the locking pins and customisable panels, that you can cut into any sizes depending on your needs and how many accessories you need to pack with your camera or audio/lighting gear.
The Pelican Air cases are scheduled to ship from May 1st from authorised dealers such as B&H. Pricing varies depending on size and divider system chosen. The lowest price below indicates an empty case without foam or inserts and the highest – the version with the TrekPak divider system.
You can pre-order via the links below.
Claim your copy of DAVINCI RESOLVE - SIMPLIFIED COURSE with 50% off! Get Instant Access!