The latest firmware update 1.5 for the Digital Bolex D16 is called ELF, and it is quite substantial adding a Bolex Log as well as Bolex Gamma, which is based on a classical film s-curve and provides decent contrast to the image (as opposed to a super-flat image) while still allowing the image to be grade-able in post-production. The D16 Digital Bolex is a bit different than most of the conventional cinema cameras these days as it uses a CCD sensor made by TrueSense and made to respond very similar to Kodak film stock. The images out of the Digi Bolex are quite the cinematic gems, with very nice skin tones and deep texture with solid dynamic range. It may not be a 4K camera, but the 2K raw footage out of it is some of the most cinematic you can get today. The latest firmware version 1.5 is a major update adding major features such as 3 new colour spaces, more accurate ISO response, and the aforementioned Bolex Log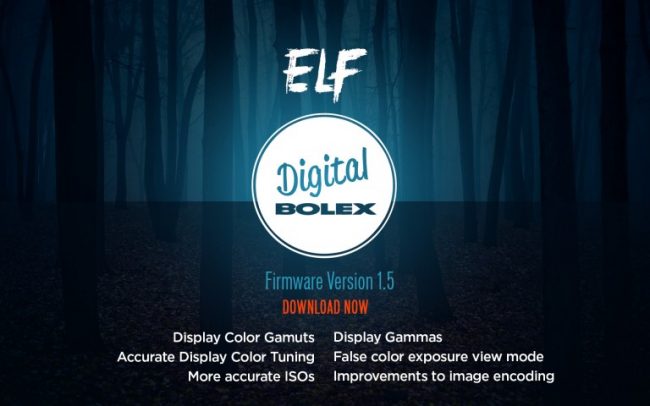 New Features Firmware 1.5
Display color gamuts
Display gammas
Accurate display color tuning
False color exposure view mode
Improvements to image encoding
Improvements to ISO accuracy
Thanks to BMCUser forum member razz16mm for the new features breakdown on the HDMI out when using external recorders:
BT709+ soft clip, DCIP3, Bolex Wide Gamut colour spaces
3 gamma profiles: BT709+soft clip, Bolex gamma, Bolex log. Latter two play well with Alexa LUTS
24fps pull down inside 1080i/p 60 or 1080p 30 video. Future firmware will include 29.97 and 30 fps native frame rates, but that will be the max.
Uncompressed 10 bit 4:4:4 RGB output. So far a couple of users have tested with PIX-E5 and Odyssey7Q+ with very good results.
It's important to note that compatible external recorders are yet to be tested for full compatibility. The D16 is a Raw recording camera with a built in hard drive with 512GB 1TB and now a 2TB option. For those of you unfamiliar with the D16 Digital Bolex check out the specs and features below:
Digital Bolex D16 Features & Specifications
Resolution
2048 x 1152 (S16mm mode)
1920 x 1080 pixels (16mm mode)
Additional resolutions coming soon.
File Format
12-bit Adobe Cinema DNG (RAW)
Sensor Technology
Super16mm Truesense CCD (Color or Monochrome)
Pixel Size
5.5 micron
Dynamic Range
12 stops (Color)
13 stops (Monochrome)
Color Depth
12-bit 4:4:4
Lens Mounts
PL/C or MFT mount
ISO
100, 200, 400, 800
Frame Rate
23.98, 24, 25.
Variable framerates up to 32 fps in S16mm mode coming soon.
Sound
Balanced, 2 channel phantom-powered XLR
Audio formats
24-bit/96kHz AIFF
24-bit/48kHz AIFF
Video Out
Video out 1920×1080 via HDMI or 640 x 480 via ⅛ video jack
Ports
HDMI™, USB 3.0, Dual Audio XLR, 4-PIN XLR, ⅛ video, headphone
Accessories Mounts
2 1/4-20 tripod mounts, 2 cold shoe mounts (top, side)
Storage Options
Dual CF card slots, Internal (Non-Removable) Enterprise Class SSD
SSD Options
256GB (45 minutes in Super16mm Mode)
500GB (90 minutes in Super16mm Mode)
Footage Size
2MB-3MB per frame or 5GB per minute in Super16mm Mode.
Power
Internal battery, 12V External via 4 pin XLR port, 12V DC output
Battery Life
3-4 hours depending on usage.
Dimensions (Body)
3.6"H (91mm) x 3.3"W (84mm) x 7.8"D (199mm)
Material
Carbonized aluminum
Weight
5lbs
According to team behind Digi Bolex:
Bolex Log and Bolex Wide Gamut RGB are optimized to retain the most color and lightness information possible from the D16 without jeopardizing the D16's natural mojo. This makes the camera easier to intercut with others, as well as gives a defined starting point for your grade. Additionally, there is Bolex Gamma. Bolex Gamma is a classical film s-curve. It provides decent contrast giving weight to the image while still allowing the image to be malleable in post-production.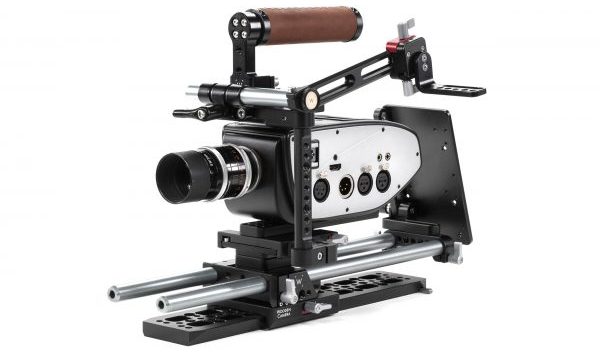 The way I see WideGamut RBG is more like a Canon WideDR on the C100 and C300, which gives you a more saturated image than a LOG one, but still with room for grading left in.
The improvements in the ISO response are more akin to how Exposure Index (EI) works on cameras like the Sony FS7 and ARRI Alexa for example – meaning that switching the ISO now shifts the dynamic range of the D16 around the middle grey point. In raw at 800 ISO, Bolex Log can retain up to 6 stops of dynamic range above middle grey and 6+ stops below. Reducing ISO lowers your highlight range, but increases your shadow range and reduces the appearance of noise.
Here's some awesome footage captured with the Digital Bolex D16:
Kure Beach NC 2014 (Abbreviated) from Jonathan DeNicholas on Vimeo.
Location test– short film "De La Madre" from Keith Lango on Vimeo.
D16 owners can download firmware update 1.5, which is free, here. You can also read more technical details about the new Bolex Log Colour Gamut in this pdf here.
[via Digital Bolex]
Claim your copy of DAVINCI RESOLVE 16 - SIMPLIFIED COURSE with 50% off! Get Instant Access!