The talented team of engineers, coders and marketing experts behind Sybrillo has been working together on this project for more than two years striving to revolutionize the way sport and cinematography enthusiasts capture the world with the most versatile GoPro accessory ever build. It seems like these gifted innovators have almost reached the goal. The Sybrillo is designed as a compact and easy-to-use mount that can be attached to all existing GoPro accessories effortlessly and allows users to switch camera angles in a matter of seconds. By utilizing the Sybrillo app you can pan, tilt and roll your GoPro camera from up to 65 feet (20 meters) away.
On top of that, the unit provides gyroscopic stabilization along with recording capabilities for Virtual Reality. Just put your smartphone in a VR headset or Google cardboard and Sybrillo will follow all your movements while stabilizing your GoPro camera. The gyroscopic accessory also includes a couple of pre-programmed movements, including an auto-spherical photo mode, which you can later edit, share or watch with your VR headset. You can even plan multiple camera movements in advance or use the pre-programmed sequences to create complex camera rotations on the go.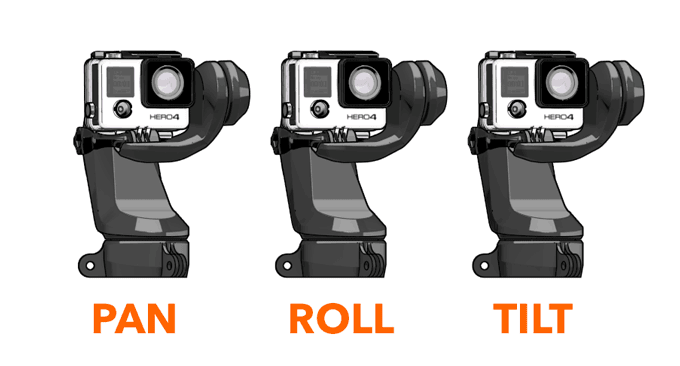 Open the Sybrillo app on your iOS or Android device, find your mark, frame your subject and create the sequence. Then determine the program length, angle, and camera-rotation range, and hit the Action button. Thanks to Sybrillo's high speed and reliability, you can always capture the right moments by producing top-quality videos to share with your collaborators and followers.
By using three high-precision electric motors, Sybrillo rotates the mounted GoPro camera to compensate for bumps and interruptions, thus yielding perfect image stability. The Sybrillo's base, on the other hand, comes with compatible mounts for your chest, grip or pole mounts. Furthermore, users can either attach three suction cups at a time or utilise the available ¼-inch tripod mount as well as a ¼-inch tripod-to-GoPro connector.
The best part is that Sybrillo is waterproof as it can withstand immersion in 1 meter of water for up to 30 minutes. Ultimately, the device is compatible with GoPro Hero 3, GoPro Hero 3+, GoPro Hero, GoPro Hero4 Silver, GoPro Hero4 Black, GoPro Hero4 Session and future models. An adjustable arm is still under development to be able to make it compatible with different models and cameras. The regular retail price of Sybrillo will be $400 once it becomes available to the masses. However, you can still back the project and claim your Sybrillo for an early bird price of just $199.
If you want to learn more or support the funding campaign, head over to Sybrillo's Kickstarter page here.
[via: ISO1200, source: Kickstarter]
Disclaimer: As an Amazon Associate partner and participant in B&H and Adorama Affiliate programmes, we earn a small comission from each purchase made through the affiliate links listed above at no additional cost to you.
Claim your copy of DAVINCI RESOLVE - SIMPLIFIED COURSE with 50% off! Get Instant Access!