This is just one last reminder that The Complete Video Creators Bundle sale is coming to an end over at 5DayDeal in just 12 hours!
At 12:00 PM (noon) PST today (that's 8:00PM GMT or 9:00 CET, just 12 hours from now), it will be gone for good, and will NEVER return again. These products will never again be offered through 5DayDeal and you won't see this collection again… ever.
The opportunity to save 96% on these resources is really amazing (it would cost you otherwise $2400+ to get the individually!) – I hope you've checked it out and/or shared it with your friends. But don't take it just from me, check out some of the amazing feedback received from fellow filmmakers, who've already purchased the bundle: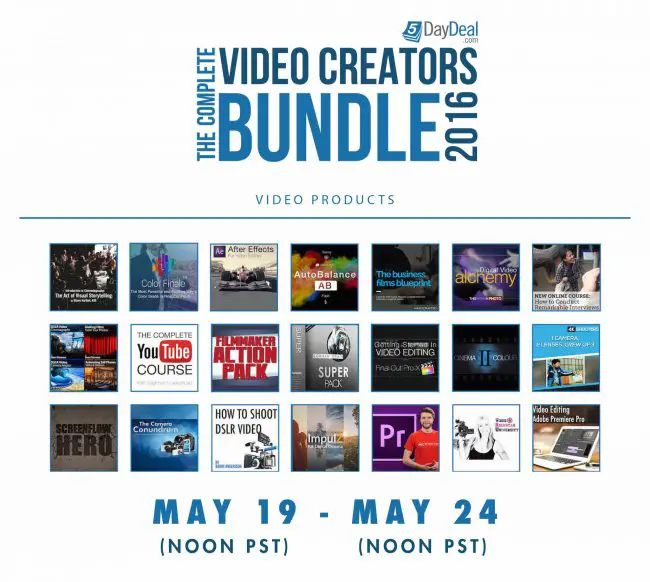 Been working in the LA film industry for 11 years, going on 12 now, and this bundle is by far one of the best online packages I've ever seen. It offers wholly unique courses in cinematography, directing, editing, you name it. The bundle also includes a helpful package of tools and apps for beginning filmmakers. I definitely recommend buying it." – Truman Fritz | United States
"The value is exceptional. The 1st series I'm watching, Muse Storytelling, has already provided a ton of great tips I can use… I'm very impressed with the quality—and I still have many more products to check out." – Dave Grice | Canada
I don't want anyone to miss out! This amazing bundle has over $2,400 worth of the best video shooting, editing, and industry products available online by dozens of world-class video professionals and industry experts, and it's still on sale for just $97. That is, until it's gone in about 12 hours from now.
In the last 4 days, the video/photo community has raised over $33,534 for charity, and with your help we can make the final push to put 5DayDeal over it's $50,000 goal. That's a lot of money raised in just 5 days!
So head over to 5DayDeal right now, and get your bundle before it's too late. Thanks!
Claim your copy of DAVINCI RESOLVE - SIMPLIFIED COURSE with 50% off! Get Instant Access!