The established Chinese drone manufacturer Walkera surprisingly unveiled it's flagship Voyager 4 superzoom camera drone, the first consumer-oriented UAV on the market equipped with a gimbal-stabilized 360-degree camera boasting 16x optical zoom lens with a maximum 1500mm focal length. The announcement comes only a week after DJI introduced its DJI Zenmuse Z3 integrated aerial zoom camera sporting way more modest 7x zoom lens with a 22mm to 77mm equivalent focal length range. Obviously, with these impressive telephoto zoom capabilities, Walkera is trying to blow the competition out of the water by giving aerial cinematographers flying the Voyager 4 the unique ability to spot objects located a mile away on the ground.
On top of that, the Voyager 4 drone can be configured to operate utilizing either its own Wi-Fi network ranging roughly a mile in the air or the built-in 4G wireless internet capabilities giving it virtually unlimited control range. Even though in many countries you won't be allowed to fly unmanned aircraft beyond your line of sight, this appealing feature could be a huge selling point for some users who want to control Voyager 4 from literally any location in the world as long as there is strong 4G connection available.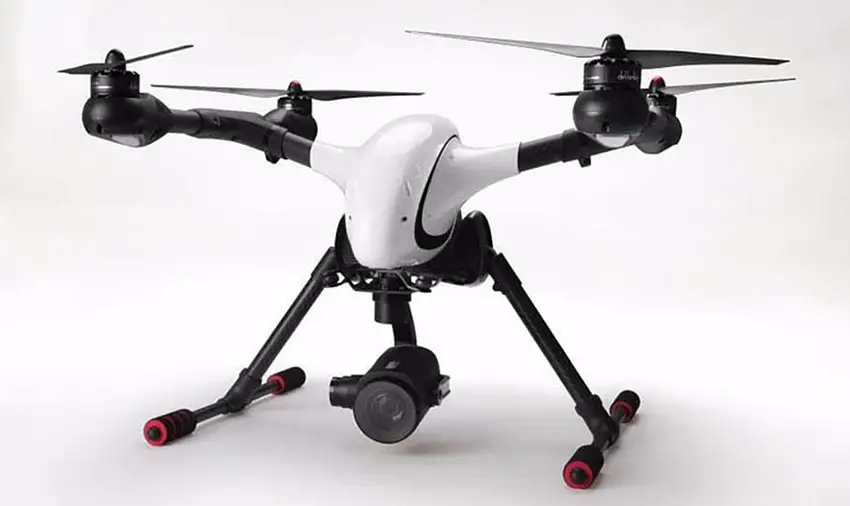 Sadly enough, the 16x superzoom camera of the latest Walkera consumer drone can shoot 1080p videos only, whereas the 4K version of the unit is equipped with a standard fixed wide-angle lens. The most avid 4K shooters will have to wait awhile before they get their hands on the fully-fledged Voyager 4 drone beefed up with 4K capabilities and superzoom lens on board.
Nevertheless, the Walkera's UAV will still be a viable option for many aerial cinematographers who want to dip their toes in the process of capturing extreme telephoto shots from the air. Currently, there is no available information regarding when the Voyager 4 will become available to the masses, and more importantly at what price. Considering the fact that the predecessor Voyager 3 sells for $1,990, we expect the Voyager 4 to hit the shelves with a similar price tag.
[via: Petapixel, Gizmag; source: Walkera]
Disclaimer: As an Amazon Associate partner and participant in B&H and Adorama Affiliate programmes, we earn a small comission from each purchase made through the affiliate links listed above at no additional cost to you.
Claim your copy of DAVINCI RESOLVE - SIMPLIFIED COURSE with 50% off! Get Instant Access!