Yep, you read that right – RED's very limited run of special edition white "Droid" 8K S35 Helium cameras sold out faster than any digital cinema camera. Like ever. This happened less than 24 hours ago and they weren't cheap either! At $59K a pop, Xmas came very early for some RED shooters with very deep pockets earlier yesterday. But for the rest of you trust fund kids or super-duper-successful-£3,500-a-day "big time" commercial DP's you can get in line and wait for the regular 8K Helium S35 powered RED Weapons in October. Those limited run special edition 8K Weapon Heliums feature the same sensor as the one-off Michael Bay RED camera we told you about here and were available for purchase for only day only, no waiting, no deposits, no BS as announced by RED boss Jarred Land.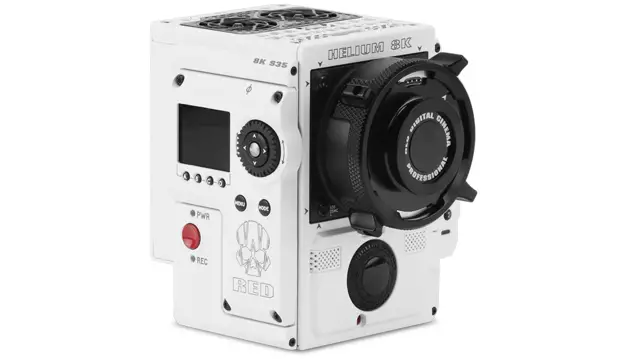 The limited white Helium Weapons 8K s35 will be $59k but that is a one day only thing tomorrow and they will ship tomorrow. No deposits, no reservations, and no waiting. They will likely go fast at which point all the rest of you can all just pretend this didn't happen and forget about all this Helium nonsense till October 🙂
The new 8K Helium S35 sensor boasts the massive 16.5 stops of DR, and a staggering 8192 x 4320 effective pixels with a 29.90 x 15.7mm sensor size.
Notable maximum frame rates are 8K FF at 60fps, 7K at 60fps, 6K at 75fps, and 120fps at 5K 2.4:1.
Images from Jarred's FB feed and REDuser:
Plus Jarred gave his own 8K Helium Weapon to a 19 year old filmmaker named Jason, who shot this:
So. Last week I met this guy Jonny Mass on Facebook. He is 19 years old. He sent me some incredible things he has been shooting with his Scarlet-W. I really liked him. So much Passion. In it for all the right reasons. So I sent him my personal Helium 8K for 24 hours this week. Just a few days ago. Not sure how he did it.. but somehow… he managed to get an incredible crew together, some talent, some locations and he shot a little thing. Shot in a day and edited, coloured and finished it in 8K a day later.

This is why we do what we do. For filmmakers like this. Thank you Jonny for reminding me what it's all about.
And finally, to everyone who couldn't sell their kidney fast enough for a Droid-ed Weapon 8K, here's a photo of Brad Pitt holding a Special Edition RED Weapon 8K Helium S35 camera.
For more info follow this REDUser thread here.
[via RED]
Claim your copy of DAVINCI RESOLVE - SIMPLIFIED COURSE with 50% off! Get Instant Access!