Four years ago, Scotland based outfit Blind Spot Gear launched the Scorpion Light on Kickstarter. The flexible and rugged design of their innovative LED light won many video professionals over and they used the light on numerous big productions including Hollywood films such as "Trainspotting 2", big-budget sci-fi extravaganzas such as Netflix's "Altered Carbon", alongside numerous programmes on leading broadcast channels such as National Geographic, BBC, CNN and many others.
The original Scorpion Light was born out of frustration due to the lack of affordable and high quality portable LED lighting, and it did not disappoint, proving dependable in the world's most extreme locations. Its rugged portability, dependability, and flexible nature has made it the light of choice for professional photographers and filmmakers working with productions across the world in the most demanding environments.
And now, Blind Spot Gear are back with a newly improved Scorpion Light 2. Inspired by the feedback from the original Scorpion Light customers, they have redesigned the Scorpion v2 to be an even better tool for for the mobile camera professional.
The new Scorpion V2 has been completely re-designed and is now 30% more powerful compared to the original model, while also getting a 20% reduction in length (v2 is now 38cm long, compared to 45cm) and also a thicker gooseneck made out of improved brass/steel material.
The Scorpion V2 is a daylight balanced single source LED light (5600K) and has a better TLCI rating of 94 compared to the original Scorpion Light, which is quite impressive for a light this size; a re-designed heatsink for better heat management is also present.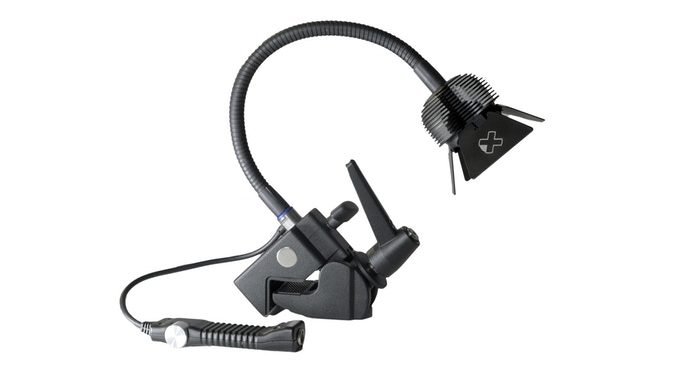 The magnetic barn doors allow for a quick attachment of different creative or corrective filter gels. Much like with its predecessor, the Scorpion V2 keeps the 16mm spigot and 1/4 20 thread to give users a lighting set up that can be easily attached to almost anything. And of course, the Scorpion V2 is also dimmable via the ergonomic dimmer attached to the side.
As far as power, you can expect around 80 minutes out of a single NP-F550 battery that has been supplied. The Scorpion v2 will be sold as a Solo unit, a Duo kit and a Quad in a case for 4 lights and accessories. It is worth to also note that both the Quad kit case and the Duo kit case have been redesigned to improve organization of the lights inside and accessories to give you quick access and save space and weight.
Scorpion Light V2 Tech Specifications Highlights
Beam Angle:
Colour Temp:
Photometrics:

2400 lux at 1 meter
610 lux at 2 meters
270 lux at 3 meters

Lamp Weight:
Lamp Size Dimensions:
Run time:

80 minutes (NP-F550 battery)

Power: 16 watts
Max Current Draw:
Voltage range: 5-10v DC
Power Supply AC:

9v output with 3 meter cord + international plugs

 Accessories: D-Tap and 3m extension cord
For full specs head over to their Kickstarter campaign here.
Check out some VR demonstrations of what you can do with the Scorpion v2:
This is Blind Spot Gear's fourth Kickstarter campaign and once again they are offering some sweet savings to backers, which you can see below:
Scorpion v2 Kickstarter Reward Pricing:
Scorpion v2 Solo:

£235 + VAT (£35 Off MSRP)

Scorpion v2 Duo Kit:

£375 + VAT (£100 Off MSRP)

Scorpion v2 Quad:

£875 + VAT (£200 Off MSRP)
The Scorpion V2 is expected to ship to Kickstarter backers in June 2018. To grab yours and save good money, head over to the Blind Spot Gear Kickstarter campaign page here.
Disclaimer: As an Amazon Associate partner and participant in B&H and Adorama Affiliate programmes, we earn a small comission from each purchase made through the affiliate links listed above at no additional cost to you.
Claim your copy of DAVINCI RESOLVE - SIMPLIFIED COURSE with 50% off! Get Instant Access!