Lately, I've been obsessing about high quality portable LED lighting, and while I am still waiting for my Voyager RBG Light from Digital Sputnik, which is unfortunately experiencing yet another delay, I learned that the good folks at Scotland's Blind Spot Gear are doing a massive sale on their super-flexible and portable Scorpion Light and accessories (which you can also buy at B&H if you are based in North America). For those not familiar yet with the Scorpion Light, it was conceived by broadcast and documentary cameraman Billy Campbell out of the necessity for low-cost but high quality and portable lighting system that meet the quality standards of today's professional filmmaker.
Available as either a Daylight or Tungsten model and sold either as a single fixture or as a Scorpion DUO Kit, and/or in a set of 4 (as the Scorpion Quad Kit), the Scorpion Light is now even more affordable.
The Scorpion Light Daylight gets a 40% price reduction, while the Tungsten version goes even further for an even juicier 50% discount. Check out the new discounted pricing for the Scorpion Light and accessories a bit further down below in the post.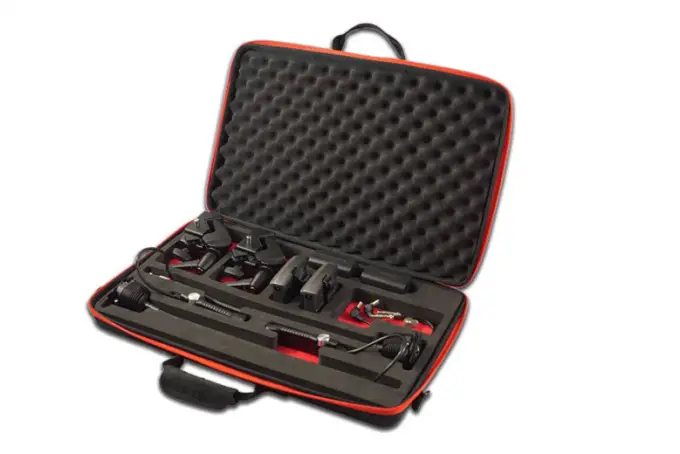 Scorpion Light Features
Flexible Gooseneck for Positioning
CRI: 94
75W Halogen Equivalent Output
Steel, Brass, and Aluminium Construction
Daylight or Tungsten versions
Beam Angle: 36°
Flicker-Free Dimming from 0-100%
5/8″ Baby Pin with 1/4″-20 Female Thread
Power Draw: 15W
Powered by Sony NP-F style batteries and AC Power Options
D-tap power cable also available
Buy direct from Blind Spot Gear for UK/EU
Buy from B&H if based in North America or elsewhere
Scorpion Light Discount Pricing:
Daylight Scorpion Solo:
Tungsten Scorpion Solo:
Scorpion Light DUO Daylight:
Scorpion Light QUAD:
Reduced Scorpion Light Accessories:
The Scorpion DUO includes:
2 x Scorpion Lights
2 x Batteries
2 x Battery Adapters
1 x Travel Chargers
2 x Super Clamps
1 x Set of Rosco CineGels
1 x Fastener Kit
1 x Carry Case
The Scorpion Quad Kit includes:
4 x Scorpion Lights
4 x Travel AC
4 x Batteries
4 x Battery Adapters
2 x Travel Chargers
4 x Super Clamps
1 x Set of Rosco CineGels
1 x Fastener Kit
1 x Custom Cut Flight Case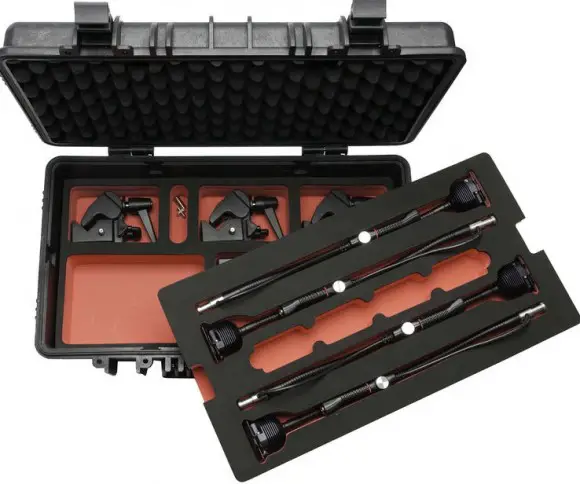 The Scorpion Light is a really flexible and convenient LED light that may change the way your work whether you shoot documentaries, drama, ENG, corporate work, events – there really isn't a limit to what you can do with the Scorpion Light. Not that long ago, I reviewed their TILE Light, which is a different, more traditional style of on-camera and all-purpose light that was a joy to use and built like a tank. In case you missed it, check out my review of the Tile Light here.
Is the massive price reduction a sign of a new model to come? I don't know, but I will try and find out when I catch up with Billy from Blind Spot Gear at BSC Expo later this week and report on any findings (if I am allowed to of course).
I am heading off to get a set of two, and if you want to do same visit Blind Spot Gear either via the links above or here.
[via Blind Spot Gear]
Claim your copy of DAVINCI RESOLVE - SIMPLIFIED COURSE with 50% off! Get Instant Access!