About a year and a half ago some of you may recall, we posted about new, premium quality compact LED light from UK-based outfit Blind Spot Gear called the TILE Light. And today, Blind Spot Gear unleashing the TILE upon the pro video world, giving video professionals a very versatile, high-quality LED light fit for the rigours of modern field work. For those of you unfamiliar with Blind Spot Gear, these guys are also the creators of the Scorpion Light (you can read more about it here), which is another awesome tiny, flexible and portable LED light that can be attached to pretty much any surface.
First off, many thanks to Billy from Blind Spot Gear for sending me this review unit. You can check out my hands-on review in the video below and read my thoughts on the TILE Light in the following paragraphs in this article.
TILE LIGHT Quick Highlights
High-quality rugged aluminium build
5600K Daylight balanced
120 degree beam angle
0-100% flicker-free dimming

with built in 5 stage button dimmer
or included removable thumb wheel dimmer

Rubberised front surface for sticking gel filters
Various options for mounting battery bracket
Wheel-based dimmer accessory included
Comes with Battery and a charger
A neat little pouch is also included
Price: £445 inc. VAT (from Blind Spot Gear)
TILE LIGHT Tech Specs
Lumens (Max):

 

Optical System:
Beam Angle:
Colour Temperature (CCT): 5600k
Built in 5 step dimming (button) or external remote dimmer accessory (included).
Gel Attachment

Electro static / micro vacuum. No accessory required.

Mounting 1/4″ 20 tpi. (2 mounting points)
Power in: 3.5mm DC Barrel
Control port: 2.5mm 4 pin jack
Max Power:
Max Current Draw:
Voltage Range:
Power supply (AC)

AC 12v output with 3m cord and international plugs.

Power supply (battery)

Battery Adapter (Sony NP-f compatible). 45min run time with supplied battery.

Photometrics

0.3 m: 5742 lx
0.5 m: 2067 lx
1 m: 517 lx

Dimensions

Weight: 300g / 0.65lbs
Lamp Size: 164mm x 78mm x 19mm
Lamp Size (Imperial).

 

6.5 x 3 x 0.75″
What you get in the box:
Plus the following accessories:
1 x Remote Dimmer
1 x Dimmer Extension Cable
1 x International AC
1 x Battery Adapter
1 x Battery (NP-f550)
1 x CTO Gel
1 x USB Battery Charger
1 x Ball Mount
1 x Hot Shoe Adapter
1 x Lamp Bag
While the price may be a bitter pill to swallow for some, all things considered this is a professional, compact, multi-purpose LED light with the purchase of which you also get a battery, charger, a thumb well dimmer accessory, ball-mount, pouch, CTO gel and basically all you need to get you going. Given the rugged aluminium construction I am not worried that even if I drop this light that it would break – it just feels so solid – as every pro piece of kit should.
It is powerful as hell, and you can use it not just as an on-camera light, but also a fill light, or even a key in some circumstances. I personally would have preferred to see the thumb wheel dimmer integrated in the design of the light, but mounting it on the side is not a problem, it's just that I will probably end up loosing it at some stage. Also the bottom part of the ball mount was a bit thick and getting it slotted in correctly into the hot-shoe of my Panasonic GH5 was a bit of a struggle, but I got through it.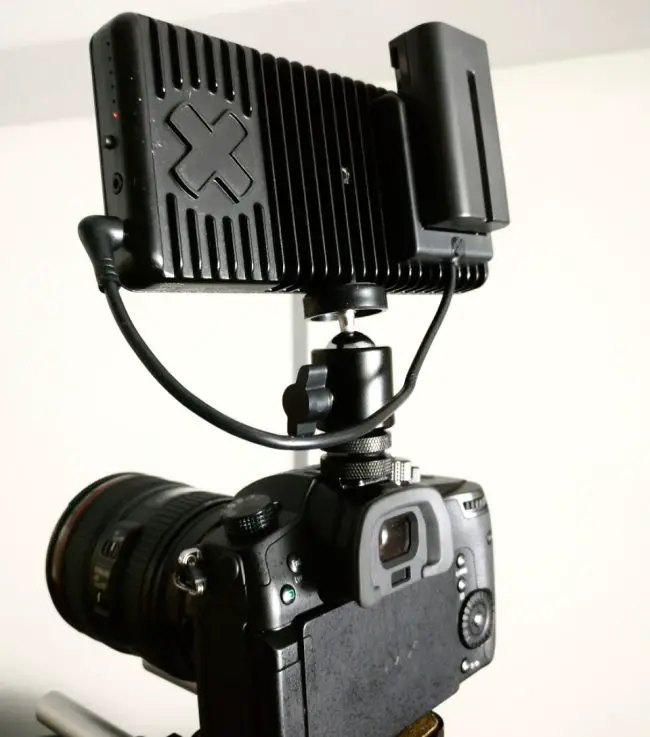 The electro-static vacuum suction voodoo of attaching tungsten and other coloured gels to the front as easy as peeling off a label is just genius and a real time saver. The battery latch on the back actually works (unlike on some inferior on-camera LED lights I've used in the past) and the whole construction feels solid and pro in every way.
I am a fan, I have to say. Now, I have to sell some odd bits and pieces and a few cheaper lights so I can buy a Tile Solo. A high quality portable LED light seems like a decent investment that has the potential to last quite some time.
For more details and to order yours, head over to Blind Spot Gear's website here.
For our North American readers, you can buy the Blind Spot Gear Tile Light Solo from B&H for $495 via this link here.
Claim your copy of DAVINCI RESOLVE - SIMPLIFIED COURSE with 50% off! Get Instant Access!