The awesome Scorpion Light from Blind Spot Gear just got even better with the Scorpion DUO Kit, which gets you two of the awesome Scorpion LED lights, batteries, charger, super clamps all wrapped in a convenient travel bag. For those who have not heard yet about the awesomeness of the Scorpion light, we've covered it here and here; and we're big fans of the little light that the good folks at Blind Spot Gear have created. It is a really flexible and convenient LED light that may change the way your work whether you shoot documentaries, drama, ENG, corporate work, events – there really isn't a limit to what you can do with the Scorpion Light. Initially, the Scorpion Light, which was born out of frustration and the lack of affordable, versatile, but yet high quality portable LED lights, was available either separately as a single fixture or in a kit of 4, which included a hard case.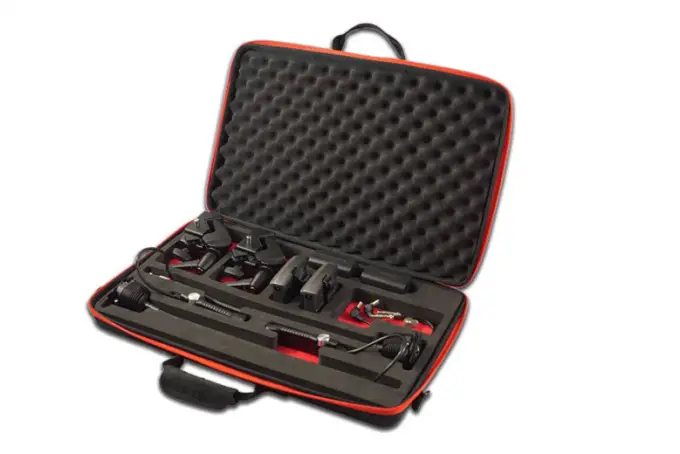 However, Blind Spot Gear have now expanded the range with the Scorpion Light DUO – giving you 2 super versatile and high quality LED lights and accessories for just $599 in the US (B&H sell them here) or if you are in the UK/EU you can buy directly from UK based Blind Spot Gear for £599 inc. VAT.
You can see what these lights can do in the demos below, that Billy from BlindSpotGear has prepared.
The Scorpion Light Specs:
Goose neck length: 350mm
Mounting options: 16mm spigot, ¼" or 3/8" thread adapter, hot shoe adapter, suction mount
Emitter (bulb) Power: 13W
Dimmable 10%-100%
Power sources: AC power, Sony NP-F series batteries, D Tap
Power requirement (mains supply): 120-240VAC
Battery run time: 1h (NP-F550), 3.3h (NP-F960)
Optics Colour Temperature: Daylight (5700K) or Tungsten (3000K)
Tungsten CRI of 94
Output: 1100lm (daylight) 700lm (tungsten)
Emitter Running hours : 50,000 hours
Gel attachment method: Magnets on barn-doors
The Scorpion Light DUO Kit includes:
2 x Scorpion Daylight Lights
2 x NP-F550 Batteries, Charger
2 x Battery Power Sleds
Set Rosco Cine Gels (10 Filters)
2 x Super Clamps
Magnet Set
1/4″-20 Adapter
Hot Shoe Mount
Padded Case for the Lights
The Scorpion Light is now even more affordable in the DUO kit, as for those like me, who can't afford the 4 x light kit, can now have a really versatile lighting solution for just about any situation. For those who only need a single Scorpion light, those are also available for $236 from B&H for a limited time.
US buyers can get the DUO kit from B&H for $599 and UK peeps head over to Blind Spot Gear, where you can pick a Scorpion Light DUO for £599 inc. VAT.
Claim your copy of DAVINCI RESOLVE - SIMPLIFIED COURSE with 50% off! Get Instant Access!