Only a few days after the official announcement of the Canon 5D Mark IV the buzz around that camera continues to grow by leaps and bounds. I'm really baffled by this social phenomenon that takes place every time Canon releases a new camera on the market. Honestly, I can't remember such a hype since the release of the GH4 and Sony A7S back in 2014. Sure, maybe if the Canon 5D Mark IV was released four years ago with this type of specs it would have been a revolutionary camera for the time being making a lot more sense to independent filmmakers and videographers alike, but unfortunately today this is not the case, like it or not.
On the other hand, it's great that now we have another viable option when it comes to shooting 4K video (even with 1.74x crop), especially with a DSLR. I really like Canon's color science and most of the new video functionality this camera provides. Even though it's not perfect while lacking a lot of professional video features, the Canon rival has many others strengths from videographer's perspective worth noting. In the video below, Canon U.S.A.'s Technical Advisor Brent Ramsey goes into features such as the frame rates on the camera, Slo-mo, touchscreen with Dial Pixel AF, 4K still frame grab functionality, built-in time-lapse movies, HDR movie shooting, and much more.
The new built-in touchscreen 3.2″ LCD of the Canon 5D Mark IV, for instance, not only improves the overall control over camera settings but it also significantly enhances video shooting by making it easier to adjust on the fly. It's also an essential feature when it comes to critical focus while filming at higher resolutions such as 4K.
The latest Dual Pixel CMOS AF technology incorporated in the camera gives users plenty of options in that regard. In the first place, it allows you to nail focus on moving subjects by enabling Movie Servo AF function. Once you set it, your auto-focus becomes continuously active as you don't need to press a button to engage it.
On top, this function is further customizable. For example, you can speed it up or slow it down, or you can utilise the separate AF tracking sensitivity adjustment to define its response to sudden changes of the moving objects in the frame you're focusing on. Once the Movie Servo AF function is disabled, you can still focus on certain objects by pressing either the Shutter button or the AF-ON button focus. Moreover, you can quickly refocus on new subjects even during actual recording.
Beyond that, you can define how your AF system will read your subject. There are three AF methods you can choose from, including Face + Tracking, and two different FlexiZone AF modes. The Face + Tracking option not only puts a sharp focus on the most prominent face in the scene but also can follow it when moving around in the frame. This mode can be applied to subject tracking as well. Just tap the screen and point the desired subject in the frame. You are also allowed to alter the focus speed incrementally until you get the optimal results.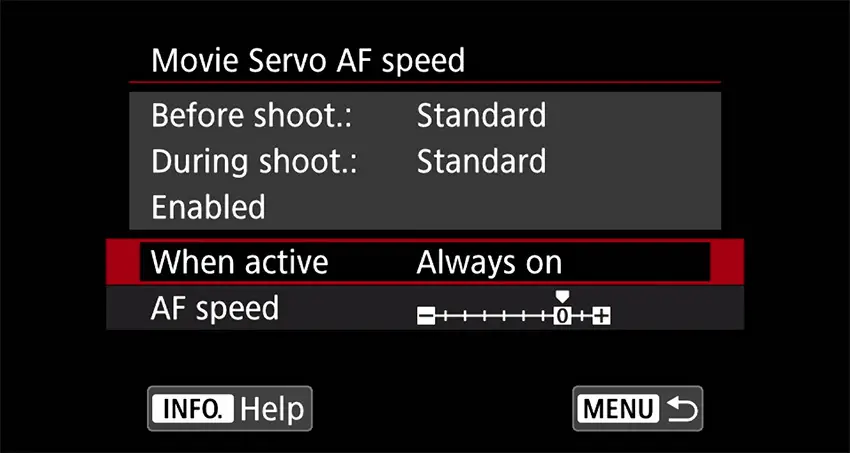 Furthermore, the Canon 5D Mark IV shoots DCI 4K video at 23.98, 24.00, 25.00 and 29.97fps. The camera records DCI 4K video internally using MJPEG compression at 500Mb/s (equating to 62.5MBps) with 4:2:2 sampling and 8-bit colour depth whereas 1080p utilises either the MPEG4 – AVC or H.264 codec with 4:2:0 colour sampling and lower bitrates up to 160Mbps with ALL-I, IPB and IPB Light compression methods available.
In addition, ISO ranges up to 12800 in 4K, and up to 25600 in HD. There is also a 120fps high-speed mode included, but unfortunately, as reported already, it's limited to 720p only. Bear in mind, though, for flawless 4K video recording, you have to utilise a CF Type I UDMA 7 card (or better) that should be able to maintain sustain write speeds.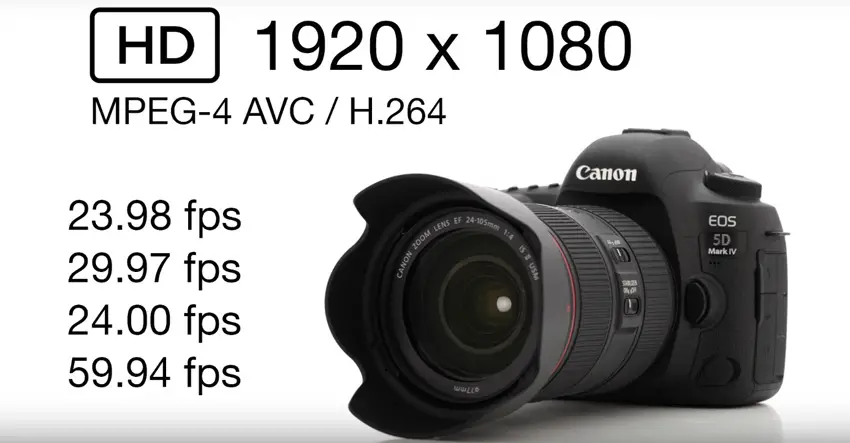 An advanced Time-lapse movie option as well as an HDR Moving Shooting mode are also included, as the latter records multiple alternate frames with different exposures and then combines them internally. As a result, users get a stunning HDR video. This option is limited to 1080p only, but it's still a handy feature to have when shooting high contrast scenes.
Which are your favourite video features of the Canon 5D Mark IV? Feel free to share in the comments below.
[source: CanonUSA]
Pre-Order Links:
Canon EOS 5D Mark IV DSLR Camera (Body Only)  (B&H, Adorama)
Canon EOS 5D Mark IV with 24-105mm f4 IS II Lens  (B&H, Adorama)
Canon EOS 5D Mark IV with 24-70 IS USM Lens  (B&H, Adorama)
Claim your copy of DAVINCI RESOLVE - SIMPLIFIED COURSE with 50% off! Get Instant Access!