LED lighting technology is in a constant state of perpetual evolution and the good news is – the winners are us – filmmakers, video producers, and everyone who uses lighting fixtures to create moving or still images. Lately, LED fresnels have been quite popular with shooters thanks to innovative LED focusable fixtures from major manufacturers like ARRI and Litepanels, however there are now a few new offerings from EU-based Vibesta. The company just announced their 7-inch Rayzr 7 LED fresnel range, which includes four models – a couple of 300W LED fresnels (bi-colour and daylight) and a 200W daylight and bi-colour option. These look quite interesting, at least on paper and from their promo, they offer high TLCI numbers up to 98, increased portability – the Rayzr 7 LED fresnels offer a 10-inch LED fresnel performance in a smaller 7-inch lens size, and also built-in DMX ports and Wi-Fi as an option for more advanced applications.
Rayzr 7 LED Fresnel Features/Highlights
300 Watt and 200 Watt options – Daylight and Bi-color models available
1.5 times brighter than 1K (1000W) tungsten fresnel
10" LED fresnel performance in 7" size
Flicker free up to 15000 fps
Suited for even the most light hungry applications
TLCI up to 98
Pure white light with truthful colour rendition
Full control over light beam shaping
DMX built-in and Wi-fi as an option
Powered from batteries without any reduction in brightness
Smaller and lighter than other 7" fresnels
Weight of only 6.4 KG (14.1 lbs)
Rugged and durable housing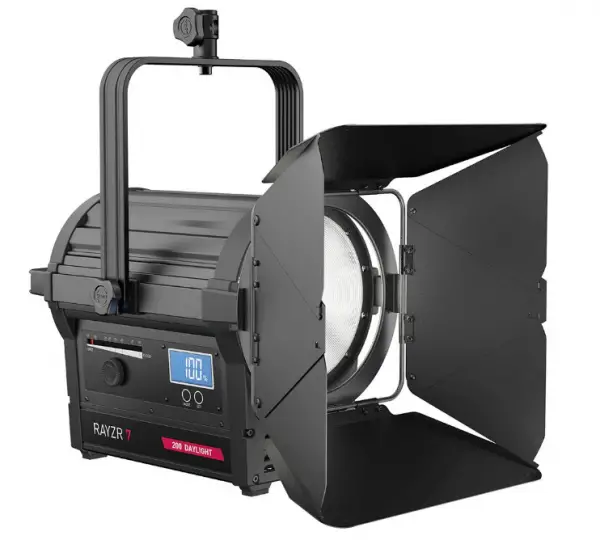 Shooters on the move will love the fact that you can actually power these suckers from a V-mount or an AB battery, while out in the field, this way you are not tied to using these just in the studio. Flicker free up to 15,000 fps is quite something, so high-speed freaks need not to worry. The makers of the Rayzr 7 LED's have set some pretty high targets for themselves going head to head with the ARRI L10, L7 and L5 LED fresnels, which are field-proven, but more expensive.
And therein lies the biggest ace up their sleeve- the Rayzr 7 LEDs offer significant price savings compared to other more established players. For example the biggest and most powerful Rayzr 7 300 daylight, weighting in at just 6 kg, outputs 1069 lux at 7 meters or 5819 lux at 3 meters with a 30 degree beam angle, costs a bit over $1300 compared to the nearly 5 grand ARRI L10-D LED Fresnel.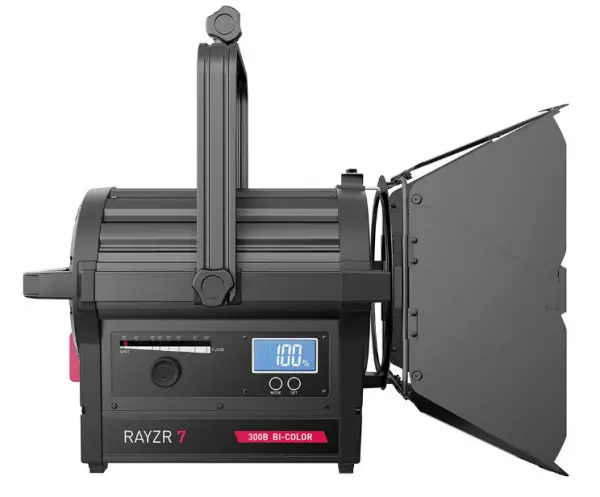 Vibesta have already started to take pre-orders directly via their website and through their dealer network with delivery estimated for September. From now up until they start shipping, you can get a free Premium Kit including 4-leaf barn doors and a transport case for the price of the standard pack.
The Rayzr 7 LEDs start at 939 Euros + VAT for the 200W daylight model, 1189 Euro for the 200BM Bi-colour variant, 1269 + VAT for the 300 Daylight and 1499 Euro + VAT for the 300B Bi-colour version.
To learn more head over to the official website of Rayzr 7.
Claim your copy of DAVINCI RESOLVE 16 - SIMPLIFIED COURSE with 50% off! Get Instant Access!