Among the other upcoming (supposedly) big announcements, Canon just introduced the successor of their 1-inch sensor sized camcorder the XC15 and the latest high-end EOS C700 Cinema Camera. The Canon XC15 now comes equipped with an XLR audio pack for professional audio recording along with Canon Log and waveform monitor capabilities. The XC15 still features the same 1″ 12MP CMOS sensor capable of capturing up to Ultra HD 4K resolutions at up to 29.97 fps and 1080p at up to 59.94p. Unlike its predecessor, however, there is a new 24p mode for both 4K and 1080p video as 24p can also be recorded at up to 305 Mbps in 4K. The integrated lens on the front is still the same featuring  f/2.8 – 5.6, 8.9 to 89mm zoom range, which has a 35mm equivalent focal length of 27.3 to 273mm in video mode.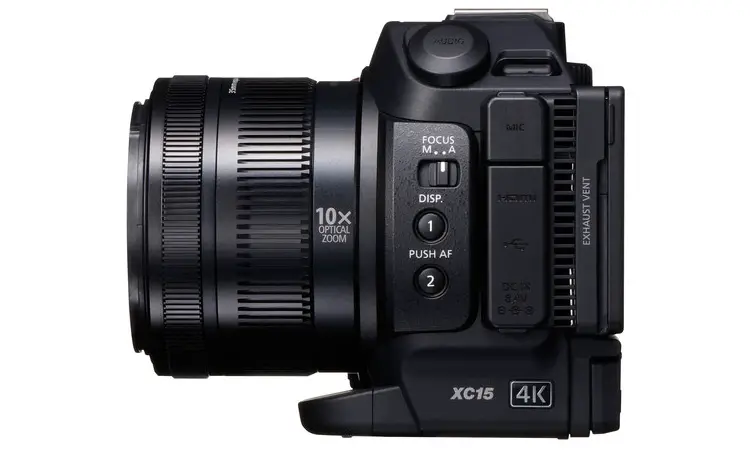 Furthermore, the XC15 supports both CFast and SD cards recording 4K to CFast cards in an MXF wrapper at up to 305 Mbps in an H.264-based, IntraFrame, 4:2:2, 8-bit codec, and 1080p video to SD cards at up to 50 Mbps in an H.264-based, Long-GOP, 4:2:2, 8-bit codec, also in an MXF wrapper. Among the recent improvements, users will also find new gamma settings, including Canon LOG and Highlight Priority mode as well as more options for matching easier to DSLRs and other Canon EOS cameras.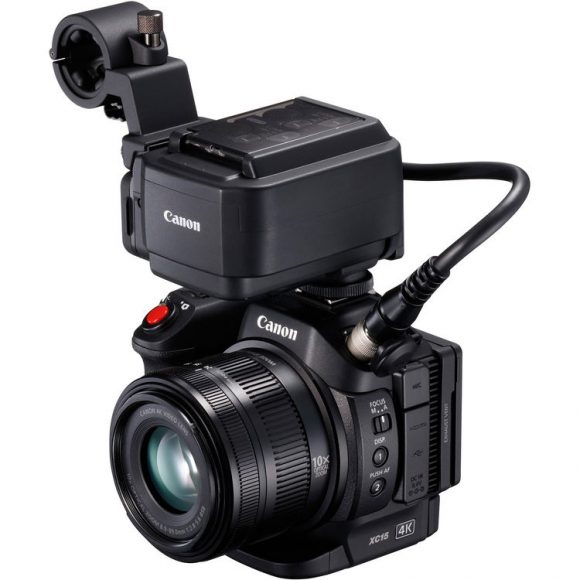 Canon XC15 Highlights
1″ 12MP CMOS sensor
Captures up to UHD 4K at up to 29.97 fps and 1080p at up to 59.94p
Integrated f/2.8 – 5.6, 8.9 – 89mm, 10x optical zoom lens with an ND filter
DIGIC DV 5 Image Processor
Separate focus and zoom rings
Auto and manual focus controls
Supports both CFast and SD cards
3″ LCD Display
Detachable viewfinder
720p high-frame rate recording
100 to 20,000 ISO range
Canon Log Gamma, Wide DR Gamma, Highlight Priority and more
XLR audio input for MA-400 microphone adapter
24p mode for both 4K (at 305 Mbps, like in C300 Mk II) and 1080p video
Waveform Monitor display
Three new shutter speeds matching the C300 Mk II for flicker reduction
Price – Yet to be announced
The other flagship camera announced earlier today is the Canon EOS C700 which seems to be a true powerhouse in its class. With a brand new 4.5K CMOS image sensor providing up to 15 stops of dynamic range the camera is capable of shooting 4K up to 60p to CFast 2.0 cards in different flavours of XF-AVC and ProRes along with 4K Raw on a separately available Codex Digital Recorder which simply clips onto the rear of the camera itself. The C700 boasts modular design and it's the first Cinema EOS camera, that has a native V-mount battery support via an installed IDX battery plate.
The camera also provides multiple high-frame rate options up to 240fps in 2K/HD, proprietary Dual Pixel CMOS AF system, selectable Gamma and Log Curves and Proxy Recording to SD Cards. Multiple mounting options include EF, PL and B4 with the separately available B4 lens mount adapter.
There is also a Global Shutter option of the C700 available, which comes at a loss of 1 stop of dynamic range in comparison to other versions. Regarding connectivity, there are plenty of video, audio, control, and power inputs and outputs for implementations ranging from ENG-style run-and-gun to high-budget cinema productions.
Our good friends at B&H were the first to get a First Look video of the new flagship EOS Cinema C700 camera.
Canon EOS C700 Features and Specifications
Super 35mm CMOS Sensor (Global Shutter Version Available)
Breech-Lock EF Mount and PL Mount options
PL version can have sensor replaced for Global Shutter one at Canon Service Centre (details on how much and when unknown at this point.)
EF mount can be swapped for PL (at Canon Service Centre)
Up to 15 Stops of Dynamic Range
Full HD 1080p OLED EVF – ($5,999 at B&H)
Dual Pixel CMOS AF
4K up to 60 fps XF-AVC 10bit 422, 2K/HD up to 240 fps (Cropped)
2K/120fps full sensor readout
2K/Full HD ProRes 4444XQ and 4444 up to 50/60p
Proxy Recording to SD Cards
Canon LOG 3 and Canon LOG 2
XF-AVC and ProRes Recording to CFast 2.0
Intuitive User Interface
Raw Recording Option by CODEX Raw recorder (sold separately)
Price – $28,000 Body only (EF Mount, Electronic Shutter) / £22,443 + VAT for UK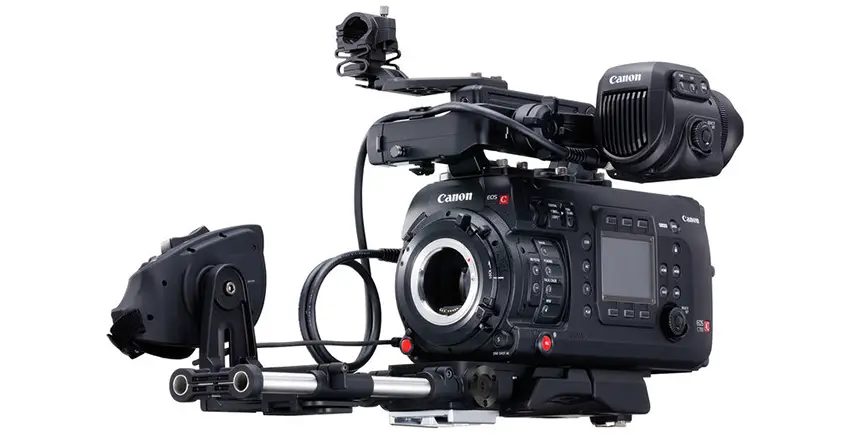 Both the Canon XC15 and Canon C700 can already be pre-ordered at selected authorised resellers around the globe. In the UK, the Canon EOS C700 will be exclusively sold by Visual Impact and CVP.
[source: Canon]
B&H Order Links:
Canon XC15 4K Professional Camcorder – Price not yet available
Canon EOS C700 Cinema Camera (EF Mount)
Canon EOS C700 Cinema Camera (PL Mount)
Canon EOS C700 GS PL Cinema Camera
Canon EOS C700 OLED Viewfinder
Canon SG-1 Shoulder-Style Grip Unit
Canon SU-15 Shoulder Support Baseplate Unit
Claim your copy of DAVINCI RESOLVE - SIMPLIFIED COURSE with 50% off! Get Instant Access!