Following their recent 7-inch HDR monitor announcement that was the Cinemartin Venus, the young Spanish gear maker have a brand new LOYAL series affordable Full HD monitors for your mirrorless/DSLR or compact camera. The new Loyal Series high bright on-camera monitors will be available in both a 5.7-inch and also a 7-inch version (at a later date), and feature both HDMI and SDI connectivity; however unlike the VENUS, the Loyal monitors will actually feature a full set of pro focus and exposure tools such as False colour, Histogram, Peaking, Waveform, Pixel Zoom, Frame Markers, Aspect ratios and Audio meters.
The Cinemartin Loyal Series monitors have been designed to give filmmakers, solo shooters, drone operators and professional photo and video applications, a professional monitor with pro connections like HD-SDI video inputs featuring cross conversion and a full set of video assist tools such as the aforementioned features.
The Cinemartin Loyal monitors' feature a metal-designed chassis for a slim, but durable low-profile form factor with a carbon fibre top and back cover. It's really exciting to see Cinemartin take their on-camera monitor range to the next level by including a full set of pro video assist tools, which be very helpful to a lot of shooters who use cameras like the Sony A6300 or Panasonic GH4, that lack the majority of necessary exposure tools.
Another cool feature is that users can use either Sony NP-F L Series batteries or Canon LP-E6, which are probably the two most vastly popular battery systems for video production. At about 14W / 12V the Loyal monitors don't draw too much juice, which is a good thing. The next best thing really for this monitor is the price – at just $495 it does offer quite a bit of features for the regular shooters, and compared to some of the more expensive offerings from SmallHD for example, it may just what budget shooters are looking for.

The new Loyal series monitor also features HDMI + SDI inputs and outputs with cross conversion, that means the ability to output the HDMI input at the SDI output and the SDI input at the HDMI output, so acting also as a switch at no extra cost. The LOYAL monitor also has a native resolution at 1920 x 1080 with a contrast ratio of 1000:1, with up to 600 NIT's of luminance, making it very usable (at least on paper) in daylight exteriors. It's quite light too at just 297 grams (422 with battery).
The chassis provides buttons for easy access to the GUI on top of the monitor, including a scroll wheel to better manage those settings, as well as a user customisable button for direct access almost any feature.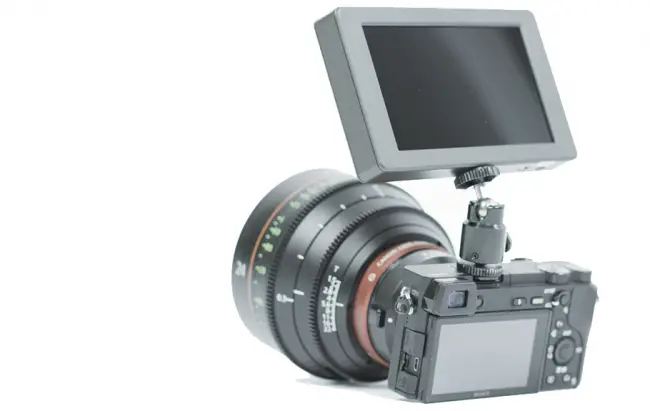 Cinemartin Loyal Series On-Camera Monitor Features and Specs
Display Size: 5.67 inch
Dimensions: 154 x 91 x 19 mm.
Weight: 297 Gr. to 422 Gr. with Sony Battery. 325 grams with battery adaptor without battery. About 297 grams with no battery plate.
Luminance: 500 to 600 NIT max. (cd/m2)
Resolution: 1920 x 1080
Input: HDMI or SDI at 1080, 720, 576, 480. Interlaced or Progressive
Power Input: 12V
Power Consumption: 14W
UI Std Tools: Brightness, contrast, hue, saturation, flip, stretch (16:9 <> 4:3).
UI Assist tools:

False colour
Histogram
Focus Peaking
RGB Parade
Waveform
Pixel Zoom

UI Other tools: Audio Meters, Audio Gain, Colour Bar, Markers, etc.
Availability: Now available. Estimated delivery 3-4 weeks after order.
Price: 495€* / $ 495 USD
Price with Promo**: 375 – 395€/$
* Price does not include taxes. EU residents including UK must pay in Euros and add 21% of Spanish VAT.
**Current promo for interested users in publishing a video review, Cinemartin will refund between 200€ to 224€ (165 to 185€ + vat) or between 100$ to 120$ if you're outside EU, once you the customer send to them the video review link. For more info and the purchase your Cinemartin Loyal monitor, use this link HERE.
Disclosure: Cinemartin advertise on our website, and we also get a small commission on each sale generated through the links in this article, of course at no additional cost to you. Think of it as you supporting our blog and helping us maintain it, so we can bring you news on a daily basis for free. Thanks for all  your support! 
[via Cinemartin]
Claim your copy of DAVINCI RESOLVE 16 - SIMPLIFIED COURSE with 50% off! Get Instant Access!