HDR is the next big thing apparently, and now Cinemartin, makers of TEODORED and the team behind the advanced & high effective standalone Video Denoiser, a Blu ray disc converter /decoder, as well as the 4K portable 4K Recorder – Monitor – Computer; have now joined the fray alongside Atomos and SmallHD, who have their own monitors with HDR, with a brand new monitor. Cinemartin just announced VENUS, a brand new 7-inch HDR monitor, with Full HD 1920 x 1080p resolution and HDMI connectivity. The new Cinemartin Venus monitors features High Brightness of 700 to 1000 Nits of luminance with 10bit processing (8 bit + 2 FRC) providing up to  1.07 Billions of colours, 179º degrees of viewable angle, contrast ratio of 1000:1, and an outstanding true 1080 resolution all wrapped in a professional aluminium chassis.
Cinemartin claim power consumption of only 9 Watts on the VENUS, which can also be powered via DC in 7-15V and with up to 2 x Sony NP-F batteries at same time. VENUS is sadly only HDMI in and has a couple of 1/4 20 inputs so you can mount it on a noga arm or similar. Interestingly enough the buttons are located on the back as on the pics below, as the VENUS is not a touch screen display.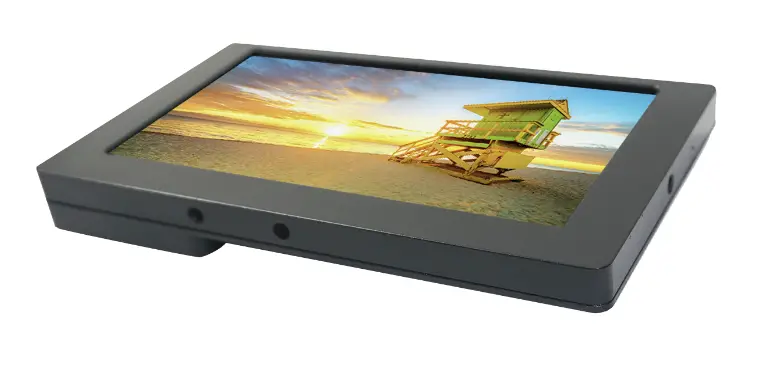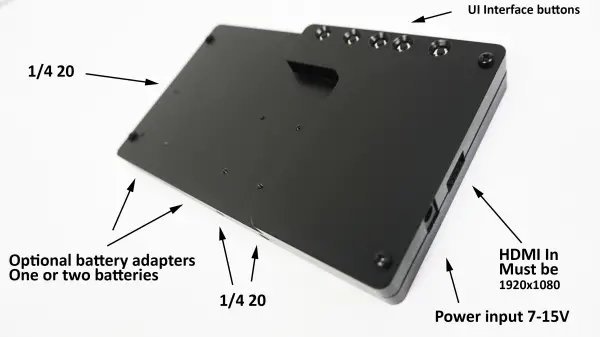 Now, for those expecting to see monitoring features like waveform, zebras, false colour and others, that are usually found on competitor devices, the VENUS sadly has none. Instead, Cinemartin has decided to left the typically extra video apps found on other monitors like zebra or waveform, to be able to provide a slimmer and more cost effective device, as most users can use these tools from their own camera displayed on Venus.
"Current professional cameras already provides extra video functions / applications tools like zebra, peaking, focus assist, etc. so users will only need to set their cameras to show that features, so we decided to left this functions in order to be able to provide a thinner, lighter and more affordable monitor. We produced one of the best state of the art monitors out there at the best price, considering that it is about half the price of similar high brightness quality panel monitors."
said Alejandro Barrada, co-founder and developer at Cinemartin.
Cinemartin VENU Specs:
Size: 7 inch
Dimensions: 189 x 111 x 21 (most part is x 11 instead of x 21) mm.
Weight: 520 grams, 750 grams with 2 Sony NP batteries.
Luminance: 700 to 1000 NIT max. (cd/m2)
Resolution: 1920 x 1080
Input: HDMI at 1920 x 1080
Bit Depth: 10 Bit (8+2 FRC)
Power Input: DC 7~15V
Power Consumption: 9W
UI Interface: Brightness, contrast, hue, saturation, flip, stretch (16:9 <> 4:3) and colour temperature.
Availability: FIFO PreOrders (First In – First Out) with first deliveries in Nov./Dec. 2016, rest on beginning of 2017.
Price: 695€* / 795$
Compatible cameras: All that outputs 1920 x 1080 via HDMI
Some compatible cameras (there are a lot more) include: Canon C100, Canon C100 II, C300, C300 Mark II, C500, JVC cameras, Panasonic GH4, Varicam, Varicam LT, Sony A7s, A7s mk2, A7R, A7R2, a6300, RED cameras, etc..
* Price does not include taxes. EU residents including UK must pay in Euros and add 21% of Spanish VAT unless a Intra VAT number is provided.
The VENUS will sell for 695 €, including free shipping and 2 battery plates + 199€ value software for ProRes and HEVC H.265 encoding for free. For a limited time, you can get the monitor for a special price of just 495€. Follow this link to get all details on how to do so. This makes the VENUS the most affordable on-camera HDR monitor currently on the market.
VENUS vs the Competition (full size image click here):
And sure it may lack the fancy features of SmallHD monitors or Atomos Flame series, but Cinemartin has bet on the durability and slim design plus a straightforward monitoring device and hopes to win over those shooters looking for a truly affordable monitor for their DSLR or pro camera.
Claim your copy of DAVINCI RESOLVE 16 - SIMPLIFIED COURSE with 50% off! Get Instant Access!