Today owning a bunch of lenses and different camera bodies not necessarily corresponding to the native mount of your lenses is not just common, but also a given. There's a sea of adapters out there from almost any mount of lens going to a Canon or a Micro Four Thirds or Sony E-mount body. The shorter the flange distance of the camera mount, the better. Mount such as Sony's E-mount and Micro Four Thirds adopted largely by Panasonic and Olympus have the benefit of having the ability to adapter almost any other known lens to their camera bodies. PL, Nikon, Leica, etc, you name it there is an adapter for it.
However, up until recently, Panasonic GH4/BMPCC owners for examples had just a few options to adapt their precious Canon EF and EF-S lenses to their camera when it comes to adapters that support autofocus and other electronic features of modern Canon mount lenses. Even thought, Canon EF/EF-S to MFT adapters without electronic pins, i.e. "dumb adapters" are a dime a dozen and just a quick Amazon or Ebay search would reveal hundreds of options, those are usually built on the cheap side, have focus to infinity issues, and don't support AF most of the time.
There is an option to go for the Metabones Speed Booster EF to MFT, but it is a very expensive focal reducer priced at around £500 GBP including VAT in the UK, and around $599 in the US over at B&H for the latest "S" version which supports electronic features such as AF and image stabilisation.
Now, Kipon, known manufacturer of lens adapters, comes to the rescue with a Canon EF/EF-S to Micro Four Thirds electronic autofocus adapter, a world's first.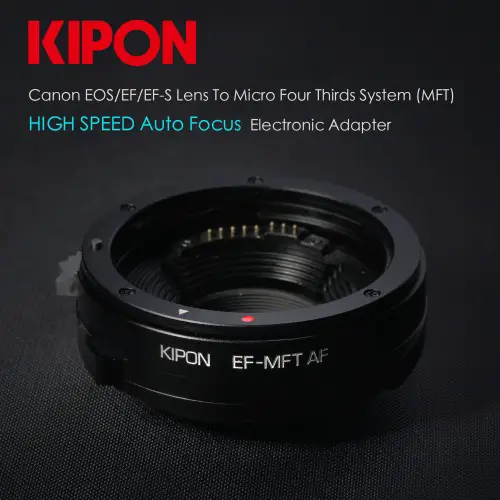 Five years ago Kipon we instrumental in the development of the first Canon EF lens on Micro Four Thirds body mechanical adapter with a built-in iris ring, which they brought to market and at the time were known as one of the most solid adapters out there.
Today, they once again improve upon their massive achievement with a new completely redesigned fully automatic adapter that enables users to adapt their Canon EF and EF-S lenses on any Micro Four Thirds camera body such as the GH3/4, Blackmagic Cinema camera MFT/Pocket Camera, the new Micro Cinema Camera and JVC's 4K LS-300 to name a few.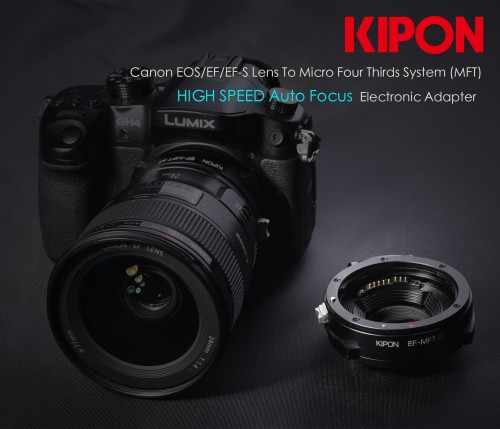 The new EF/EF-S to Micro Four Thirds adapter features electronic contacts and a built-in circuit board instead of an iris ring, which work together to transmit autofocus, image stabilisation and EXIF data to MFT cameras.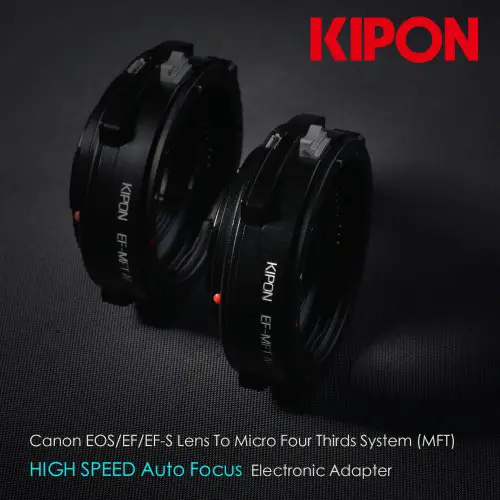 Adorama is now the official exclusive US retailer for all KIPON adapters.
Have browse through more than 400 different lens adapters, including macro adapters, electronic adapters, adapters with integrated glass, optical focal reduction adapters, adapters with built-in aperture control, tilt/shift adapters for cameras from all major manufacturers, including Canon, Nikon, Sony, Olympus, Leica and more.
The EF/EF-S to MFT Autofocus adapter started shipping May 10th at $285. is currently available to pre-order from Adorama for $309. At the moment no information is available on when it is due to ship, hopefully this will happen soon.
Pre-order Kipon EF to MFT AF Adapter Version 2 from Adorama
KIPON adaptors also come with a 12-month warranty, which Adorama will honour.
Claim your copy of DAVINCI RESOLVE 16 - SIMPLIFIED COURSE with 50% off! Get Instant Access!