At the start of IBC 2018 Wooden Camera announced a line of accessories for the new Blackmagic Pocket Cinema Camera 4K. This is exciting news for those of you eagerly awaiting your pre-orders of the BMPCC 4K, which I am being told is currently in mass production and will be shipping very soon.
The new Wooden Camera accessories range from camera support kits to power accessories. The Unified BMPCC4K Camera Cage is the foundation of three levels of accessory kits.
The new WC cage features a reversible top grip that folds for easy packing, top cheese plates with rows of 1/4-20 threads in standard spacing and ARRI-standard accessory mounts with two locating pins, all of which do not obstruct the camera's vital controls.
A vertical side rod has multiple mounting points for accessories like the included HDMI protector with right angle HDMI adapter.
The quick release baseplate features a Manfrotto-style dovetail that interfaces directly with video tripod heads. The included quick release plate can be attached
to other tripods for quick release capabilities.
The modular cage allows for lightweight handheld use or rigging for a production-ready camera using gear from the Wooden Camera ecosystem.
The BMPCC4K Camera Cage is compatible with our Unified DSLR Baseplate for 15mm lightweight rod support. With the Unified DSLR Baseplate installed, the cage can quick release in two places to either leave the rods behind or take the rods with the rest of the camera.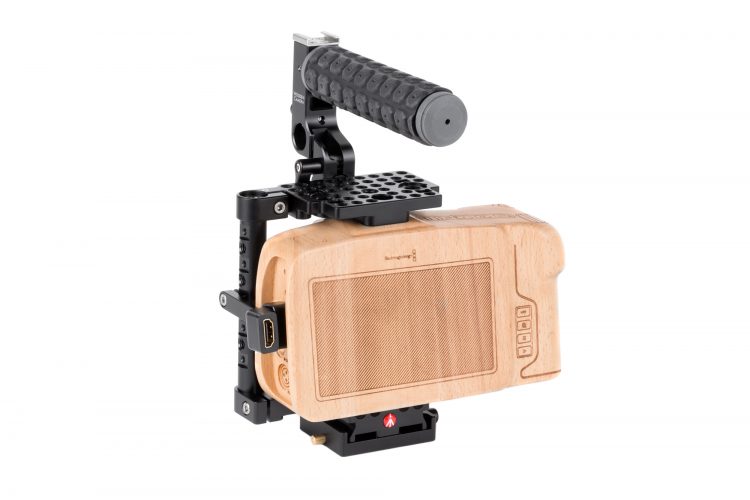 Accessory Kits include variations of the following products: BMPCC4K Camera Cage, Unified DSLR Baseplate, Safety Dovetail, Rod Clamp, Battery Slide, 15mm Rods, A-Box, and Ultra Arms.
Power accessories include both Gold Mount and V-Mount power plates, D-Tap to BMPCC4K, and a Power Extension BMPCC4K in variable lengths.
BMPCC4K products are available for pre-order to ship late September through the Wooden Camera website and through their dealership network. See pricing for each stage and accessories below.
You can also order them direct from Wooden Camera if that's your preference via this link here.
Claim your copy of DAVINCI RESOLVE - SIMPLIFIED COURSE with 50% off! Get Instant Access!