Right on time for this year's IBC 2016, Adobe unveils the upcoming major update of its Creative Cloud suite. Besides the numerous new features and improvements that Premiere Pro CC, After Effects CC, Prelude CC, and other Creative Cloud applications receive, users will also get the opportunity to take advantage of the brand new collaborative Team Projects feature. In essence, this new hosted service will allow content creators, video editors and VFX artists to share editorial workflows and work simultaneously on the same project across multiple production facilities without requiring additional dedicated hardware. Here's a sneak peek at the new features coming to Adobe Creative Cloud video and audio tools including Premiere Pro, After Effects, Audition, and Character Animator.
Premiere Pro CC also receives a significant boost regarding its VR, 3D, and animated content creation capabilities. For instance, the NLE will automatically detect VR source video on ingest and correctly set it to either stereoscopic or monoscopic output by applying the right settings. Additionally, it'll be a lot easier to create, edit and customize captions and subtitles along with tasks like text manipulation and altering duration and location right in the timeline.
Beyond that, the next version of Premiere Pro adds support for Native QT DNxHD / DNxHR export and offers the ability to stitch multiple clips from camera media into a single file on ingesting for easier data management. There is also a new visual keyboard shortcut mapping that makes it easy to discover, adjust and customize keyboard shortcuts in no time.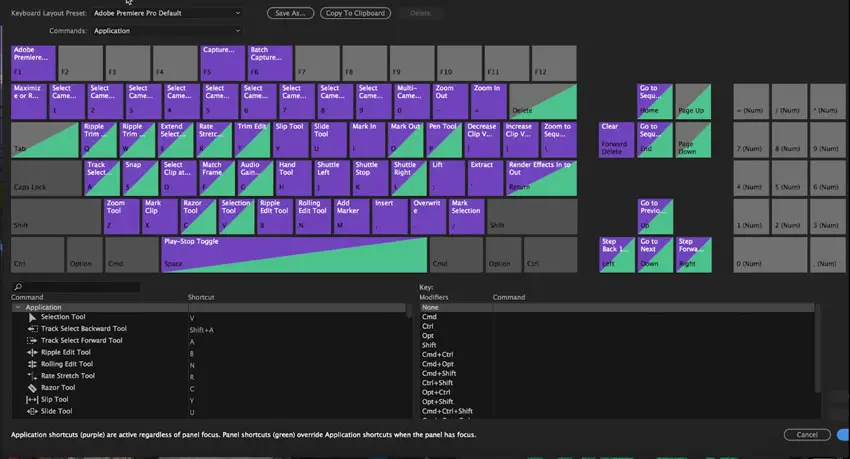 The ever-expanding color toolset in Premiere Pro CC adds support for HDR10 metadata workflows, enabling editing of HDR10 and output for new HDR-enabled TVs and displays, whereas the Lumetri Color panel now includes a more refined color picker when working with HSL secondaries or white balance, allowing content creators to access powerful color correction and Look design tools in a dedicated color workspace.
There are more of Audition's fine-tuning features implemented in Premiere for direct audio editing. The NLE also gets a Destination Publishing option, giving users the ability to post videos directly to Behance, YouTube, Facebook and Twitter or share productions privately to Creative Cloud.
Furthermore, After Effects CC gets a new 3D Cinema 4D Render Engine, which is designed to improve rendering performance allowing real-time raw footage playback, thus eliminating the necessity for a preloaded cache. Interactive performance optimizations and new GPU-accelerated effects, such as Hue/Saturation and Brightness/Contrast make working within After Effects even easier and faster. Other After Effects improvements include Shared Templates integration, automatic syncing of Typekit fonts, Dynamic Link enhancements, optimized time remapping and more.
Last but not least, Adobe Character Animator (Beta), which was launched last year, also gets a few updates worth noting. These include faster puppet creation, letting animators combine different body components from multiple Photoshop and Illustrator files to generate a range of puppets more quickly and effortlessly. Recording options have been streamlined to include grouped keyboard trigger recordings with more precise editing options. You can also share your animations quickly via Creative Cloud Folders.
According to Adobe, these all new enhancements should be available as a free update for Creative Cloud members before the end of 2016.
[source: Adobe]
Claim your copy of DAVINCI RESOLVE - SIMPLIFIED COURSE with 50% off! Get Instant Access!