Even though the latest DaVinci Resolve 12.5.2 version isn't as substantial as the previous two updates, it still has plenty to offer. The software now supports additional metadata embedded into the RAW files from URSA Mini cameras running the latest update, new color space tag support on QuickTime export, Fusion Connect for Linux, additional smart bin options, new color page timeline filtering based on OpenFX plug-ins and more. There is also a welcomed improvement on the audio side as well. DaVinci Resolve 12.5.2 now supports up to 24 audio channels on the Edit and Deliver Page, which in conjunction with the ability to work natively with third-party audio filters and advanced audio controls that platform already provides, makes the overall audio workflow even more convenient and straightforward.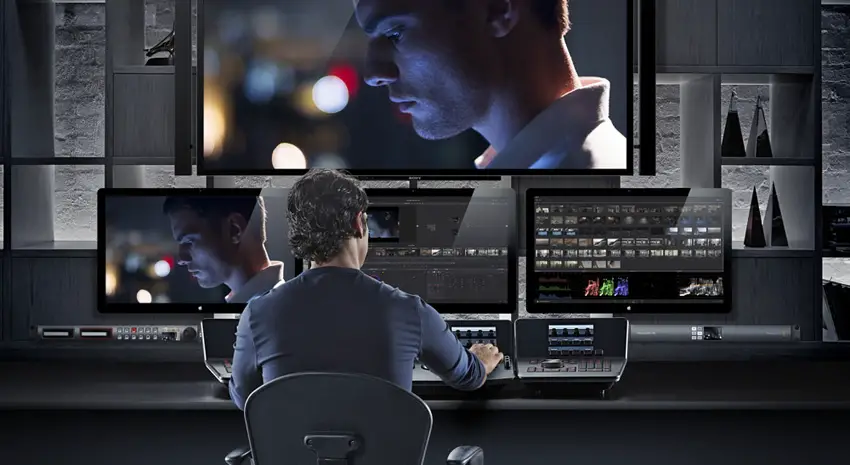 With the support for additional URSA Mini camera metadata in Resolve 12.5.2, you can now take advantage of ability to organize footage, create smart bins, filter clips and more when editing and color correcting based on the metadata that is embedded into RAW files. Entering this information on the URSA Mini camera has never been easier with the latest camera software as it's certainly going to speed up significantly the process of managing and organizing Raw media inside Resolve.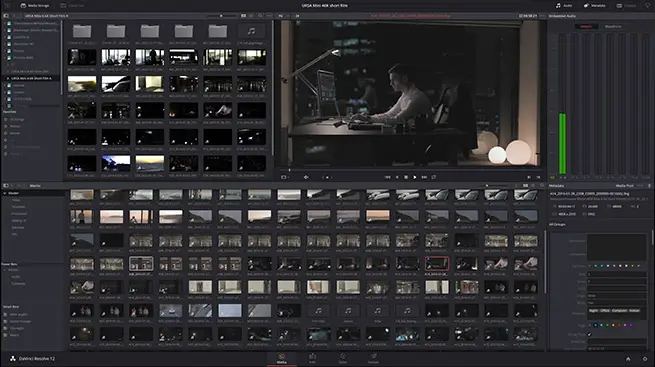 Due to the advanced Fusion Connect functionality, editors and colorists can send a clip (or multiple clips) from their Resolve timeline directly to Fusion. When visual effects are now added and rendered in Fusion, the results automatically show up in the DaVinci Resolve timeline.
In addition, Resolve users will be able to export color space tags with Quicktime files. So, if you are working with files in different color spaces such as SMPTE-C, Rec. 709, Rec. 2020 and others you'll be able to include the correct color space metadata information for more consistent playback in other software applications.
Here's the full list of the latest enhancements and new features that come with DaVinci Resolve 12.5.2
Support for new URSA Mini camera metadata in RAW files
Support for color space tags on QuickTime export
Support for Fusion Connect on Linux
Ability to filter timeline on Color page based on clips that have OFX applied
Support for up to 24 audio channels on the Edit and Deliver page
Support for manually enabling and disabling GPUs in preferences
Support for display name on ALE export
Support for apply grade and append node graph in the main menu
Ability to clear tracking data for the current Power Window
Support for OpenCL on NVIDIA cards on Microsoft Windows
Ability to copy local grades to remote
Additional utility functions in DCTLs
Support for date created and data modified for timelines when using smart bins
General Improvements
Improved 3D LUT generation to ignore any spatial and temporal corrections like Power Windows and OFX etc.
Improved accuracy for color conversion when outputting with ST.2084 gamma.
Improved accuracy of rendering Rec.2020 to ProRes/DNxHR.
Improved highlight control in ACES and HDR workflows.
Improved performance of ResolveFX Scanlines.
Improved reliability when loading projects with audio plugins.
Improved deliver preset switching to preserve the render location.
Opacity is now retained when converting a circular window to a Power Curve.
Addressed an issue with the 3D keyer on OS X 10.11.6.
Addressed an issue with Resolve displaying GPU Memory Full messages on AMD card on Microsoft Windows.
Addressed an issue incorrect UI indication for ProRes render cache, optimized media and remote rendering on Microsoft Windows.
Addressed an issue where importing a project into Resolve could cause a crash if there were unsaved render jobs.
Addressed an issue with applying stills and memories on a stereo timeline.
Addressed an issue with decoding some MXF XDCAM MPEG2 clips.
Addressed an issue with Favorite transitions not being remembered.
Addressed an issue where printer lights keyboard shortcut did not work on Linux.
Addressed a file permissions issue when rendering EXR files.
General performance and stability improvements.
Furthermore, Blackmagic Design updated their Video Assist monitor/recorder by adding false color functionality along with expanded focus options and new screen rotation features. On top, the unit is now capable of recording all flavors of the DNxHD and DNxHR codec in MXF container which improves compatibility with Avid systems running on Windows and removes dependencies on the .mov file format.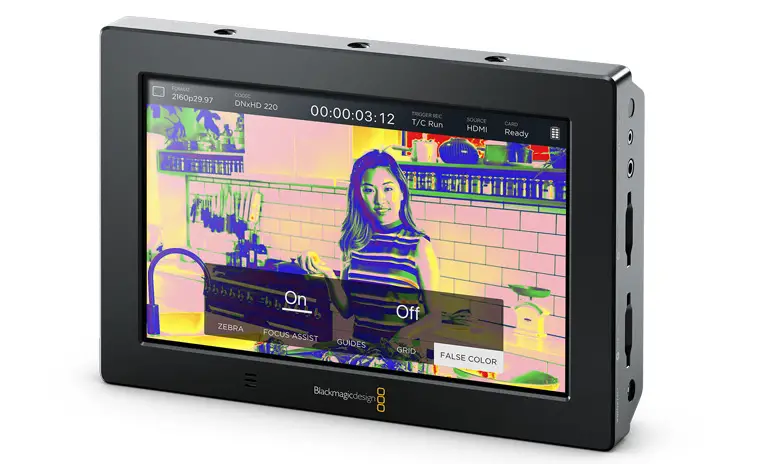 Last but not least, the company announced it has acquired the live green screen compositor Ultimatte along with the world leader in advanced audio post-production products for film and television Fairlight. Considering what Blackmagic Design was able to achieve in the recent years with products such as DaVinci Resolve and Fusion, we're excited to see what the company will bring to the market in the foreseen future.
[source: Blackmagic Design]
Disclaimer: As an Amazon Associate partner and participant in B&H and Adorama Affiliate programmes, we earn a small comission from each purchase made through the affiliate links listed above at no additional cost to you.
Claim your copy of DAVINCI RESOLVE - SIMPLIFIED COURSE with 50% off! Get Instant Access!