Mainly due to the latest 3rd generation 48-layer NAND technology and other proprietary enhancements and implementations, Samsung managed to grow the capacity of its brand new 960 M.2 NVMe SSDs up to whopping 2TB as well as increase their speed performance significantly. The company claims that the 960 PRO SSD, in particular, delivers peak sequential read and write transfer speeds of 3,500 MB/s and 2,100 MB/s, respectively, which makes it the world's fastest M.2 NVMe SSD to date. The drive also comes in 512GB, 1TB, and 2 TB versions while delivering higher bandwidth and lower latency for processing massive amounts of data. The 960 EVO, on the other hand, is available in 250GB, 500GB and 1TB capacities and boasts read and write speeds, that reach peaks of 3,200 MB/s and 1,900 MB/s. The new 960 SSDs sport an M.2 form factor, have a PCI-Express Gen. 3 x4 interface and also feature Samsung Dynamic Thermal Guard technology that provides stable performance even during extreme workloads.
It's also worth noting that the 960 EVO is the first SSD to come with the latest Samsung Intelligent TurboWrite technology that uses buffers to write data more efficiently. The buffer capacity, however, varies in different models as it's 13GB, 22GB, and 42GB for the 250GB, 500GB, and 1TB versions respectively.
Furthermore, the 960 EVO SSDs are backed by a three-year limited warranty and up to 400 Terabytes written whereas the 960 PRO units promise additional reliability and endurance with the five-year limited warranty and up to 1.2 Petabytes written.
In addition to the blazing-fast speed performance and increased capacity of its 960 internal SSDs, Samsung also introduced a completely overhauled iteration of the Magician software that comes with a new user interface allowing users to control various SSD settings including firmware updates and other handy features.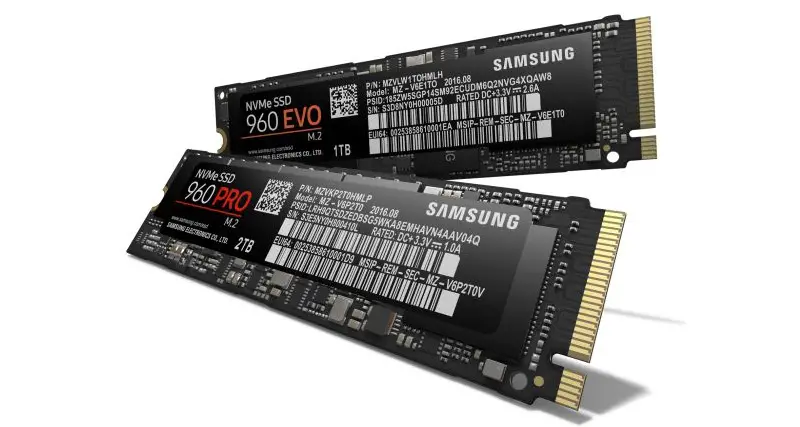 Regarding price and availability, the 960 PRO and 960 EVO SSDs will be available worldwide starting October 2016, with retail prices of $329, $629 and $1299 for the 960 PRO 512GB, 1TB and 2TB versions, while the 960 EVO will come in 250GB, 500GB and 1TB models selling for$129, $249 and $470 respectively. For more information and specifications of the 960 EVO and 960 PRO M.2 NVMe SSDs, head over to SamsungSSD's website.
[source: Samsung]
Claim your copy of DAVINCI RESOLVE - SIMPLIFIED COURSE with 50% off! Get Instant Access!