Premier tripod and accessories maker Sachtler, recently launched their new Signature Series tripods with the inaugural "Freddie Wong" Signature Edition Ace L tripod system designed for compact cameras and DSLR users. The Freddie Wong Edition ACE L tripod features Freddie's signature Lime Green and provides a lightweight and sturdy solution for budget filmmakers using camera rigs weighing less than 13.2 lbs or 6 kilos, so your rigged out Sony FS5, or "caged" Panasonic GH4 should be good to go. You may know Freddie Wong from his mega-successful YouTube channel specialising in action/comedy shorts produced by his acclaimed production company RocketJump. I guess when you have over 7 million subscribers and 1.2 billion views on YouTube you can not only have your own "Signature Series" tripod, but also have your own Hulu Series just like Freddie has his RocketJump: The Show.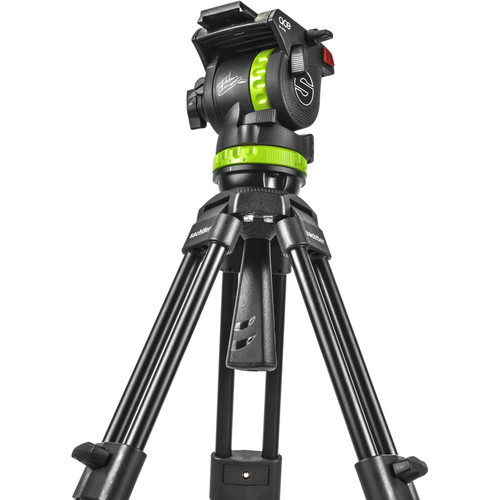 Sachtler Ace L Freddie Wong Edition Tripod Features
Supports 13.2 lb / 6 kg – perfect for DSLRs and Compact S35 cameras/handhelds
75mm Bowl with quick level adjustment
Illuminated levelling bubble
3-Stage Aluminium Legs
30.7–66.5″ Height Adjustment Range
Mid-Level Spreader
7-Step Counterbalance / 3-Step +0 Pan/Tilt Drag
4.1″ Sliding Plate Range / +90°/-75° Tilt Range
Includes padded carry case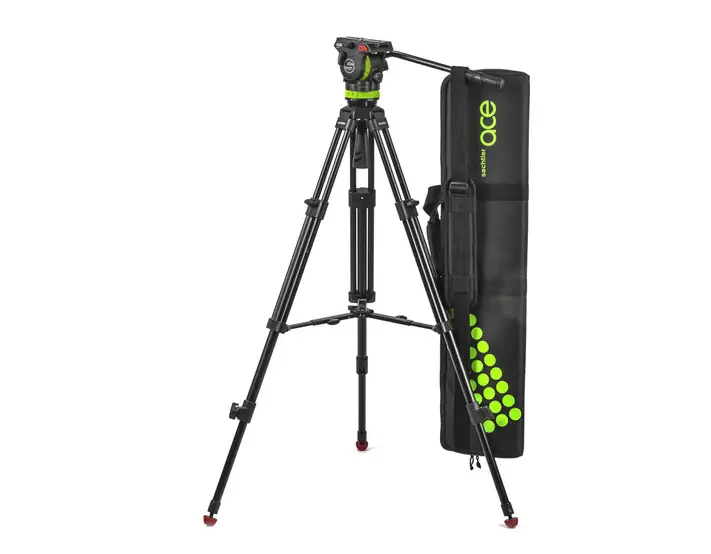 "I'm incredibly excited to be working with Sachtler and to lend my John Hancock to their Ace L line of tripods," said Freddie. "Since 2010, when we started uploading videos, Sachtler has always been the goto tripod for all of our productions. We tend to go for a guerrilla aesthetic and the Ace L in particular fits right in by combining excellent build quality with a light weight so you can easily pick up your whole camera package and flee quickly from non-permitted locations when the fuzz comes to shut you down!"
This special ACE tripod configuration offers an Ace L head with robust aluminium legs, giving users the smooth movement that Sachtler's known for with a Lime Green accent just like Freddie's go-to glasses. Available in a limited supply of 200, this system can handle camera packages up to 13.2 lbs and is perfect for any beginner or professional on the go.
The 75 mm bowl tripod offers operators the most durable option providing the ease of use and quick set up vital for all applications. Like all Sachtler systems, this Freddie Wong Signature Edition Ace Tripod System guarantees users a great pan and tilt drag performance with its strong German engineering and patented SA-drag system.
This signature system weighs just 4.5 kg (9.9 lbs) and includes an aluminium tripod with a mid-level spreader, footpads with retractable spikes, and a carrying bag. It also incorporates premium Sachtler features such as easy, accessible controls and fast adjustments to deliver the ultimate professional performance for shooters on the go.
You can pick one up at B&H for $783.
Claim your copy of DAVINCI RESOLVE - SIMPLIFIED COURSE with 50% off! Get Instant Access!