Apple just concluded their "Hello Again" live event, which they held on home turf in Cupertino, CA during which Apple boss Tim Cook unveiled the brand new MacBook Pro 15-inch and 13-inch models. The next generation MacBook Pro models will be available in the familiar 13-inch and 15-inch varieties wrapped in vastly redesigned bodies with slimmer, lighter and slicker design and of course the big new feature – the OLED Touch Bar, which replaced the outdated function keys and offers some awesome new functionality and integration with plenty of popular apps. Today's event also marked the 25th anniversary of the company's first notebook, which came out way, way back in 1991, and compared to the newest MacBook Pro demonstrates the cosmic strides with which laptop and computing technology in general has advanced in the last two decades.
The promo below makes a good point of this fact.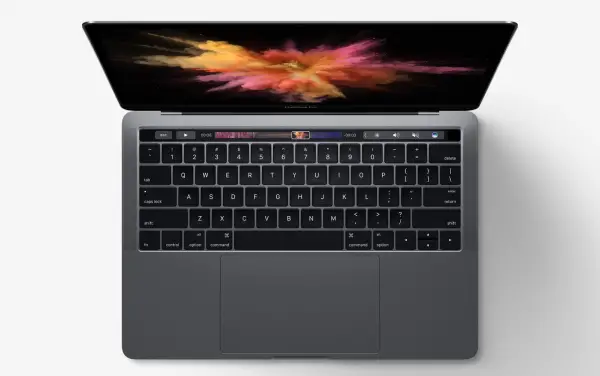 The new MacBook Pro's design is all aluminium metal all around and is of course (not surprisingly) smaller than the previous generation, with the new 15-inch being 20% tinier compared to the older model and weighing at 4 lbs. There is also a new Force Touch trackpad is twice as big and the new keyboard has been ported from the 12-inch Macbook, albeit improved for faster response thanks to 2nd generation butterfly key mechanism.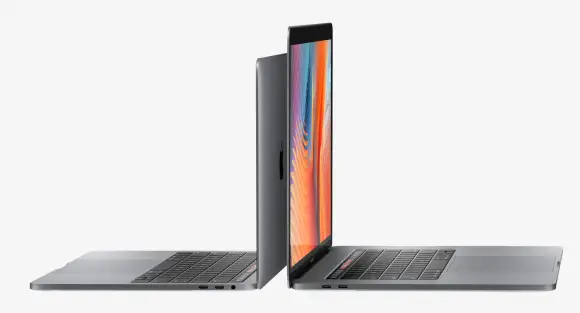 MacBook Pro 2016 Features & Specs (15-inch)
15.4-inch "Retina" LED-backlit display with IPS technology
2880 x 1800 native resolution at 220 ppi
500 nits brightness & Wide colour (P3)
Available in Space Grey or Silver
Touch Bar with integrated Touch ID sensor
Up to 2.9GHz quad-core Intel Core i7, Turbo Boost up to 3.8GHz, with 8MB shared L3 cache
512GB/1 TB or 2 TB PCIe-based on-board SSD
16GB of 2133MHz LPDDR3 RAM
Radeon Pro 455 with 2GB of GDDR5 memory – Upgradable to Radeon Pro 460 with 4GB of GDDR5 memory
4 x Thunderbolt 3 (USB-C) ports with support for:

Charging
DisplayPort
Thunderbolt (up to 40 Gbps)
USB 3.1 Gen 2 (up to 10 Gbps)

Stereo speakers with high dynamic range
Three microphones
3.5mm headphone jack (!)
Up to 10 hours wireless web / Up to 10 hours iTunes film playback
Up to 30 days standby time
Built-in 76 watt-hour lithium-polymer battery
87W USB-C Power Adapter
Height: 1.55 cm (0.61 inches)
Width: 34.93 cm (13.75 inches)
Depth: 24.07 cm (9.48 inches)
Weight: 1.83 kg (4.02 pounds)
Without a doubt, the new OLED Touch Bar and its capabilities and integration with various apps such as Final Cut Pro X and Adobe Photoshop was the primary new feature demoed during the event. The new Touch Bar offers button customisation and adapts depending on application used.
From sending emojis and adjusting brightness or controlling volume to advanced application specific tasks such as scrubbing through video assets, zooming your editing timeline and much more. This is certainly good news for editors and Photoshop retouchers.
The new Retina display in the MacBook Pro 2016 may not be UHD, but according to Apple is "67% brighter, 67% higher contrast ratio, and has 25% more colors than sRGB" compared to the previous generation MBP. The Wide Colour P3 support is of course a welcomed addition for video creators and photographers alongside graphic designers and the lot.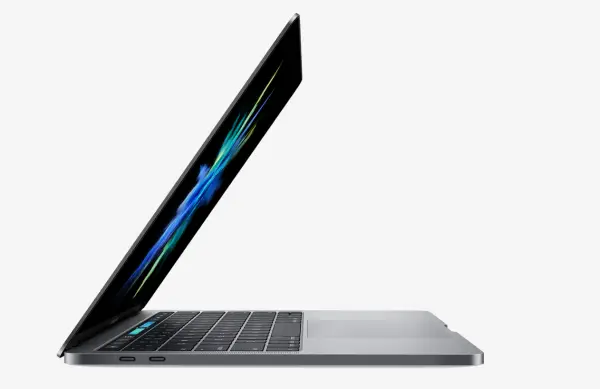 The new MacBook Pro also bids farewell to the MagSafe charger, thanks to the addition of 4 x Thunderbolt 3 (USB-C) ports, all of which can be used for charging your high-end notebook. As a matter of fact, there is not other native port on the new MacBook Pros apart from the mighty 3.5mm headphone jack (yes! It still lives!).
This may be good or bad news depending on your point of view – yes, TB3 or USB-C has been hailed as the future of all ports, but this means that you have to shell out $$ for adapters-to-UBS-C such as HDMI, TB 1 and 2, VGA etc. The new MacBook Pro is said to be able to support 2 x 5K displays at the same time (using 1 USB-C cable for each monitor) while connected to 2 RAIDs with the other two USB-C/TB3 ports.
Apple is sticking with AMD again for their GPUs, and the AMD Radeon Pro 450 with the new Polaris Chip at 2GB VRAM in the "basic" configuration is a bit underwhelming, but you can go up to 4GB with the highest spec model, which will decimate your bank account with a massive $4,299 hit if you take the max 2TB SSD and the 2.9GHz Quad-core Intel i7 processor.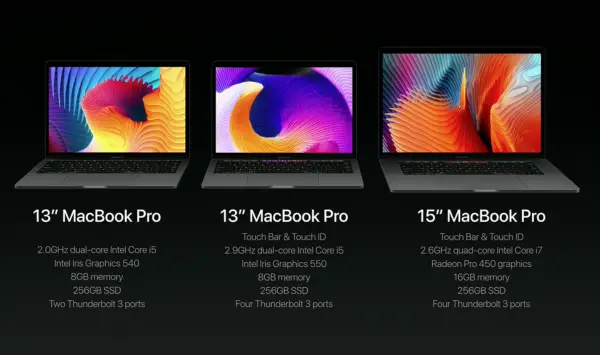 Apple also announced a basic MacBook Pro 13-inch model with only 2 x TB3 ports and no Touch Bar stating at $1,499 USD and shipping today. The other two models with Touch Bar – the 13-inch MacBook Pro and the 15-inch MacBook Pro start at $1,799 and $2,399 USD respectively and are expected to ship within 2-3 weeks.
Pre-orders start today directly through Apple online or via the B&H links below:
15.4″ MacBook Pro with Touch Bar (Late 2016, Space Gray) – $2,799
2.7 GHz Intel Core i7 Quad-Core
16GB of 2133 MHz RAM | 512GB PCIe SSD
AMD Radeon Pro 455 GPU (2GB GDDR5)
15.4″ MacBook Pro with Touch Bar (Late 2016, Space Gray) – $2,399
2.6 GHz Intel Core i7 Quad-Core
16GB of 2133 MHz RAM | 256GB PCIe SSD
AMD Radeon Pro 450 GPU (2GB GDDR5)
13.3″ MacBook Pro with Touch Bar (Late 2016, Space Gray) – $1,799
2.9 GHz Intel Core i5 Dual-Core
8GB of 2133 MHz RAM | 256GB PCIe SSD
13.3″ 2560 x 1600 Retina Display
Integrated Intel Iris Graphics 550
13.3″ MacBook Pro (Silver, Late 2016) – $1,499
2.0 GHz Intel Core i5 Dual-Core
8GB of 1866 MHz RAM | 256GB PCIe SSD
13.3″ 2560 x 1600 Retina Display
Integrated Intel Iris Graphics 540
Claim your copy of DAVINCI RESOLVE - SIMPLIFIED COURSE with 50% off! Get Instant Access!