Along with its brand new MacBook Pro models, Apple also introduced a significant update to its professional video editing app Final Cut Pro X which seems to be (arguably) the biggest the application has received since it was completely overhauled five years ago. Final Cut Pro X 10.3 version now boasts a redesigned interface with full support for wide color workflows, a brand new Magnetic Timeline, powerful new editing features and enhancements alongside support for the revolutionary Touch Bar on the new MacBook Pros. The latter replaces the keyboard's traditional function row with a Retina-quality Multi-Touch display that dynamically adapts to Final Cut Pro X by providing users with intuitive, context-sensitive controls at their fingers. Here's a quick overview of the new functionality of the Apple's NLE produced by Thomas Grove Carter.
The fully customizable arrangement and color coding of the new FCP X Magnetic Timeline is a huge workflow improvement that can be spotted right off the bat. Now users can easily create and assign roles for different groups of tracks, swap their position by rearranging the vertical layout of the timeline or assign different colors to a group of clips for further convenience and better timeline organization.
If that isn't enough, the Focus button in the Timeline Index lets you highlight specific roles and collapse all others. Controlling audio has never been easier. Final Cut Pro X 10.3 allows users to add audio effects and keyframe audio volume changes to an entire role within a Compound Clip. You can also select a bunch of clips and add or remove the applied effects and attributes just like you'd normally do in Premiere Pro CC, for instance. The Match Color feature can also be copied and pasted to other clips or saved with a preset.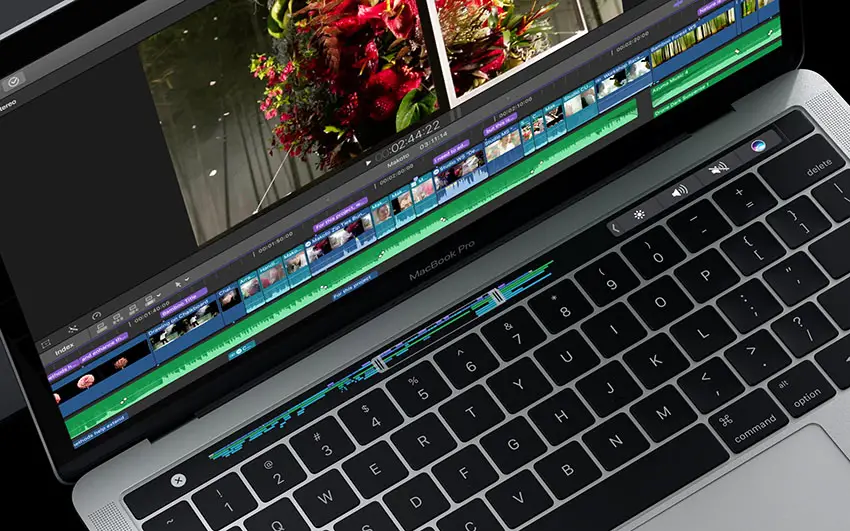 Furthermore, the available Customizable workspaces will let users adjust window arrangements for different tasks such as organizing, editing and color grading across multiple monitors. The full support for wide color workflows, on the other hand, enables editing and output in either standard Rec.709 or wide gamut Rec.2020 color space. Optionally, you can set the color space for individual Projects, or an entire Library.
Those who tend to utilize Final Cut Pro X 10.3 on some of the latest MacBook Pros will be able to instantly switch between editing tools, adjust audio levels and tap into useful commands for trimming and playback by using the brand new Multi-Touch display. You can even use it as an interactive display of your entire timeline and navigate across with just a touch.
Some of the additional features in Final Cut Pro X 10.3:
Flow transition creates invisibly smooth jump cuts;
Remove Attributes allows users to easily delete or reuse select effects across multiple clips;
Timecode overlay effect and generator allow users to edit with a large view of source timecode;
Copy and paste timecode to speed up numerical entry from text documents
Consolidate custom Motion projects into individual Final Cut Pro libraries
Option for continuous playback of clips in the Browser
Ability to roll trim on adjacent connected clips
Skim and select ranges of audio files in the Music and Sound Effects browser
XML 1.6 supports role-based audio components for Magnetic Timeline 2
Ability to move subroles between roles and merge subroles with other subroles in the Edit Roles window
Support for 10-bit uncompressed MXF with standard definition video
Support for exporting 16-bit TIFF sequences from both Final Cut Pro and Compressor
Support for ProRes MXF, Panasonic V-Log and export of AVC-Intra;
Direct video output via Thunderbolt 3 enables high-quality video monitoring on an external display with a single cable and more
Final Cut Pro X 10.3 is available for immediate download on the Mac App Store as a free update for existing users, or as a $299.99 purchase for new customers.
[source: Apple]
Disclaimer: As an Amazon Associate partner and participant in B&H and Adorama Affiliate programmes, we earn a small comission from each purchase made through the affiliate links listed above at no additional cost to you.
Claim your copy of DAVINCI RESOLVE - SIMPLIFIED COURSE with 50% off! Get Instant Access!