DJI owns the sky now with their latest "one-two punch" announcement of the new DJI Inspire 2 and Phantom 4 Pro drones, featuring new cameras (one capable of 5K Raw!), an improved obstacle/collision avoidance system, and more advanced aerial features than ever before. It's kind of scary how fast aerial photography has evolved in the last two years and how dangerously close we are getting to the reality of an Inspire drone being part of some super-secret Skynet take-over plan! I know, it's a stupid joke, but just look at it – the new DJI Inspire 2 looks like it was ripped right out of a Terminator movie and I am sure it's just a matter of time before these things become self-aware… All dumb jokes aside, the new Inspire 2 takes your aerial cinematography to a whole new level.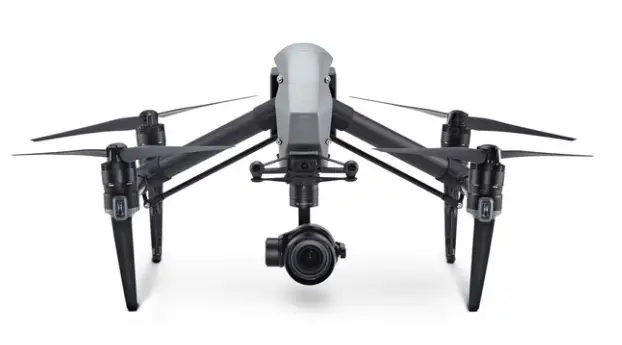 First – we get a new-ish super-slick and futuristic magnesium-aluminium alloy body, which is stronger but lighter at the same time. The new DJI Inspire 2 can be pushed to a top speed of 67mph or 108km/h and it only takes 4 seconds to get to 50mph!
These kind of speeds are seriously impressive, but what's even more impressive is that fact that the Inspire 2 is now safer than ever; thanks to its intelligent obstacle avoidance sensors, which are now even measuring distances to overhead objects – this is a major advancement for those who plan to fly the Inspire 2 indoors.
There is also a new forward-facing camera, which offers TapFly that can direct the Inspire 2 to any point on the screen while avoiding obstacles along the way. This secondary camera is basically showing the drone operator where the drone is headed and any obstacles ahead – allowing the 2nd operator to concentrate on composition and camera movement and not having to worry about where the drone is flying into.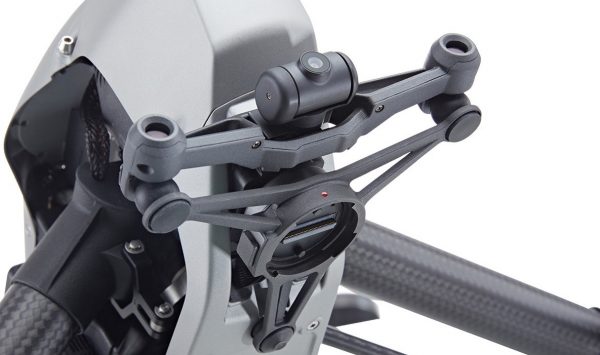 ActiveTrack recognizes common subjects such as people, cars and animals, sending Inspire 2 to follow behind, lead in front, circle above or track alongside while always flying forward, ensuring the forward-facing obstacle sensing system keeps the aircraft safe.
Spotlight Pro Mode locks onto a subject during flight while the aircraft flies freely in another direction – and automatically rotates the aircraft to stay on the shot if the gimbal reaches its rotational limit.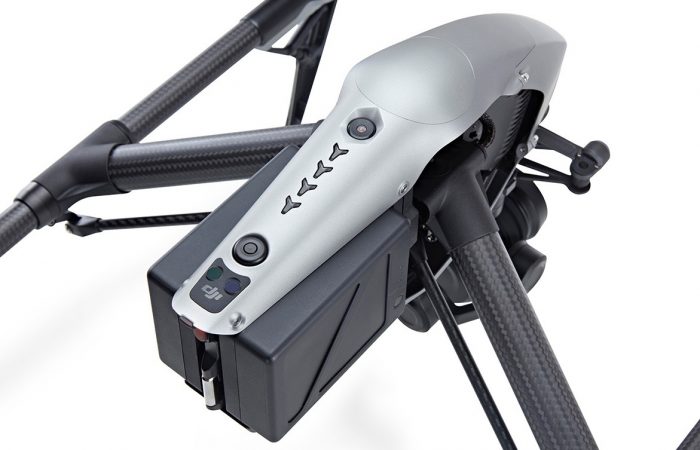 The DJI Inspire 2 has a new dual battery system, with built-in redundancy and a new maximum flight time of up to 27 minutes. The Inspire 2 supports the brand-new Zenmuse X4S and X5S cameras and will also support additional cameras in the future.
What is really interesting here, is the fact that the new X5S camera supports 5.2K Raw up to 30fps as well as 4K/60p in addition to Apple ProRes 422 HQ, and even ProRes 4444 XQ. H.264 and H.265 compressions at 100Mbps are also present. The X5S camera features a 20.8 megapixel 4/3″ sensor and a Micro Four Thirds lens mount making it compatible with a wide range of lenses.
It should be noted however, that the Raw recording as well as ProRes codecs are only available as a paid license you purchase from DJI at the time or order. The smaller X4S camera is not able to record Raw or ProRes, only H.264 and H.265.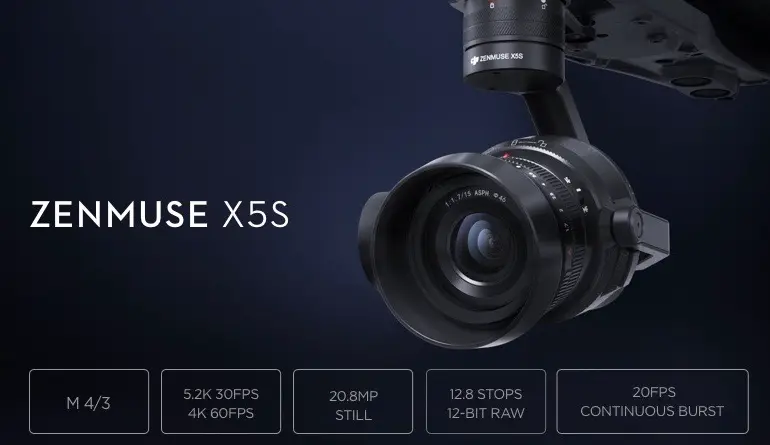 DJI X5S Raw camera for Inspire 2
Integrated Gimbal/Camera + interchangeable Lenses
4/3 Sensor / MFT lens mount
5.2K Raw at 30 fps / 4K Raw at 60 fps both 12-Bit Raw
20.8MP Still Images
12.8 Stops of Dynamic Range
20 fps Continuous Burst
Raw and ProRes requires paid license
Price (no lens) – $1,399 at B&H / Adorama
Price with 15mm f1.7 – $1,899 at B&H / Adorama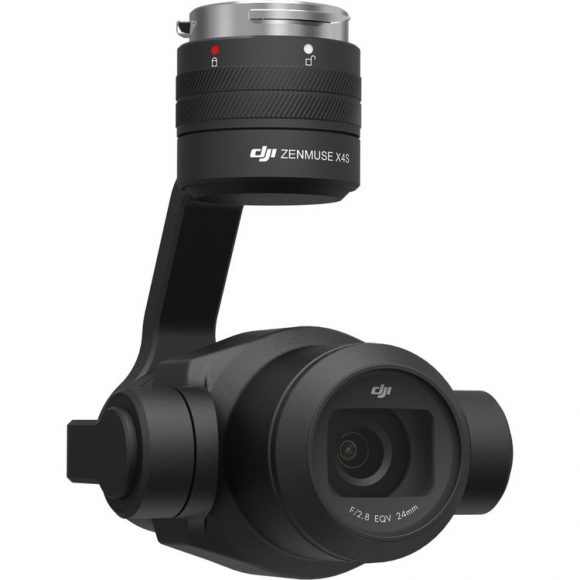 DJI X4S Gimbal camera for Inspire 2
20MP 1-inch sensor
4K/60 fps in H.264 / H.265 100 Mbps (super-sampled from 5.2K)
24mm (35mm FOV) fixed lens with f/2.8
Maximum ISO of 12,800
11.6 Stops of Dynamic Range
Fast AF / 3-Axis Gimbal
Price – $599 at B&H / Adorama
"Professional filmmakers and photographers always push to create images that have never been seen before, and DJI never stops trying to give them the tools to achieve their vision," said DJI CEO and Founder Frank Wang. "Our newest flight platforms and stabilized aerial cameras are smarter, faster and more powerful than ever before. We can't wait to see how creators use Inspire 2 and Phantom 4 Pro to capture dazzling images."
This impressive short film was entirely shot on the new DJI Inspire 2:
"The Circle" Behind the Scenes:
DJI Inspire 2 – Behind the Scenes – X5S Camera
It is worth to note that unlike the (now) 1st generation X5R camera for the Inspire 1, which is capable of 4K/30p raw at an average rate of 1.7 Gbps, the new X5S 5K raw camera, and the X4S have their processing and recording moved to the Inspire 2 chassis in what DJI calls a new image processing system – CineCore 2.0, which allows processing large files faster than ever before. 
DJI is also introducing a new proprietary SSD recoding media system called CINESSD in 120GB ($299) and 480GB ($899 each) flavours in order to cope with the increased processing workload brought upon by the higher resolution recording and higher frame rates. Sadly the new X4S and X5S cameras are not compatible with the Inspire 1 drone or the DJI Osmo as their processing is done win the CineCore 2.0 processing engine embedded in the Inspire 2's body.
The DJI Inspire 2 sure does boast copious amounts of image processing horsepower destined to see a lot of use not just on low-budget commercials or features, but also on higher end productions.
Pricing on the DJI Inspire 2 starts at $2,999 (B&H/Adorama), but without a camera. The DJI Inspire 2 Combo (shipping early December), which includes one Inspire 2 aircraft, 1 x Zenmuse X5S camera, CinemaDNG and Apple ProRes License Key, is available for $6,198.
If you order the Inspire 2 Combo before January 1, 2017 you $200 off the retail price and can get the combo for a limited time for $5,999.
DJI Phantom 4 Pro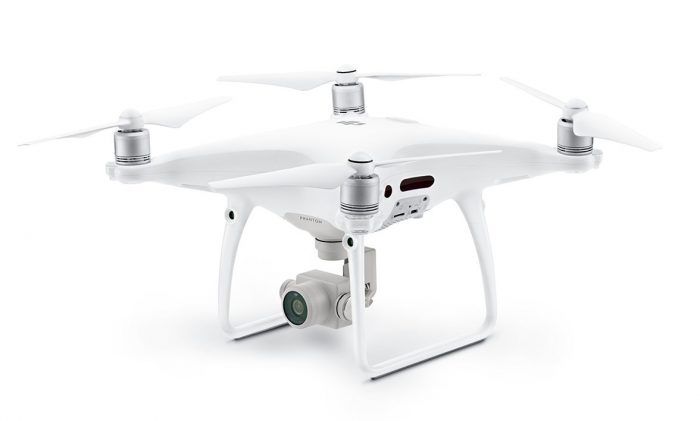 DJI also refreshed the Phantom line of quadcopters by announcing the new DJI Phantom 4 Pro. The new model features a 1-inch 20-megapixel sensor and nearly 12 stops of dynamic range capable of reproducing stunning levels of detail and low-light performance unprecedented in a flying camera of this size, according to DJI.
Its mechanical shutter eliminates rolling shutter distortion in fast-moving scenes (however it is not clear if this applies to video or only stills; I'd say stills but that't not so clear). The new DJI Phantom 4 Pro can do 4K video up to 60 fps at a maximum bitrate of 100 mbps in H.265.
DJI Phantom 4 Pro Features
1-inch 20 Megapixel CMOS Sensor
4K/60p video (camera with integrated gimbal and lens)
ISO 12,800 Max
20 Megapixel Stills
FlightAutonomy with Redundant Sensors
Four Directions of Obstacle Avoidance
Top Speed of 45 mph in Sport Mode
Maximum Control Range of 4.3 Miles
Visual Tracking of Moving Subject
TapFly – Fly With a Tap of the Finger
Up to 30 Minutes Flying Time
Remote Controller Included
Phantom 4 Pro's FlightAutonomy can position, navigate and plan routes for Phantom 4 Pro, enabling it to avoid obstacles in a sensing range up to 98 feet at front and rear, even in complex 3D environments. Phantom 4 Pro gets a maximum of 30 minutes of flight time, and can fly at speeds of 31 mph with obstacle avoidance in effect; 45 mph is the top speed in sport mode.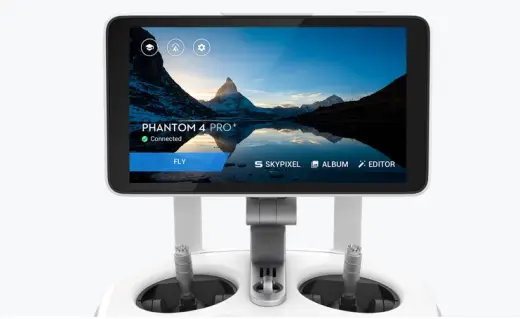 The Phantom 4 Pro uses a new compact remote controller comes with an optional high luminance display, providing a clear and vivid live HD view from the main camera as well as essential telemetry data, even in direct sunlight. The aircraft will automatically choose between 2.4GHz and 5.8GHz once powering on to gain a clear signal in areas with high radio interference. The new controller has a built-in GPS, compass, Micro-SD card slot and HDMI port.
You can use the new Draw feature with the new controller, which lets you to simply draw a route on the screen and the Phantom 4 Pro will fly in this direction while preserving altitude, allowing you the focus more getting the shot.
Phantom 4 Pro starts at $1,499 (B&H/Adorama) with the standard controller. ThePhantom 4 Pro + model comes with the new remote controller with the built-in 1080p display and will sell for $1,799 (B&H/Adorama)
Disclaimer: As an Amazon Associate partner and participant in B&H and Adorama Affiliate programmes, we earn a small comission from each purchase made through the affiliate links listed above at no additional cost to you.
Claim your copy of DAVINCI RESOLVE - SIMPLIFIED COURSE with 50% off! Get Instant Access!