If you've been waiting to upgrade to HDR for monitoring and recording, now is the best time to do it. Atomos just announced new Cashback and Trade-in promotions for their Shogun/Ninja Flame series 4K HDR monitors/recorders and Blade series Full HD recorders, in time for the Black Friday/Christmas 2016 Holiday season. The new cashback and trade-in deals apply only to new purchases (from authorized dealers) of the Atomos Shogun Flame, Ninja Flame and Ninja and Samurai Blade recorders and vary depending on products and what Atomos product you are trading in (if you chose so). Sadly, the flagship Shogun Inferno 4K Raw recorder, is excluded from this promotion.
The cashback or cashback & trade-in total cashback is claimed from Atomos; this means you buy the product of your choice (as long as it is part of the deal) from an authorized dealer at full price and then claim your cashback amount by visiting https://www.atomos.com/offers/hdr-upgrade. You must send in your cashback claim (via the link above) within 30 days of purchase date and no later than Midnight on February 28th 2017, whichever is sooner. The deals is location dependent, so depending on your region you get different amounts.
Atomos have prepared a video explaining the process as well as the benefits of upgrading to HDR with their monitor/recorders.
Eligible products for Atomos Cashback / Location
Atomos Ninja Flame – regular $1,295 (B&H, Adorama)

$200 – US & Canada
€200 – EU
£160 – UK
$280 – Australia
Atomos Samurai Blade – $495 (B&H, Adorama)

$100 – US & Canada
€100 – EU
£80 – UK
$140 – Australia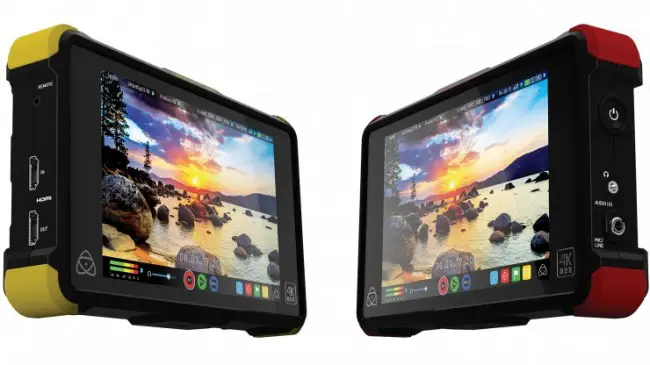 While the cashback offer seems pretty straightforward, things may get a bit confusing with the combo of Cashback + Trade-in. This amount depends on the item you are trading in. You will also need to send your trade-in unit back to Atomos/local authorized reseller at your own expense, so factor that in as well.
The trade-in products eligible for this promotion are:
Shogun
Ninja Assassin
Ninja Blade/Samurai
Samurai, Ninja 2 and Ninja Star
So, for example let's say you want to buy a Shogun Flame (costs you $1,695 at B&H), but you also have a the original Shogun in working condition that you want to trade in – Atomos will give you $200 trade-in value in addition to the $300 cashback – for a total of $500 back in your pocket, netting your Shogun Flame to the mere $1,195. Yes, I know, the original Shogun in good working condition is worth well over $200, and it does make more sense to trade in an old Ninja or Samurai Blade and get $100 cashback.
These types of trade-in deals are more benefitial if you are trading in older models as you won't get much for the much newer Shogun as illustrated above. And this will probably work for those busy shooters who can't be bothered with listing their original Shogun/Ninja Assassin on ebay or cragislist for example.
In any case, you can even trade in Atomos products that are not working – you get $40 trade-in for example if you trade-in a non-working Ninja Star, but hey it may be easier for some of you to just do the trade in instead of going through the hassle of the 2nd hand market, where you could definitely get more bang for your buck as they say.
To estimate the total value of your cashback in you are doing a trade-in also – please visit https://www.atomos.com/offers/hdr-upgrade and use the drop down menu selector.
If you want to take advantage of the trade-in deal,  you may want to hurry up as it only applies to the first 500 units. The Atomos "Upgrade to HDR" cashback and trade-in deals runs from November 15 and end on January 31, 2017.
Head on over to Atomos for more deals and use the affiliate links below to get your new HDR Atomos recorder.
Disclaimer: As an Amazon Associate partner and participant in B&H and Adorama Affiliate programmes, we earn a small comission from each purchase made through the affiliate links listed above at no additional cost to you.
Claim your copy of DAVINCI RESOLVE - SIMPLIFIED COURSE with 50% off! Get Instant Access!