Whether we like it or not, Apple continues the persistent tendency of dropping legacy ports in favor of the thinner, slicker and more elegant design of its latest premium notebooks. For many creative professionals, though, the verdict stays the same – finding a viable solution that bypasses the expensive genuine adapters that Apple considers as the ultimate, legit accessory for the new MacBook Pros. Apparently, third-party companies such as OWC have a bit different mindset and continue to invest their resources in developing products aiming to provide a better and more efficient solution in that regard. The latest OWC Thunderbolt 3 Dock, for instance, seems to be an excellent example of such a device having all the bells and whistles the latest MacBook Pro lacks when it comes to legacy ports.

In a nutshell, the unit adds two additional Thunderbolt 3 ports to your brand new 13″ or 15″ MacBook Pro along with an SD card reader slot, Gigabit Ethernet, five USB 3.0 Type-A ports, mini display, FireWire 800, analog and digital audio interface. Additionally, there is also a dedicated Thunderbolt 3 cable included in the kit.
With its 13 ports, the OWC Thunderbolt 3 Dock can drive two 4K displays, connect and charge up to six USB devices and work with legacy FireWire storage all at the same time. Alongside, users can enjoy pristine audio, access wired networks via Gigabit Ethernet interface and import media from SD cards, all at twice the speed of Thunderbolt 2 and all through a single cable.
OWC Thunderbolt 3 Dock Highlights
2 x Thunderbolt 3 (USB Type-C) Ports
5 x USB 3.0 Type-A Ports
1 x FireWire 800 Port
1 x Mini DisplayPort
1 x Gigabit Ethernet Port
1 x 3.5mm Audio In/Out
1 x S/PDIF Out
SD Card Reader
Add Two Ultra HD or HD Displays
Thunderbolt 3 Supports USB 3.1 & Mini DP
Price – $279
Availability – February 2017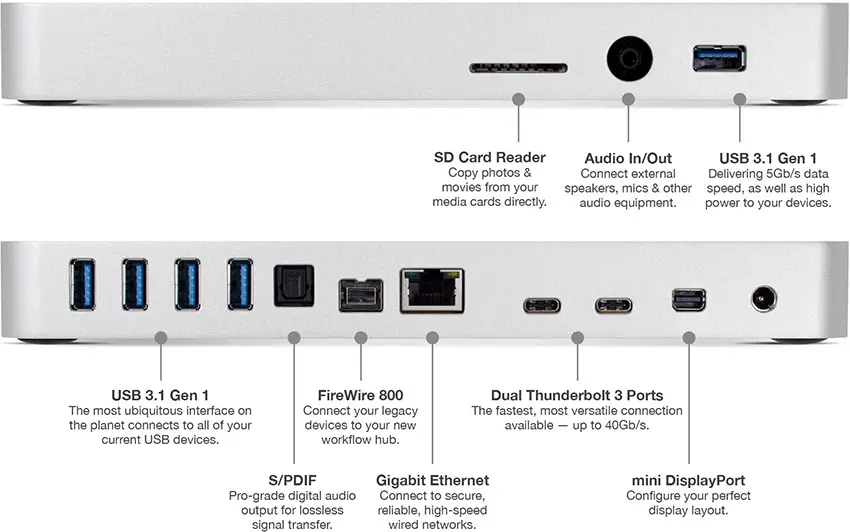 Due to the blazing fast Thunderbolt 3 technology that provides a bandwidth of up to 40Gb/s, you can build multiple screen configurations consisting of two 4K displays, or a combination of 4K, HD, and other displays while utilizing the mini DisplayPort port and additional Thunderbolt 3 port. The dock can also be used for connecting a wide variety of existing peripheral devices including external hard drives, dedicated control surfaces, audio interfaces, wired networks, and more.
The OWC Thunderbolt 3 Dock is backed by an Industry-leading 2-year limited warranty, but unfortunately, comes with a hefty price tag. Currently, you can pre-order one directly from the OWC Online Store or at authorized resellers for $279. It's expected that users will be able to get their hands on the unit in February 2017 at the earliest when it should start shipping.
[source: OWC]
B&H Links:
OWC 13 Port Thunderbolt 3 Dock (Space Gray)
OWC 13 Port Thunderbolt 3 Dock (Silver)
Claim your copy of DAVINCI RESOLVE - SIMPLIFIED COURSE with 50% off! Get Instant Access!