There are so many different DIY techniques you can utilize to stabilize your camera footage, when your tripod, camera rig, or gimbal aren't within your reach for some reason. Here are a few of the easiest ones you can opt for showcased by the fellow filmmaker Jordy Vandeput of Cinecom.net. Even though these are fantastic DIY tricks, it's always recommended to use professional gear to get the best results and always remember that stabilizing your camera in the first place is probably the best option you have, unless you're going after a specific look or a particular camera movement. Taking this into account, let's see what kind of tricks Jordy has up his sleeve this time.
For the first technique, you will need nothing but the camera and your body to give support. While holding the device just place your elbows as close as possible to your torso while securing the camera tightly with your both hands. You can utilize an external viewfinder to have three points of contact with your body, or as an alternative, you can place your thumb on your cheek to lock the camera into position.
Sure, it's not the most confident way to shoot, but if you need to film a quick video and get another enticing angle, it's certainly a better option than just holding the camera with your bare hands. Leaning your body against a wall or other object also will improve your overall stability. Just make sure to stand in a position that leaves you calm and comfortable to shoot, and of course, be conscious about your gear and try to keep it save.
Another way to lock your camera into position is by using a sand bag. If you don't have one at your disposal, you can easily create it on your own. Once you fill up the bag with sand and make sure it's well tight, you can lay it down on almost any surface and then place your camera on top. By putting a mild pressure to the camera, the sand should set itself around it so that you can capture another steady shot just like if you were using a professional sand bag.
Furthermore, you can utilize a simple PVC tube and attach it on top of your camera cage. That way, you'll be able to use gravity as your natural ally to stabilize the camera with ease. Don't expect the results you can typically get with a perfectly balanced mechanical stabilizer, but it'll certainly do the trick on certain occasions. Plus, it's a fantastic technique to capture a few fast moving low angle shots.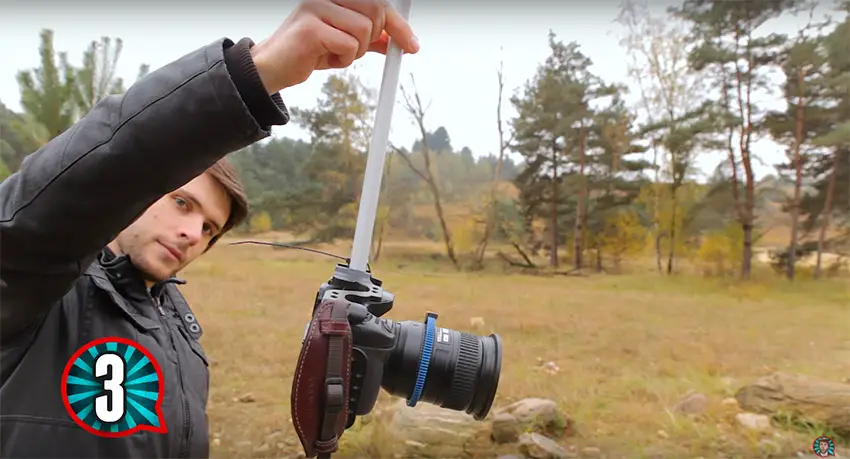 You can also use your camera strap placed around your neck while holding the camera with your both hands away from your body. Due to the created tension on the strap, the camera should stay locked in place. By using this technique, you can shoot slow and smooth, fluent pan shots flawlessly.
And, finally, you can even use a broom or other long-handled brush by flipping it upside down, thus turning it into a DIY monopod. Not only the brushes will keep your camera in place, but also the broom itself that now will act as your monopod. According to Jordy, this setup is perfect for still shots, but also to add a subtle movement to your footage, especially when you have a subject place in the foreground of the frame.
Sо, there you have it! These are five quick and easy to do DIY tips and tricks that will help you stabilize your camera without using any additional expensive equipment. If you have other similar tricks, you're welcomed to share them in the comments below.
[source: Cinecom.net]
Claim your copy of DAVINCI RESOLVE - SIMPLIFIED COURSE with 50% off! Get Instant Access!