Indeed, this is one of the most annoying issues you might come across when shooting with a gimbal as a solo operator. The inability to look straight to your gimbal monitor at all times from multiple angles or even when performing a simple low to high camera movement might turn into a serious challenge, especially when you need to get more complex shots that require precise framing and critical evaluation. All in all, if you don't have the ultimate comfort and freedom while operating your gimbal in the first place, why would you need such a device on set anyway? To solve the problem permanently, the innovative filmmaking gear maker Redrock Micro came up with a neat solution called the Orbit Monitor Positioning System that addresses all those issues ensuring your monitor is always tilted towards you while operating your gimbal.
In combination with the Redrock Micro's Satellite Thumb Controller, you can adjust your monitor tilt in manual mode, or activate the unique "Follow Me" mode to automatically and continuously reposition the unit in real-time. The built-in sensor of the Orbit system provides adjustable sensitivity and responsiveness allowing continuous measurement of the distance to the ground, thus keeping the monitor in the right place for optimal visibility regardless of the viewing angle.
It's also worth noting that the Orbit system isn't tied to a single operator whatsoever as it allows you to achieve a wide variety of hand-off shots in collaboration with other fellow operators. The Thumb Controller also features a camera run/stop button that can trigger the recording of your camera. The Orbit MPS also doesn't require any balancing; you simply need to attach it to your monitor, and it's ready to go. The jaw-style attachment clamp fits most rails and frames of the most available camera gimbals and makes the setup process as flawless as possible.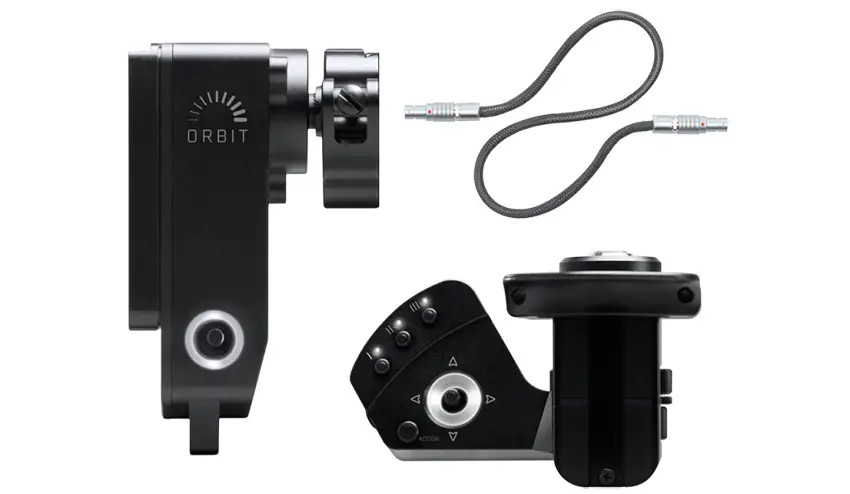 The RedrockMicro's Orbit Monitor Positioning System Highlights
Lightweight motorized monitor positioning system (MPS) tilts monitor to face you at any height
Manual monitor tilt or activate "Follow Me" sensor for automated monitor positioning
MPS not limited to single operator
No balancing required – attach monitor, and it's ready to go
Quick-release monitor attachment
Jaw-style attachment clamp fits most rails/frames
Satellite thumb controller includes optional camera run/stop (with optional compatible cable)
Built-in WiFi for wireless setup via mobile app
Built-in LP-E6 battery power or via external battery (with optional cable)
Fast visual status confirmation via integrated LED lights
EclipseNet ready
SmallHD DP5 and SmallHD DP7 Series (non-AC) compatible
Weight: 275g
Dimensions: 1.65″W x 4.2″5H x 2.1″D
Price: $1,500
Availability: Q1 2017
Further, the Redrock Micro's Orbit Monitor Positioning System offers built-in WiFi for wireless setup via mobile app and can either run on a single Canon LP-E6 battery or use an external power 12-18V with optional add-on cable. The device isn't cheap, though. For the full-fledged kit that includes the Orbit, quick-release monitor plate system, new Satellite thumb controller, FollowMe sensor, and all cables, you should shell out $1,500. If you're interested, Redrock Micro are currently taking pre-orders, as the product is expected to be available in the first quarter of 2017.
[via: Newsshooter, source: Redrock Micro]
Claim your copy of DAVINCI RESOLVE - SIMPLIFIED COURSE with 50% off! Get Instant Access!