With the steadily growing demands for more storage space, it's interesting to find out what are the current options you can get when it comes to the highest capacity consumer NAS servers available on the market at this time of the year. Currently, I wasn't able to find a device that provides more than 80TB of storage space as most of the suggested systems were right around the 40TB mark, but even that capacity will allow you to handle a decent amount of 4K Raw footage and other high-quality media. It's also essential to take into account the transfer speeds along with the connectivity options these units provide. After a quick research on the web, I came across five high capacity consumer NAS servers that caught my attention.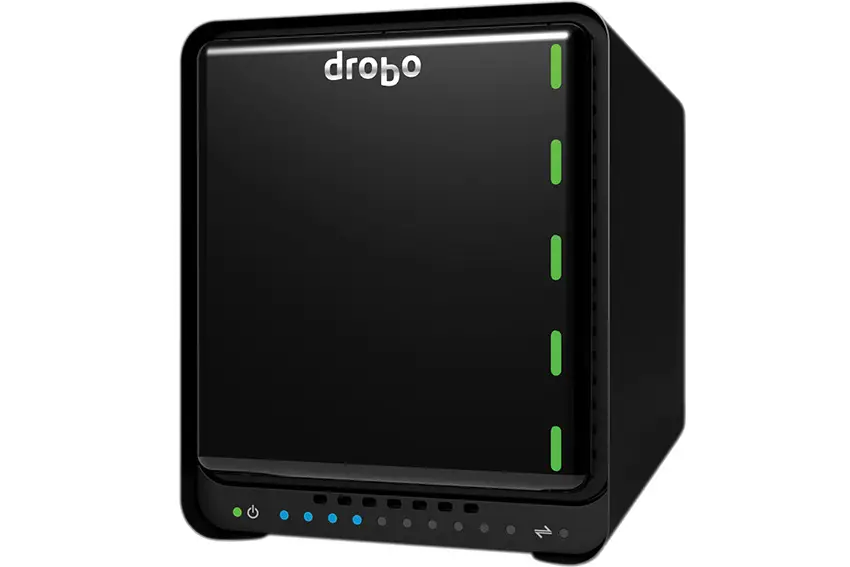 One of the most affordable solutions is the Drobo 5N 5-Bay NAS Storage Array that can handle five 8TB hard drives sporting five carrier-less and tool-less drive bays, so you can quickly install the SATA-equipped drives. There's also one mSATA slot for holding an optional SSD. Regarding connectivity, the 5N comes outfitted with one Gigabit Ethernet port that shares your data assets with all connected systems.
The five WD 8TB Red Internal NAS HDDs inside the Drobo 5N support SATA III interface but are limited to 5400 RPM only. Nevertheless, they can handle increased workloads and ensure uninterrupted data transfers with a sustained rate of up to 178 MB/s. Currently, you can get the Drobo 5N 40TB 5-Bay NAS Storage Array Kit with drives for $2,024.93 at B&H.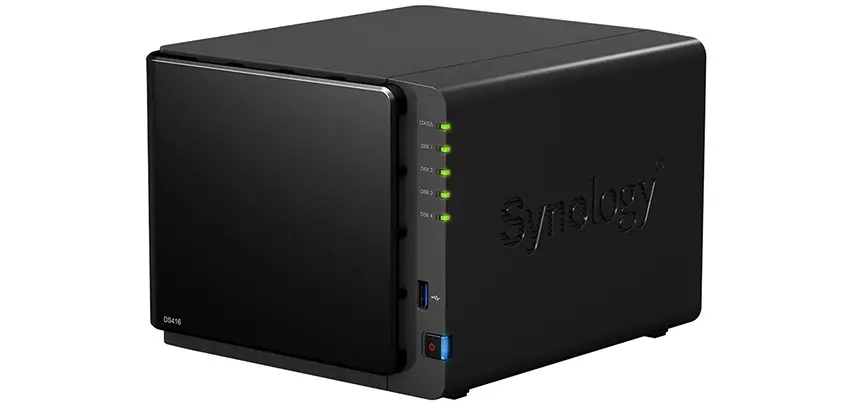 By shelling out only $40 more, you can buy the Synology DiskStation 40TB DS416 4-Bay NAS Server Kit (4 x 10TB). The unit features a dual-core CPU and 1GB of DDR3 RAM ensuring smooth system performance. It also offers dual fail-over Gigabit Ethernet ports support a data read speed of up to 221.05 MB/s and data write speed of up to 139.51 MB/s.
In addition to the integrated Gigabit Ethernet ports, you can also connect multiple USB compatible storage devices using any of the three built-in USB 3.0 ports. Unlike the Drobo 5N 5-Bay NAS Storage Array, the Synology DiskStation NAS Server Kit comes equipped with four 10TB IronWolf 7200 rpm SATA III 3.5″ Internal NAS HDD from Seagate featuring 7200 rpm spin rate and 256MB of cache.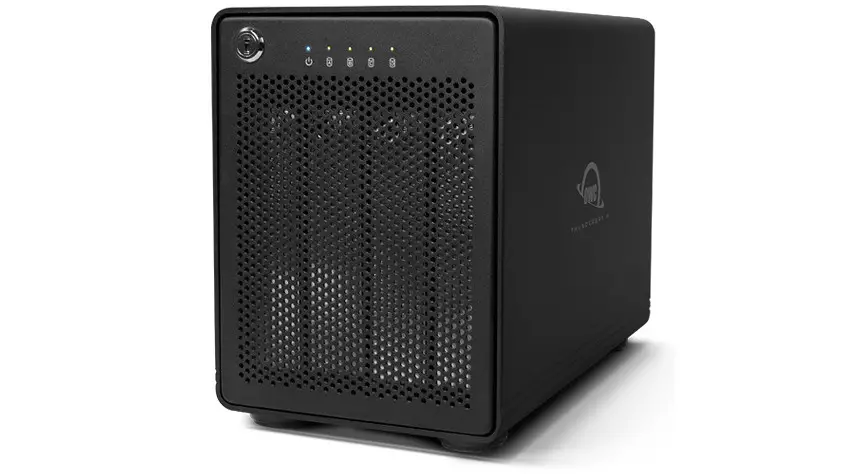 Those of you who predominantly work on Mac systems might also be interested in the OWC / Other World Computing ThunderBay 4 40TB 4-Bay Thunderbolt 2 RAID Array. Within you'll find four bays each housing a single 10TB 3.5″ hard drive. These connect to the array via the SATA III 6 Gb/s interface, has a rotational speed of 7200 rpm, a 128MB cache, for a total system cache of 512MB.
The OWC server provides even faster transfer speeds in comparison to the previous two counterparts – read speeds of up to 332 MB/s and write speeds of up to 315 MB/s respectively. Moreover, if you reconfigure the drives to run in a RAID 0 configuration, they offer read speeds up to 506 MB/s and write speeds up to 520 MB/s. The OWC / Other World Computing ThunderBay 4 40TB 4-Bay Thunderbolt 2 RAID Array (4 x 10TB, RAID 5 Edition) currently sells for $2,997.50 at B&H.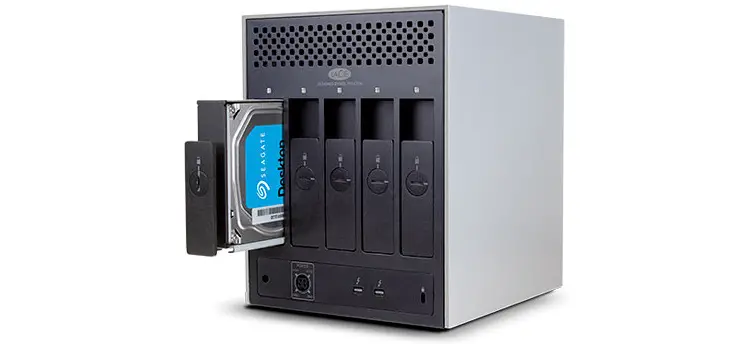 When it comes to some of the more robust high-end solutions, a unit that instantly comes to mind is the LaCie 5big 40TB 5-Bay Thunderbolt 2 RAID Array (5 x 8TB). For the price of $3,999.00, it offers five 8TB hard drives rated with enterprise level reliability and performance. With its Thunderbolt 2 connectivity, you can transfer data at speeds up to 1050 MB/s (in RAID 0) which enhances 4K workflows and allows you to edit even 4K Raw video in real-time.
But what sets the 5big apart from the competition is the significant number of RAID configurations you have available. RAID configurations include RAID 0, 1, 5, 6, 10, and JBOD. In addition to faster workflows, the dual Thunderbolt 2 ports provide the ability to daisy-chain up to 6 devices to a single computer including the ability to connect a 4K monitor with DisplayPort 1.2 compatibility.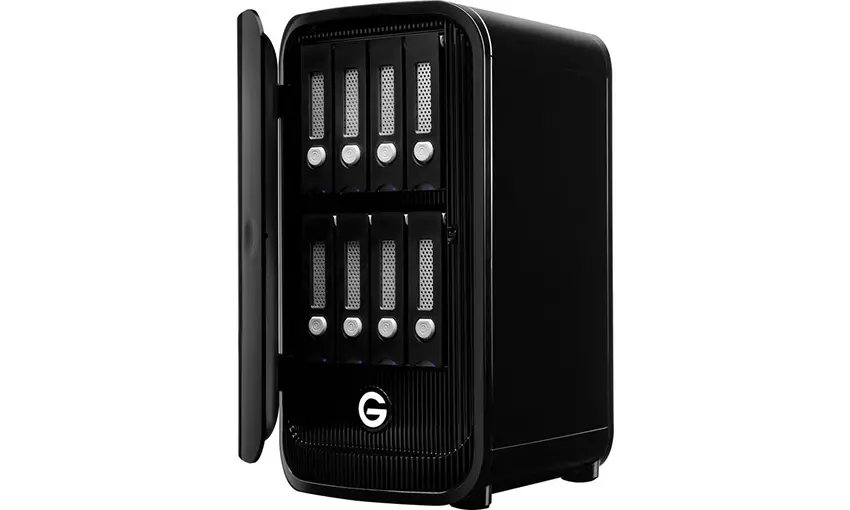 Last but not least, comes the G-Speed Studio XL. It not only has an 80TB version but also provides insane transfer rates up to 1350MB/s. This drive is also built with Thunderbolt 2 technology that supports those blazing fast transfer rates and allows daisy-chaining to additional Thunderbolt-enabled devices. The Thunderbolt 2 RAID Array from G-Technolgy comes equipped with eight bays with each one housing an Enterprise-class hard disk that can be configured for data transfer rates of up to 1350 MB/s under RAID 0.
Furthermore, the G-Speed Studio XL can be reconfigured in either RAID 0, 1, 6, 10, 50, and 60 as the latter two modes are recommended when you are looking for an optimal balance between capacity, performance, and reliability. The 48TB version will cost you $4,799.95, whereas the 80TB version currently sells for whopping $8,999.95.
There you have it! These are five of the popular NAS servers you can currently get online, but if you have other suggestions in mind, share those with us in the comments below.
[source: B&H]
B&H Links:
Drobo 5N 40TB 5-Bay NAS Storage Array Kit with Drives (5 x 8TB)
Synology DiskStation 40TB DS416 4-Bay NAS Server Kit (4 x 10TB)
OWC ThunderBay 4 40TB 4-Bay Thunderbolt 2 RAID Array (4 x 10TB, RAID 5 Edition)
LaCie 5big 40TB 5-Bay Thunderbolt 2 RAID Array (5 x 8TB)
G-Speed Studio XL 48TB 8-Bay Thunderbolt 2 RAID Array (8 x 6TB)
GET the ULTIMATE DAVINCI RESOLVE 16 COURSE BUNDLE for just $97! Sale Ends July 9th, 11:59pm PT