CES 2017 has definitely been quite exciting this year, especially with big announcements in the image making industry. From ground-breaking Micro 4/3 cameras like the Panasonic GH5, to potentially ground-breaking 8K VR cameras like the new Insta360 Pro 8K VR 3D camera that was launched by Chinese makers Insta360 in Las Vegas. The new Insta360 Pro offers a powerful VR imaging system for video creators as well as photographers and enthusiasts eager to embrace the latest camera tech. In short – the new Insta360 Pro captures up to 8K footage in 360-degree videos while using 6 independent, HD lenses.
According to the manufacturer it sports low-light performance that is "unprecedented in a 360-degree camera of this size."
Another biggie is the fact that the Insta360 Pro can capture 4K video up to 100fps. Insta360's world-class real-time image stitching technology allows 360-degree video in up to 4K and offers both H.264 and H.265 video compression, which substantially improves video quality at the same bit rate.
Higher definition image files can be easily auto-stitched with Insta360 Studio. Their software is compatible with both Mac OS X and Windows systems.
However, the Insta360 Pro isn't only meant to be used for serious video work, photographers can also possibly have their collective minds "blown" by the Insta360 Pro, which can also capture 60-megapixel 3D spherical stills in both HDR and RAW formats with spherical time-lapse mode available as the proverbial "cherry on top".
Users can also easily live-stream 4K video to any 360-degree live streaming platform. As a standalone camera, it can be used with both the dedicated Insta360 Pro iOS and Android apps and connects via WiFi, Ethernet or 4G, ready to livestream any event or share instantly on Facebook, YouTube and Twitter.
The Insta360 Pro benefits from a substantial bandwidth-saving live-streaming mode called "Cube Map Projection +H.265", which uses only 40% (80%*50%) of the original bandwidth that is required. Users can live-stream in 4K 360 mode (3840 x 3840) up to 25fps, and 30fps in 3840 x 1920.
"Insta360's most advanced technology comes together in the Insta360 Pro, the most powerful, all-in-one VR and 3D content capturing platform that empowers you to create the unforgettable. Never before has such power been put into an easy-to-use, compact system that enables users to share their VR content live with international audiences." said Liu Jingkang, Insta360 CEO and founder.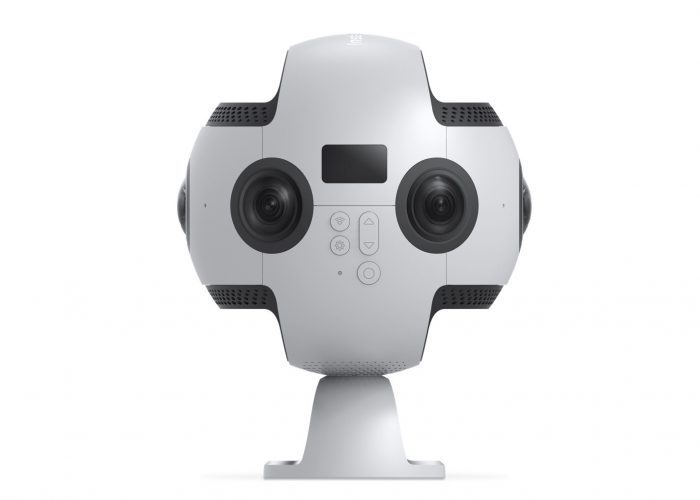 Insta360 Pro Specifications
360° Photos
Maximum at 7680 x 3840 via Real-time/ Post-processing stitching
360° Videos
Maximum at 3840 x 1920@30fps (4K) with Real-time stitching
Maximum at 7680 x 3840@30fps (8K) with Post-processing stitching
360° 3D Photos
Maximum at 7680 x 7680 (8K) Real-time/post-processing stitching
360 °3D Videos
Maximum at 3840 x 3840@25fps (4K) Real-time stitching
Maximum at 6400 x 6400@30fps (6K) Post-processing stitching
Lenses: 6 x F2.4 Fish Eye Lenses
File formats: MP4, JPG, RAW
Construction Material: Aluminium Alloy
Sound: Built-in Mic
Dimensions: φ143mm
Weight: 1,228 grams
Storage:
SD Card
USB3.0 High Speed Driver
Interfaces:
HDMI 2.0 Type-D (for the monitoring and output of footage)
RJ45 Ethernet Interface (for stable cable communication)
USB Type-C (for high speed file transfer)
WiFi (for AP hotspot connection)
Battery: 5000 mAh removable battery (with 75 min of endurance)
Immediate share on Facebook, YouTube, Twitter, WhatsApp, Messenger and WeChat
Live-streaming
Up to 3840*3840 (4K) at 25fps H264 video encoding and 3840*1920 (4K) at 30fps
H265/H264 video coding
On any 360° platform which includes Facebook, YouTube, and Insta360 server via link
Without a doubt and affordable sub-$10K 360 degree camera capable of producing pro images good, not only for broadcast, but also high-end enthusiast use and in 8K and 4K at that is a win-win situation for everyone. There's quite a few 360-degree cameras out there, but they are either too expensive or not providing enough resolution required for truly detailed and representative 360 degree video.
Personally, I still am not sold on the idea of VR and 360-degree video as a whole, maybe I am just too old school and detest the fact that some of us have moved on from the 2D motion world long time ago, or maybe it will take products like the Insta360 to help me "open my mind" to the possibilities of experiencing the world in a more "3D shape".
The Insta360 Pro 8K VR camera is currently priced at around $2,999 USD and will be available on Amazon and Insta360's official online store in Q1 of 2017. To check out and download footage samples – head over to Insta360's website.
Disclaimer: As an Amazon Associate partner and participant in B&H and Adorama Affiliate programmes, we earn a small comission from each purchase made through the affiliate links listed above at no additional cost to you.
Claim your copy of DAVINCI RESOLVE - SIMPLIFIED COURSE with 50% off! Get Instant Access!