At the Rodeshow 2017 special event held in Las Vegas the Freedman Electronics Group, the parent company of pro audio brands RØDE Microphones, Event Electronics, Aphex, and SoundField, introduced a bunch of exciting new products for its 50th anniversary including the Rode VideoMic Pro+ and VideoMic Soundfield. The first unit seems to be a significant upgrade to the ubiquitous Rode VideoMic Pro that brings some fantastic new features such as a two stage high pass filter, output level control, and a high-shelf filter. With the Stereo VideoMic X electronics on board alongside other completely overhauled internals, the Rode VideoMic Pro+ now boasts an improved and more flexible power supply, detachable output cable as well as an upgraded microfiber windshield.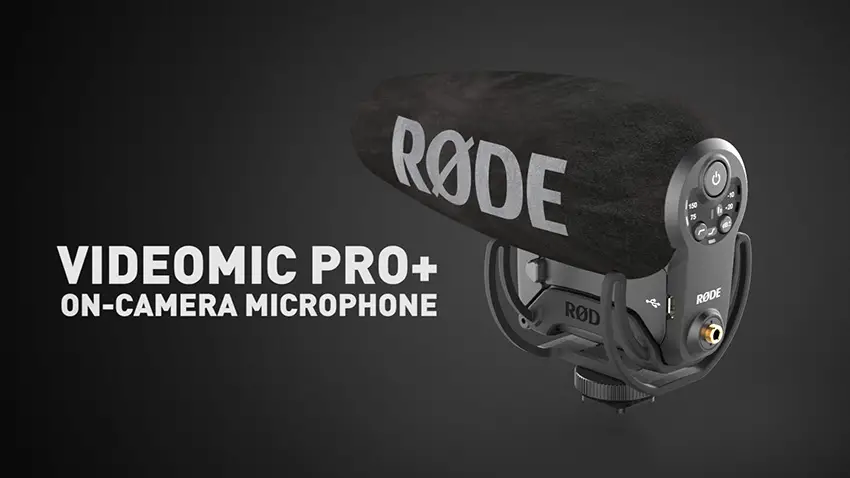 The mic can be either powered by the new Rode's LB1 rechargeable lithium-ion battery that provides up to 100 hours of run time, or by the wide available AA batteries sharing the same battery compartment. On top of that, users can utterly bypass the mic's battery power and utilize the camera's existing power supply instead via the mic's built-in USB port.
Moreover, the Rode VideoMic Pro+ switches on and off automatically depending on the current state of the tethered device which is another huge improvement that not only saves the mic's battery power but also ensures that it instantly gets turned on once your camera starts rolling. Besides the new features, the acclaimed Lyre suspension system that was a major upgrade to the previous model designed to prevents unwanted rumble and vibration noise from the base of the unit is still part of the kit.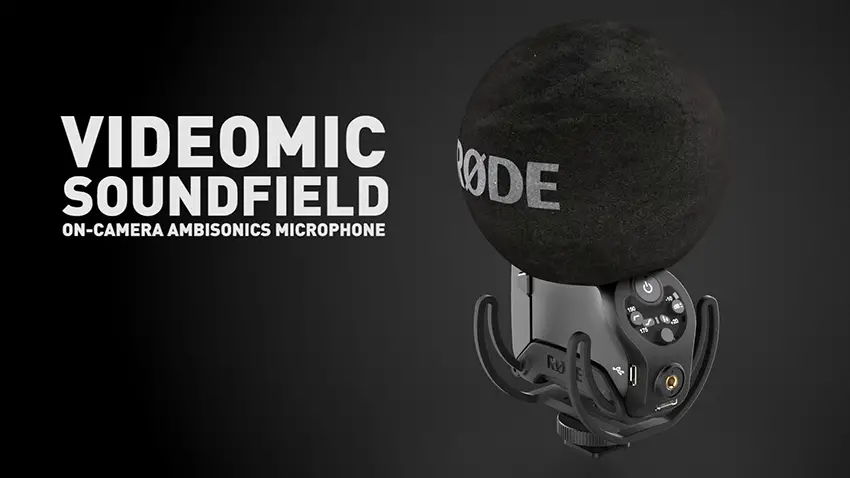 The VideoMic Soundfield, on the other hand, should be a pleasant surprise and an excellent option for those filmmakers and videographers who specialize in capturing 360° video. Billed as the world's first on-camera ambisonic, 360-degree surround sound microphone, the VideoMic Soundfield features four high-sensitive capsules, a standard 3.5mm jack, a multipin connector for four channel ambisonic signal and offers a wide variety of options when it comes to processing of the recorded raw sound.
For instance, you can simulate multiple pickup patterns or make the audio sound like it was captured with a traditional shotgun mic. There is also a narrow stereo option available which is suitable for general ambiance and a wide one that's particularly suited for 360-degree surround sound and virtual reality applications. Additionally, the VideoMic Soundfield will also allow users to control the sound that's being recorded at the point of capture.
Unfortunately, there is still no information regarding the availability and pricing of both Rode VideoMic Pro+ and VideoMic Soundfield, but if you want to learn more about the new products announced at the Rodeshow 2017, visit the official Rode's website here.
[via: Newsshooter, source: Rode]
Claim your copy of DAVINCI RESOLVE - SIMPLIFIED COURSE with 50% off! Get Instant Access!