The young and innovative German company EagleLive Systems has recently announced its brand new Follow X wireless follow focus system that besides the conventional wireless focus pulling brings in a few additional neat features such as aperture and camera control alongside an ultra-long range up to 3280 feet (1000m). The project is still in its initial stages, though, as the manufacturer plans a Kickstarter campaign that is yet to be launched to raise additional funding and support the Follow X mass production. As we can see in the video below, there is already a fully-functional prototype of the upcoming system that has been extensively tested both on the ground and up in the air. Let's take a quick look at the official video promo of the product below.
It's also worth noting that the Follow X will be compatible with a wide variety of products, including most entry-level and high-end cameras, lenses, and rig systems. The company also plans to develop a dedicated app for camera control offering seamless integration with the already available functionality the system provides. That way, the simple and lightweight design of the Follow X will allow flexible and fast access to all functions available on board.
The innovative wireless follow focus system also offers multiple marking rings that are quick to set up and swap. Both the receiver and remote units of the system are powered by a Lithium-Ion battery that will be able to keep the system up and running for up to 24 hours. Additionally, each drive has a dedicated set-up menu as switching between the modes can be done with a press of a single button.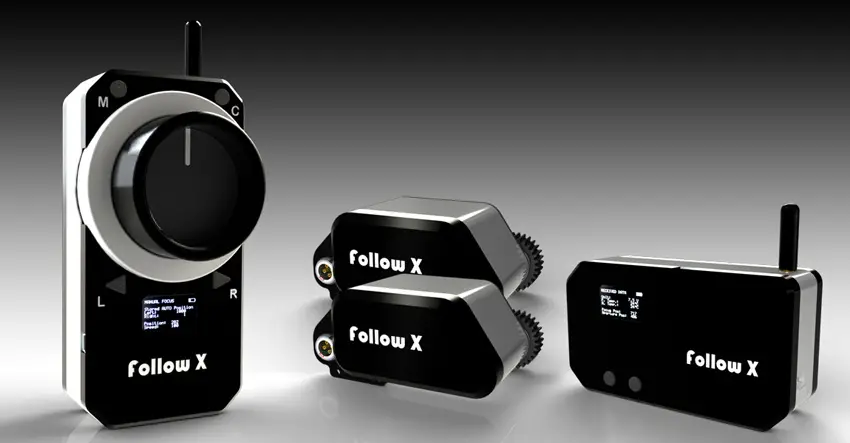 The Follow X also provides programmable focus points that can be easily configured and stored for further use. The device comes in a compact and lightweight case that's easy to be carried along when traveling. Due to the unique massive range it provides, the system can be equally efficient both on the ground and up in the air.
Overall, we are excited to see the further development of this project as we'll keep you updated down the line. It's also interesting to find out whether this product will be able to find its place in the market among other highly competitive and established systems such as the DJI Focus, Movcam Single-Axis Wireless Lens Control System, Ikan PD Movie Air Pro,  Aputure DEC, etc. In the meantime, you can check out some of the already available drone systems offered by EagleLive Systems by visiting the company's website here.
[via: Cinescopophilia, source: EagleLive Systems]
Claim your copy of DAVINCI RESOLVE - SIMPLIFIED COURSE with 50% off! Get Instant Access!