Canon announced a brand new on-camera microphone called the DM-E1 recently, but of course it not being the new 5D Mark IV announcement, it's easy to see why you and I might have totally missed it. Unveiled under the radar (after all, Canon is not really a microphone manufacturer, they make great lenses and some cameras, plus a boat load of printers, duh) the DM-E1 is a compact stereo directional microphone designed for DSLR video shooters. Designed to complement the movie quality of the EOS range of DSLR and mirrorless cameras (and of course every other camera with a 3.5mm input jack), the DM-E1 is a versatile, high-quality microphone that can be used to capture a range of subjects.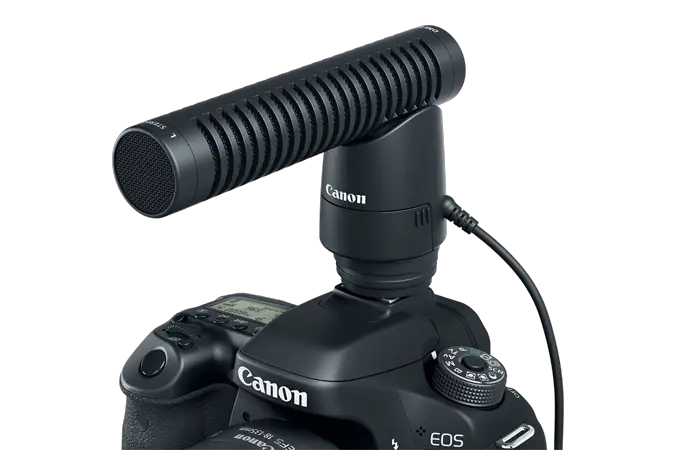 The Canon DM-E1 a classic shotgun design with three directional sound pick-up modes, the DM-E1 provides the ability to adjust the microphone to capture in three different directional patterns.
The monaural shotgun mode is best suited for capturing a sound source directly in front of the camera, such as a presenter or reporter, providing some isolation from other sounds from within their environment. Switching to the 90 and 120 degree modes provides stereo sound for sources that are spread over wider areas, such as an orchestra in a concert hall.
The in-built shock mount ensures noise from camera operations and lens zoom are effectively reduced, whilst wind noise is avoided thanks to the windshield. With a 50Hz to 16kHz sound frequency range pick-up, the microphone can capture a wide tonal range, while the 66dB S/N ratio and -42db sensitivity means users have a sensitive microphone with minimal distortion.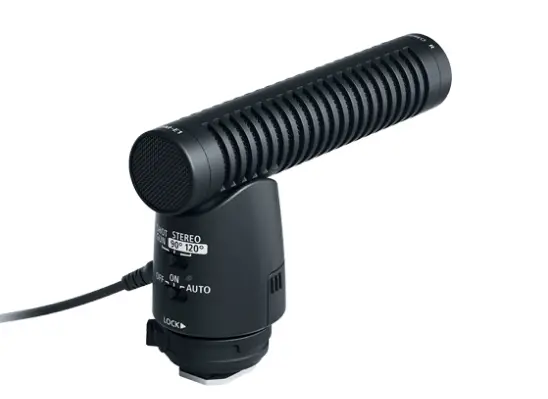 Canon DM-E1 Directional Microphone Features
External Mic for Digital Cameras
90°/120° Stereo & Shotgun Modes
Frequency Response: 50 Hz to 16 kHz
Integrated Shock Mount
Wind Screen Included
Built-In Power Supply, Power Status Lamp
The Canon DM-E1 is available to pre-order from authorised Canon resellers such as B&H for $245 and should be shipping sometime in June.
The DM-E1 is priced similarly to the Azden SMX-30 Stereo Shotgun mic, which you can check out here, and although there are slightly more affordable alternatives for an on-camera mic out there such as the Rode VideoMic Pro, the DM-E1 offers a few extra features such as the 90/120 degree stere modes and an integrated shock-mount that some may find worth the few extra dollars.
Claim your copy of DAVINCI RESOLVE - SIMPLIFIED COURSE with 50% off! Get Instant Access!