You might remember our post about the Azden PRO-XD wireless microphone system we did a while back, and now we have some more announcements from the popular budget audio brand. The time around they have a couple of new microphones designed for DSLR/mirrorless video shooters – the SMX-15 Powered Shotgun Mic, and the SMX-30 Stereo mic, dubbed by the manufacturer as "the ultimate video microphones."
The new SMX-30 and SMX-15 are engineered with outstanding audio quality, appealing design, ergonomic form factor and all the functionality expected in a top-of-the-line, camera-mount microphone.

Azden SMX-15 Features
Superior directionality and off-axis rejection
Level adjustment: -10dB, 0dB, +20dB
+20dB gain booster alleviates noise produced by low-quality camera preamps
-10dB pad for loud sound environments
Low-cut filter selectable at 120Hz, 3dB/octave
Operates on (2) AA batteries with no degradation of audio quality over battery life-span
Low noise, high sensitivity, wide frequency response
10 year warranty with registration
Custom, detachable foam windscreen
Integrated shock-absorbing shoe-mount with 1/4"-20 thread
Battery indicator LED light
3.5mm stereo mini-jack output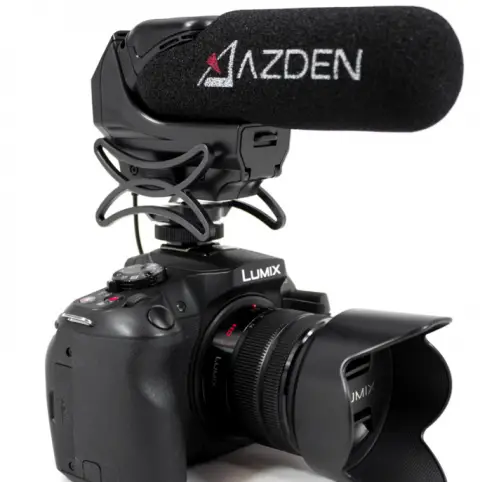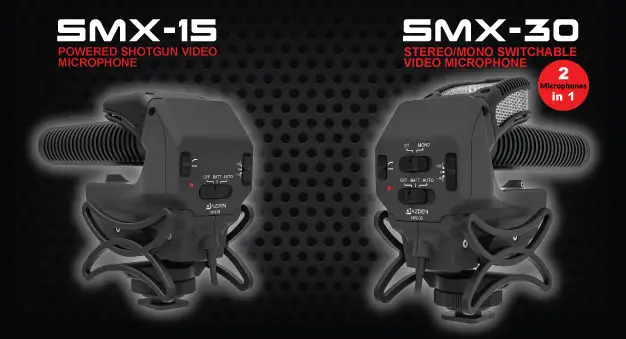 The SMX-30 uses the same form factor, features, and components as the SMX-15, but also adds a built-in Stereo microphone above the Mono shotgun mic, giving you 2 mics into 1, which is a hell of a deal.
The selectable +20dB gain pad allows for strong, clean audio recordings, minimizing the need to turn up the noisy preamp in most cameras. If you're in a noisy environment the selectable -10dB pad protects against overload distortion. Both microphones have wide band frequency response from 40Hz to 20kHz, for full and natural sound reproduction. A low-cut filter is provided to lessen outdoor wind and traffic noise and tame noisy indoor heating and cooling units.
Sporting a rather unique design, the new SMX-30 is actually two microphones packaged into one, available at the flick of a switch. The stereo microphone is positioned at the top and consists of 2 cardioid polar pattern microphone elements spaced apart at a 120º angle for capturing a natural sounding stereo image. The mono microphone uses a super-cardioid polar pattern to focus on sound in front of the camera and is equipped with the same high-quality element as Azden's SGM-250 shotgun microphone to record broadcast quality sound.
Powered by 2 AA batteries both microphones can operate for up to 24 hours with no degradation of sound quality. The battery LED light turns OFF 1 hour before it's time to change the batteries. Both microphones feature a unique "Auto" power setting that senses when the camera is ON or OFF and switches the microphone accordingly, eliminating accidental dead battery syndrome.
Integrated into the design of both microphones is a custom made, shock absorbing shoe mount to isolate the microphone from camera motor and handling noise. The standard shoe mount features a ¼" 20 thread for easy mounting to boom poles and other camera accessories.
Both microphones are said to be available in the beginning of February, and retail for $249 (SMX-30 Stereo/Shogtun) and $199 for the SMX-15 Shotgun mic respectively. 
[via Azden]
Claim your copy of DAVINCI RESOLVE 16 - SIMPLIFIED COURSE with 50% off! Get Instant Access!