Having a wireless audio solution in your kit bag as a sound recordist or a jobbing cameraman/woman is a must these days. With budgets for "sound persons" often gone out the window, slashed or non-existent, cameraman/filmmakers and everyone capturing video professionally has come up against a situation where they'd need to mic up a talent with a lapel mic at some point in their career. Sure there are some wired options out there, such as the Sony ECM-77B, a broadcast quality workhorse wired lav mic system that plugs into an XLR port of a pro camera or an audio mixer/recorder, but for most shooters, it's either not convenient or too expensive.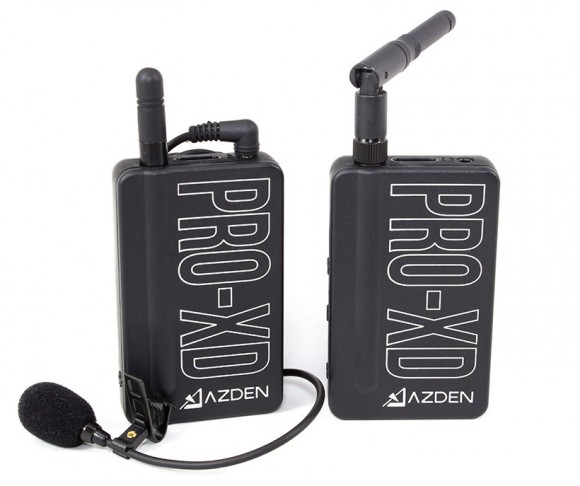 Good quality professional wireless lav systems like the Sennheiser Evolution G3 series, or their newer and absolutely awesome AVX digital wireless series usually cost in upwards of $600 and even more than $1,000 in the case of the AVX MKE2 set. And that's not even scratching the surface. It is not uncommon for sound mixer and recordists in TV and film to use wireless systems costing more than $5000+. Recently, Rode came up with the RodeLink Wireless Filmmaker Kit, which is another budget oriented digital wireless lavalier system that runs about $400 and gives you a lav mic, a receiver and a transmitter.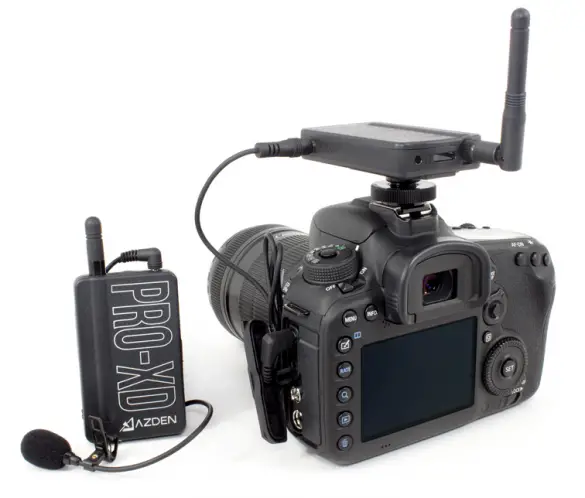 Luckily for budget shooters, for which the above are out of their price range, the good folks at Azden have come up with an even more affordable wireless audio solution called the Azden PRO-XD which costs only $199.
Features
Operates in 2.4 GHz wireless range
High gain output alleviates noise and hiss produced by low-quality camera preamps
Mobile device compatible
Auto sync between transmitter and receiver
Operating range of 35 meters or more in optimal conditions
Rechargeable internal batteries
Wide frequency response and low internal noise
Headphone monitor output
Line in aux input
The Azden PRO-XD is a digital wireless system operating in the 2.4GHz range which is completely free of TV and radio interference, which means license free! The PRO-XD out performs similarly priced VHF systems with better than CD quality digital audio and delivers dependable operation out to a distance of 100 feet or beyond with direct line of sight. Set up is a breeze with automatic syncing between receiver and transmitter. Internal, rechargeable lithium-ion batteries provide long lasting operation and easy charging via USB.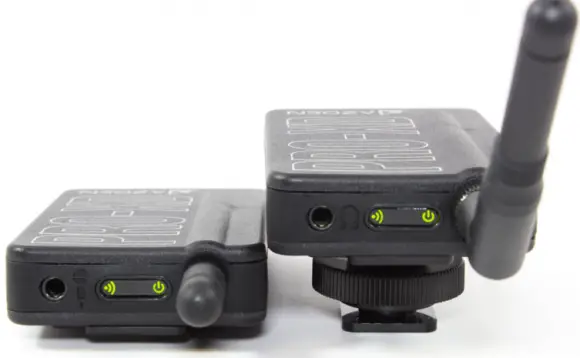 Designed to delivery high-fidelity audio, the receiver's high gain output with volume control alleviates noise and hiss produced by low-quality camera preamps and eliminates the need for big adjustments in post production. The PRO-XD's transmitter uniquely includes an auxiliary line input, allowing you to wirelessly transmit any stereo, line level audio source and mix it with the microphone source if desired.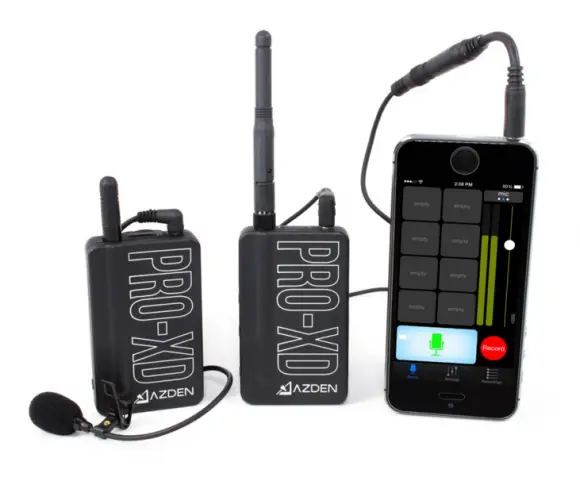 With its incredibly small form factor, the PRO-XD is the first viable digital wireless audio solution for use with action cameras, such as the popular GoPro Hero 4 series from GoPro (3rd party cable may be required for connection). Mirrorless shooters, who use cameras like the new Sony A7RII may save some serious money compared to the Sony UWP-D11 series (which are really nice, but pricey) by going with the Azden Pro-XD.
Specifications:
PRO-XD
Operating Freq.: 2.4GHz ISM Band
Dynamic Range: 90dB
Signal-To-Noise: 80dB
Operating Range: 35m typical; up to 120m in ideal conditions.
Freq. Response: 20Hz – 20kHz, ± 1dB
Digital Sampling: 48kHz/16bit
System Latency: 14ms
Battery Life Span: 300 cycles
Battery Type: Lithium-ion
Power Supply: USB 5V
Warranty: 2 Years (Registration Required)
Accessories: shoe mount, belt clip, lapel clip, trrs adapter, USB mini to USB-A cable, AC adapter.
RECEIVER (PRO-XDR)
RF Output Power: 10mW
Max Output Level: -14dBV
Mic Output: Φ3.5mm dual-mono/stereo
Headphone Output: Φ3.5mm stereo
Output Impedance: Mic: 600Ω; Headphone: 16Ω
Battery Life: 16 hours
Battery Charge Time: 3 hours
Dimensions: 48x79x14mm (W/H/D)
Weight: 68g
TRANSMITTER (PRO-XDT)
RF Output Power: 10mW
Mic Input: Φ3.5mm mono TRRS
Aux Input: Φ3.5mm stereo, line level
Input Impedance: Mic: 2.2kΩ; Aux: 10kΩ
Max Input: 300mV RMS
Battery Life: 11 hours
Battery Charge Time: 3 hours 30 min
Dimensions: 48x79x14mm (W/H/D)
Weight: 62g
MICROPHONE (EX-503XD)
Mic Element: Electret Condenser
Polar Pattern: Omni-Directional
Freq. Response: 30Hz – 20kHz
Sensitivity: -46dB at 1kHz (0dB=1V/Pa)
Impedance: 2.2kΩ (at 1kHz)
Power Requirement: Plug-in power DC 1-10V
Connector Type: Φ3.5mm TRRS
Cord Length: 105cm
You should also check out Curtis Judd's review of the Azden Pro-XD Wireless Lav system below:
I highly recommend you check out his Youtube channel and website where you can find a ton of useful information, reviews, tutorials and tips on how to get great sound for video.
The Azden Pro-XD looks like a really neat option for those shooters on the go and a tight budget, and/or those looking to add a 2nd or third wireless kit to their sound/camera bag.
B&H Links:
Azden PRO-XD 2.4 GHz Digital Wireless Lav System – $198
Claim your copy of DAVINCI RESOLVE - SIMPLIFIED COURSE with 50% off! Get Instant Access!