If you are really considering pre-ordering the Panasonic GH5, but are not convinced yet, this latest collection of mouth-watering footage may change your mind. Oh, and there is a very informative Q&A with Sean Robinson from Panasonic towards the end of this post (courtesy of Joseph Linaschke, a LUMIX Luminary (kind of like an ambassador for the Lumix cameras)).
If you were in the UK yesterday and attended the first day of BVE in London, you would have seen the swarm of people around the few GH5 bodies strategically placed around the Holdan UK's stand at the show. I literally had to queue up to get my hands on one for a good fifteen minutes as the show floor opened for visitors.
It's no wonder that, at least in my opinion, from what I saw today at BVE, the Panasonic GH5 was easily the most popular camera – for the moment, it offers some unprecedented features for its class such as internal 10 bit recording in 4K, in addition to 4K/60p internally at a price point that would put the majority of the competition's cameras to shame.
So, with the first shipments scheduled to commence in the last week of March, I figure it's a good idea to share some of the best footage shot with the GH5 I was able to find on the internets. For those not yet familiar with the GH5 features,  you can read about them below, and also check out my Top 5 GH5 accessories list here.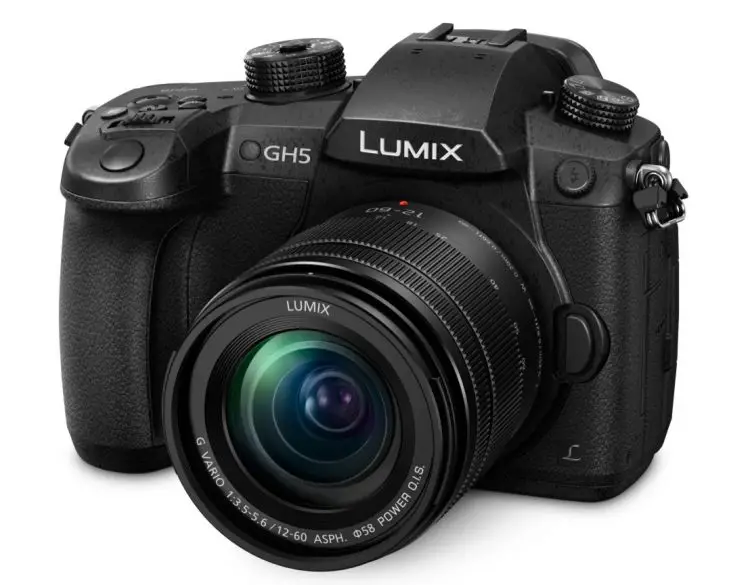 Panasonic GH5 Features/Highlights
New 20.3 Megapixel CMOS (4/3 type) sensor
Micro Four Thirds mount
5-Axis Photo/Video Dual I.S. 2.0
ISO 25,600 max
Eye viewfinder 3680k-dot OLED, 21mm, 0.76x.
V-Log L is an optional (paid) extra, same as GH4 – $98
Cinelike-V, Cinelike-D, and Like-709 Picture Profiles
Waveform and Vector Scope Built-in
Weather Sealed Body
Splash/Dust proof Rugged Design
Freeze-proof to -10 Degrees C
6K Photo capture at 30p for 18 Megapixel photos
4K/60p Photo capture for approx. 8 megapixel images
4K/60p is at 8bit 4:2:0 internally
No crop in 4K!
4K/24/25 and 30p 10bit 4:2:2 internal
4K/60p at 150Mb/s at launch
ALL-I (Intra) 10bit 422 1080p at 200 Mbps – free firmware update later in year
ALL-I (Intra) 10bit 422 4K at 400 Mbps – free firmware update later in 2017
Anamorphic mode (4:3) – free firmware later in year
1080p Slow-motion at 180fps
2 x SD card slots (UHS-II U3 compliant)
Full-size HDMI output (Type-A)
USB-C (USB 3.1)
225-Area Advanced Depth-From-Defocus AF System
Weight: 725 grams with battery and SD card
Same battery as GH4 – DMW-BLF19
DMW-XLR1 XLR Hot-Shoe Audio Expansion Unit – $400
Available End of March 2017
Price: $1,998
Pre-order B&H
The above footage, and most of the footage below was shot by the super talented UK-based DP – James Miller, whose awesome work I've followed and admired for years. Naturally, when you get pretty much any camera into the hands of someone with some serious visual chops, the results are usually very impressive and James' GH5 footage is no exception.
Here's what James said about the footage above:
Another test using the camera in VLOG and baking in a LUT directly into the Atomos Shogun. Really love how this works together and so well. Interestingly it produces a superior result over adding the same LUT in post. macro blocking and picture breakup are very much reduced.

Shot in VLOG partly in 4k UHD 25p and 4k UHD 25p downscaled in camera to 1080p to test for any induced aliasing etc.

Lens used was the Zeiss Otus 55mm and the MFT to EF Metabones Speedbooster Ultra x .71
Graded with DELUTS VLOG set (update for the GH5 coming soon)

Spot the one shot on the 135mm with the stabiliser set to 39mm.

Shot and thrown together by James Miller, many thanks to Richard Payne, Nick Driftwood and Panasonic UK for the loan of the camera.
Music licensed with Audio Network.
Very quick thrown together random! clips for this test. Please also note image stabilisation was not at the optimal settings.

Up to 01:31 I used the Atomos Shogun with a burnt in LUT. The camera was set to VLOG 4k UHD 8bit 50p and down sampled in camera through HDMI to 1080/50p. From 01:31 I only recorded internally using VLOG 4k UHD 8-bit 50p and high frame rate 1080/180fps and I think one 10-bit 4K UHD 25p shot, LUT added in post.

I found when using a burnt in LUT the quality of the images where much cleaner than adding the LUT in post and normally I wouldn't do that as it nice to have control but at least you can have dual recording with VLOG on the internal SD cards.

If your using the Atomos Shogun Inferno you can record up to 4k UHD 50p.

Lens used was the Zeiss Otus 55mm and the MFT to EF Metabones Speedbooster Ultra.
Graded with DELUTS.
Panasonic Lumix GH5 – TEST 3 – Seaford Head from James Miller on Vimeo.
Panasonic Lumix GH5 – TEST 4 – To London from James Miller on Vimeo.
Panasonic LUMIX GH5 4K "Winter's Grip" by Martin Wallgreen
'Winter's Grip' [GH5 10bit V-LogL footage] from Martin Wallgren on Vimeo.
Lumix GH5 pre-production model. Internal recording to SD-card 10bit 4:2:2 150Mbit/s V-LogL, shot handheld with the new LEICA Vario-Elmarit 12-60mm f/2.8-4 lens. Graded in FilmConvert Pro, using Fuji Astia 100, Provia 100 and Kodak Portra 400 profile, no grain.

All footage shot at ISO400 and using Variable ND. The V-LogL footage from this camera looks so smooth and clean even in the shadows, it's a completely different story than the GH4 feeding Atomos Shogun with 10bit to ProRes. The GH5 footage is so much more robust in post and wider gamut
GH5 Q&A with Sean Robinson from Panasonic (you may want to budget a good couple of hours for these) thanks to Joseph Linaschke for hosting them:
LUMIX GH5 Extended Interview with Panasonic's Sean Robinson, Part 2 A
LUMIX GH5 Extended Interview with Panasonic's Sean Robinson, Part 2B
LUMIX GH5 Extended Interview with Panasonic's Sean Robinson, Part 2 C
Part 2D:
So, what do you guys think? Let me know in the comments below whether you are planning on getting a GH5, or if you have already pre-ordered one. In case you haven't done that yet, using the links below to make your pre-order will be highly appreciated.
Also, as a reminder, in the UK – if you pre-order a Panasonic GH5 through an authorised dealer such as Wex Photographic UK, you can get a free 5 year warranty provided you pre-order before March 31st, and you claim your warranty promo via this link before end of April 2017.
Pre-order links:
Claim your copy of DAVINCI RESOLVE - SIMPLIFIED COURSE with 50% off! Get Instant Access!