Zacuto have announced their new Polaris Baseplate System for popular 4K mirrorless cameras and DSLRs designed to save you time and effort.
The new Zacuto Polaris system is based around the Arca-Swiss type-baseplate, which is very popular due to its compact size and quick release system. The new Polaris system makes it really easy to go handheld from a tripod or shoulder-based setup thanks to the top (camera side) and bottom (tripod side) quick release mechanism.
The top red camera plate attaches to the bottom of your camera with a 1/4″-20 screw and can quickly loosen to slide or release with a 1 1/4 turn, and lift up from the baseplate leaving the rods and rig behind.
It has safety locks so the unit can't slide all the way out if knob isn't all the way loose. With this system you can quickly go between various shooting styles.
Zacuto Polaris 15mm LWS Baseplate System Highlights
Polaris Quick-Release Plate Assembly
Arca Swiss compatible
Polaris 15mm LWS Rod Support System
Mounts Follow Focus & Other Accessories
For DSLR & Mirrorless Cameras
Twist Knob to Slide / Pull to Release
1/4″-20 & 3/8″-16 Tripod Mount Threads
Made in the USA
Price: $280 at B&H
The Polaris System is very customizable to fit your shooting style. The new system allows you to go to a shoulder mounted rig by simply snapping your camera on the Polaris Baseplate into the top of the shoulder pad or go with a cage option for mirrorless cameras.
The good news is that Zacuto's mirrorless camera cages are Polaris compatible – the camera plate is built-into the bottom of the cages allowing you to quickly transition between shooting styles. Zacuto's mirrorless cages support various popular 4K mirrorless cameras such as the Panasonic GH5/GH5s, Sony A7III, A7RIII and A9, BMPCC 4K, Nikon Z7/Z6, Panasonic S1.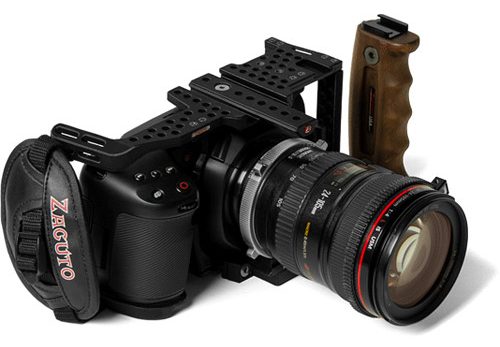 The Zacuto cages offer a comfortable hand strap to allow operators to utilize the natural grip of the camera. Our cages also featured built-in Z-Rail and numerous 1/4″ 20 screw holes so you can mount various accessories as well as side and top handles.
Polaris baseplate comes with 12 inch rods that go through the entire plate so you can add accessories onto the back of your rig. The rods are tightened with two mini ratcheting levers. Operators can also adjust the height to align popular cameras like the Panasonic GH5, Sony A7III, and Blackmagic 4K Pocket camera to standard matte box height.
The Zacuto Polaris baseplate is priced at $280 US, and you can browse more Polaris accessories here.
Claim your copy of DAVINCI RESOLVE - SIMPLIFIED COURSE with 50% off! Get Instant Access!