If you still haven't found a decent field monitor for your daily workflow or you just want to swap your old one, the Aputure VS-5 may surprise you with all it has to offer for the price. Currently, it's one of the most advanced 7-inch field monitors available on the market that's not only packed with a plethora of pro level features that most entry level models simply lack, but also comes with an extremely competitive price tag. For $499, users will get HDMI and SDI connectivity alongside scopes, zebras, waveform, and other advanced monitoring features. Here's what else you can expect from this 7-inch sturdy built little beast.
As Max points out, the biggest advantage of the Aputure VS-5 is the availability of SDI input which makes it compatible with a wide range of professional cameras like the URSA Mini or Sony FS7. Besides that, the monitor offers 1920 x 1200 display with 450 nits of brightness and a 160° viewing angle. Unlike most of its counterparts, the VS-5 has also adopted a new dual battery system that can eject or mount batteries with the press of a single button. What's more, you can run the monitor on a single battery as well, which makes it even more efficient and flexible device on set.
Alternatively, you can use a separate optional DC 2.5 mm adapter or V/A mount batteries along with a D-type cable that's also included in the kit. Apart from the built-in monitoring functions such as Waveform, Vectorscope, RGB Histogram, False Color, and Zebra, you will find Volume Bars as well. Not only that, but you can monitor the audio signal that is coming from the HDMI input using the built-in 3.5 mm headphone audio jack on the back.
Aputure VS-5 Field Monitor Highlights
7-inch display
1920 x 1200 High Resolution
450 nits of Brightness
160-degree Viewing Angle
HDMI and SDI inputs
Zebras, Vectorscope, Waveform, False Colour, Volume Bars
Dual Battery System
Carry Bag, Sun Hood, D-Tap Cable, USB Flash Drive, HDMI Cable (A to C Type), HDMI Cable (A to D Type) included in the kit
Price: $499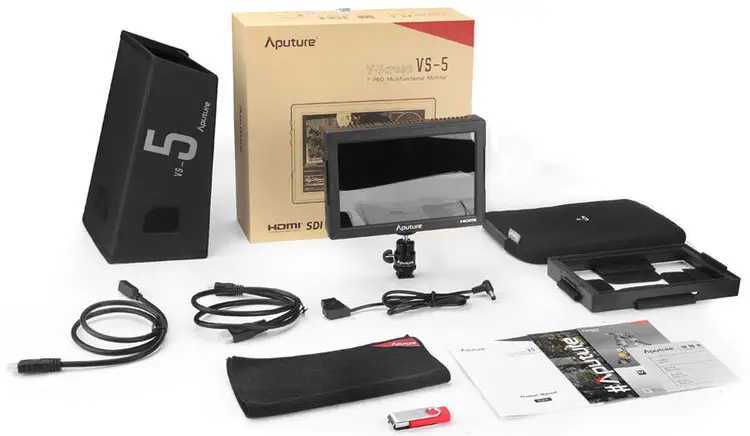 Another cool feature of the VS-5 is the included sun hood that completely encloses the monitor thus making a lot easier to see what you are shooting at and nail your focus and exposure effortlessly even in the harshest sunlight conditions. For those of you using smaller mirrorless cameras such as the Sony A7S II or Sony A6500, you can use the provided micro and mini HDMI cables which are another nice add-on to the kit.
Unfortunately, the Aputure VS-5 doesn't provide LUT support yet which probably could be the biggest deal breaker for some users, but considering the availability of SDI connectivity along with other pro-level software features, it's still an appealing option for any field shooter or cinematographer working on a budget. It also worth noting that Aperture managed to address the annoying lag issue of the unit reported by early adopters, so make sure your monitor has the latest firmware on board before you take it out for a spin.
[source: Max Yuryev]
B&H Order Link:
Aputure VS-5 V-Screen 7″ PRO Multifunctional Monitor
Amazon Order Link:
Aputure VS-5 V-Screen 7″ PRO Multifunctional Monitor
Claim your copy of DAVINCI RESOLVE - SIMPLIFIED COURSE with 50% off! Get Instant Access!