Smartphone technology is certainly going wild these days. Sony just announced the development of the industry's first three-layer stacked CMOS image sensor with DRAM for smartphones. The unit is not only capable of shooting super slow motion videos at up to 1,000 frames per second in 1920 x 1080 resolution, but also offers fast data readout speeds, making it possible to capture still images of fast-moving subjects with minimal focal plane distortion. In other words, this sensor technology virtually eliminates one of the biggest flaws of consumer CMOS sensors – the dreaded jello effect. It's truly hard to believe what Sony managed to achieve lately, so let's take a look at the provided sample reel of slow-motion footage shot using this sensor and see the results with our own eyes.
According to Sony, the new sensor can read one still image of 19.3 million pixels in only 1/120 second which is approximately 4x faster than most conventional CMOS sensors currently available on the market. The massive amount of data captured while shooting 1,000 fps high-speed video is actually stored on the DRAM and then being exported for signal processing on an external image signal processor. It's even possible to trigger high-speed shooting automatically by a sudden subject movement.
Unlike other stacked CMOS sensors that usually feature a layer of backside-illuminated pixels and a circuit layer that processes the signal, the innovative three-layer CMOS image sensor adds a third layer of high-speed DRAM that can process and buffer images at ultra-high speeds. The newly developed device also significantly reduces the noise generated by the circuits on each of the three layers despite its sophisticated three-layered structure.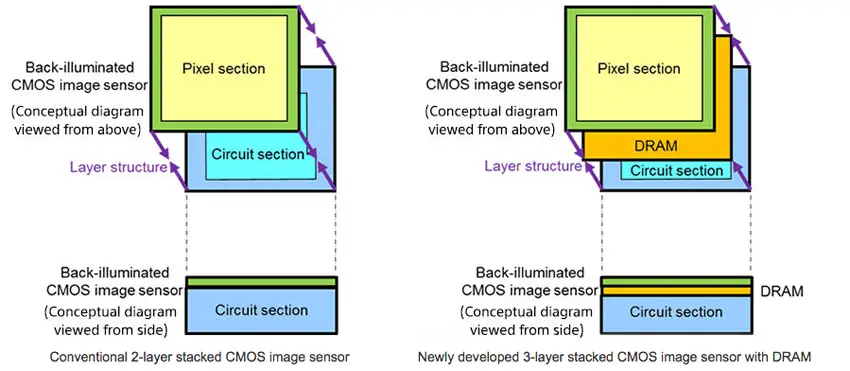 Currently, there is still no word when we'll be able to get our hands on this extremely appealing piece of technology, but at least we can clearly see where the smartphone technology is heading. We already have access to plenty of smartphones capable of capturing crisp-clear 4K videos, but when you add the ability to shoot super-slow motion with the same pocket-sized device, the creative possibilities become virtually endless.
[via: PetaPixel, source: Sony]
Claim your copy of DAVINCI RESOLVE - SIMPLIFIED COURSE with 50% off! Get Instant Access!