Atomos just released firmware version 8.11 for their flagship Shogun Inferno HDR monitor/4K recorder. This firmware takes care of some bugs with interlace-ing artifacts when panning with Sony camera and also adds support for the Panasonic GH5's 10bit output among other features. The Atomos Shogun Inferno does support 4K/60p recording from the Panasonic GH5 in either 10bit ProRes or DNxHR. 1080/60 is the maximum the GH5 will output to any recorder; frame rates from 60 to 180fps are only available internally in the GH5 unfortunately.
Nevertheless, Firmware Version 8.11 does add also support for BT.2020 in Custom mode on the Sony FS7 II and now supports the Sony PS4 Pro HDR output for high quality game recording for all you gamers out there.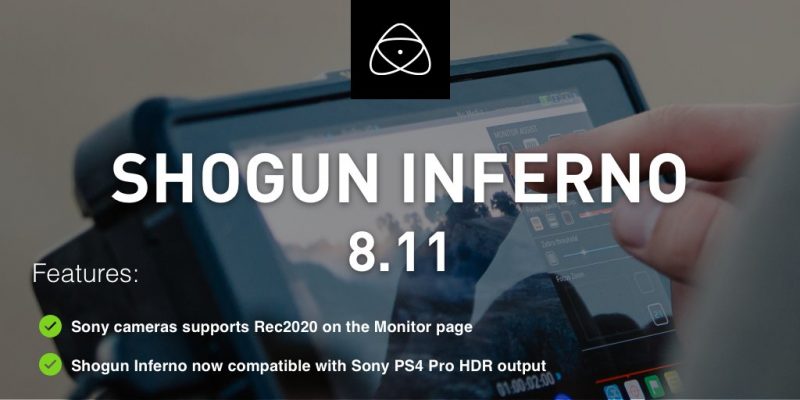 Atomos Shogun Inferno Version 8.11 Details
Added BT.2020 colour space for Sony FS7 II and other S-Log cameras in AtomHDR mode
Shogun Inferno now compatible with Sony PS4 Pro HDR output for high quality game recording.
Bug Fixes:
Further improvements to disk compatibility and reliability. See atomos.com/drives for latest compatible drives 4Kp60/30/25/24 drives.
Fixed Sony 4Kp25/30 Raw to ProRes/DNxHD interlaced scan lines when panning.
Panasonic GH5 support for 10bit output has been added.
Fuji XT2 support added.
Sony PS4 4K/60 / HDR support added.
Super smooth monitoring of all video frame rates via switchable 48/50/60 Hz frequency based on input frame rate.
Shortly after the previous Firmware 8.1 was released around Christmas last year, some users reported issues with interlaced artifacts when panning with some Sony cameras namely the Sony FS5. It is good to see that according to the latest release this has also been corrected.
In the video below, Atomos CEO Jeromy Young addresses some of the issues in the previous firmware update and gives us an overview of what's new in the new firmware version 8.11.
If you own an Atomos Shogun Inferno you can download firmware version 8.11 from Atomos' website here.
Claim your copy of DAVINCI RESOLVE - SIMPLIFIED COURSE with 50% off! Get Instant Access!