Creating high-quality video requires an expertise in a lot of areas. First, there is the shooting of footage, which requires a great eye and excellent knowledge of camera gear. Then there is a need for great editing skills like a sense of pacing and knowledge of editing software. Finally, there is a need for design skills to create beautiful titles, lower thirds, transitions and the like. It's hard enough learning to master one of these disciplines, much less all of them.
Luckily, there are a lot of great resources out there to help you create better videos without having to have years of practice across several platforms and disciplines. Take as an example, design and animation. Let's assume you are a video creator who is great behind the camera. You understand composition, lighting, and camera specs. But when it comes to title design and animated logos, you aren't that experienced.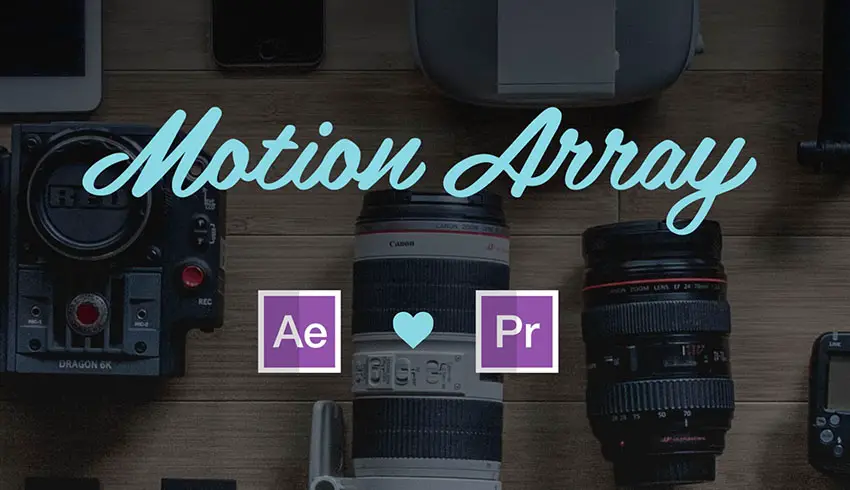 You could spend years trying to master the art of design and animation, or you could turn to After Effects and Premiere Pro templates to carry some of the weight for you. Some people may not realize that templates can be useful in a number of ways to help save time and money, and to add quality to a video without too much effort.
The first thing you'll need in order to use an After Effects or Premiere Pro template is the appropriate software. Many video creators already have a subscription to Adobe's Creative Cloud software, but if you don't, you can get a monthly subscription for $49. Included in that price are After Effects and Premiere Pro, the tools you'll need to utilize templates, as well as industry standard programs like Photoshop and Illustrator. There's actually quite a lot included in the deal, and it can totally be worthwhile if you are creating projects on a regular basis.
While you don't need to be a master of these tools, a basic working knowledge will come in pretty handy. Luckily, there are tons of free online tutorials that will quickly get you up to speed on the basics of programs like Premiere Pro and After Effects. Motion Array has a growing of free After Effects tutorials and Premiere Pro tutorials.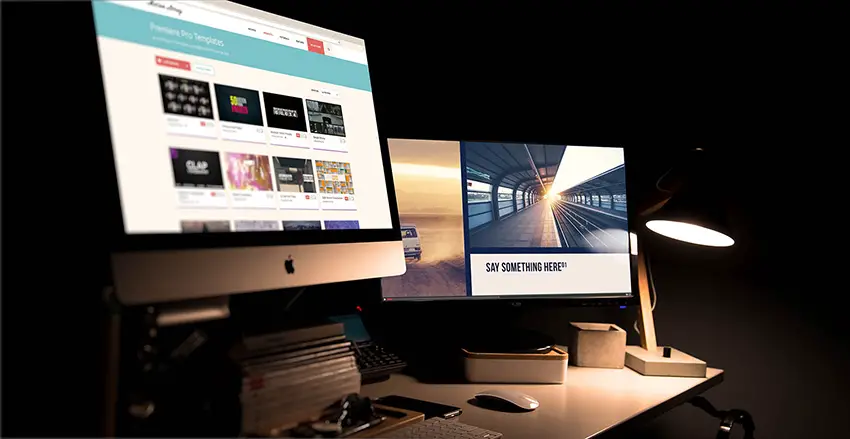 Once you have the software and a basic understanding of how to use it, it's time to find some templates to use in your projects. Motion Array has a robust library of After Effects templates, and Premiere Pro templates to choose from. They also offer stock video, stock music, and motion graphics. But for the purpose of this article, we'll stick with the templates.
A template can add as much or as little as you want to a project. On one hand, you can use a template in its full form just switching out text and photos or video, then rendering out a completed project. On the other hand, you can really dig into a template and make loads of changes to get a custom result, or just use one part of it to add a little something to your project.
If you are a regular Premiere Pro user, it might be a good idea to start with Premiere Pro templates. The library at Motion Array includes all sorts of Premiere Pro template categories like edits, toolkits, transitions, titles, presets, logos, and slideshows. Titles and logos can save you from having to design custom opens and closes for a video. Edits and slideshows can save you a ton of time when you don't have the ability to build a custom edit from scratch. And transitions can give you a little extra pop when a video feels a little flat.
Here are a few examples of Premiere Pro templates available at Motion Array.
If you are looking for another avenue with lots of flexibility, give some After Effects templates a spin. You can find all sorts of templates that include 3D design, flashy animations, and cool effects. The After Effects template portion of the Motion Array library includes photo/video, text, logos, lower thirds, transitions, presets, and some other assets.
Here are some of the After Effects templates that you can download at Motion Array.
Between the two sections, there are almost 4,000 templates to choose from at Motion Array, with more being added daily. There is likely something for everyone. And subscribers who can't find the specific template they are looking for, can make a request to MA producers for a specific item.
Unlike a lot of creative marketplaces, Motion Array opts out of the pay per download model that can often range from $30-$60 for a single template. Instead, they have a simple subscription plan with a few tiers for users to choose from. On the low end is the Lite plan at $19 a month which includes 4 download credits. On the upper end is the Pro plan that includes 20 downloads per month and costs $49. Each asset is one credit regardless of type. So, it's simple to keep up with.
Motion Array also includes a simple license structure. Whether you need to use your template for a personal or commercial project, and regardless of the distribution, once you download the template, it's yours to use however you like. There is no need for extended licenses or additional costs.
With a good software package, a little bit of experience, and a robust library at your fingertips, you can create high-quality videos from beginning to end. 
[source: Motion Array]
Claim your copy of DAVINCI RESOLVE - SIMPLIFIED COURSE with 50% off! Get Instant Access!