You guys may remember a while back we shared a massive 50+ minute Panasonic Varicam LT review with you that was done by LA-based filmmaker and DP, Ben Meredith. The Varicam LT, in itself is a beast of a camera, and one that certainly deserves a long form review, but this time around Ben is back with a 30+ "lens test" he shot with the Varicam LT and a bunch of highly regarded lenses for cinematic video productions.
For those of you lens nerds, who have just woken up, grab a cup of coffee and enjoy this "personal, rather than Technical lens test".
Nevertheless, I personally think that there are quite a few useful bits in there, especially if you are wondering how does (for example) the very popular Sigma 18-35mm f1.8 wide-angle zoom fare on the Varicam LT compared to other popular lenses – which included the Leica R (cine moded by Duclos), some of the Canon CN-E primes, the budget friendly Rokinon XEENs and some Zeiss Otus thrown in for good measure.
Lenses Used:
Canon Cine Primes,
Vintage Cooke Speed Panchros,
Duclos Leica R Cine-Mods,
Duclos Zeiss ZF.2 Cine-Mods,
Sigma 18-35 Stills Version Zoom,
XEEN Cine Primes
Zeiss Otus Primes.
Some fellow awesome Los Angeles cinematographers and myself got together and pooled our resources for a big day of shooting with a variety of lenses and cameras (shout out to the talented Evan Butka for coordinating!). This was a very relaxed environment with numerous people moving around, changing lenses, etc. – AKA It's not perfect!

Points of interest for aberration were the corners of the colour chart, the models hair (note – parts of her hair were dyed purple) and the holiday lights. The video will zoom in 300% occasionally to check those areas up until the longer focal lengths.

The Grade: V-Log to Rec.709 LUT, highlights brought down a little (the VariCam can see even deeper, but the Rec.709 blew some info out). I am not a professional colourist – just tried to keep it simple to show the differences in the lenses.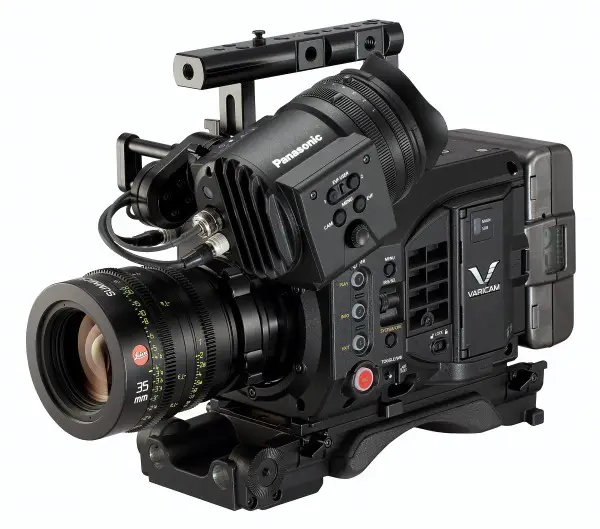 Panasonic Varicam LT Features and Highlights
4K Super35 CMOS Sensor
Native Canon EF mount (PL mount extra option – easily user swappable)
2K/Full HD 240fps Slow-Motion (uses sensor crop)
4K/60p and Full HD ProRes 4444 & 422HQ
4K/60p Raw to Convergent Design Odyssey7Q+
Built-in ND filters: 0.6/1.2/1.8
User Removable IR Cut filter
Single ExpressP2 card Slot for Main 4K/2K/HD recording
SDXC Card slot for Proxy Long GOP recording
Dual Native ISO – 800/5000
Optional OLED viewfinder
3 x SDI Out (dedicated one for Viewfinder)
Support for 3rd Party Viewfinders like Zacuto Gratical
2 x XLR inputs – 4 x Channel Audio 24bit/48kHz LPCM
V-Gamut – exceeds BT.2020 HDR colour space
14+ Stops Dynamic Range with V-Log
V-Look and BC-Look Presets
Weight: 2.7 kg / under 6 lbs
It is worth to note that Ben and his compadres had access to an ARRI Alexa and a RED Epic-W 8K S35 Helium for this test and you can hear Ben's thoughts after the 14:25 mark.
I am quite fond of the XEEN lenses, despite obviously their "imperfections" compared to the Zeiss Otus lenses for example, which have a lot more clinical and neutral, clean look, free of CA and colour fringing.
However, I think it's best to leave it up to you to see how each of these lenses did and hopefully you pick-up some useful bits for your next shoot. Thanks to Ben Meredith for getting in touch with us again and sharing his test.
Claim your copy of DAVINCI RESOLVE - SIMPLIFIED COURSE with 50% off! Get Instant Access!