The latest Super 35 4K camera from Panasonic – the mighty Varicam LT has been getting onto more and more productions ever since it started shipping towards the end of March. For those yet not familiar with the more compact and "one-piece" Varicam LT shares the same Super 35 sized CMOS sensor as the larger Varicam 35 giving out 14 stops dynamic range, however unlike the Varicam 35, the Varicam LT is now a one-piece design (the Varicam 35 has a separate sensor head and recording module) thus making it more suitable for single shooters from an ergonomics perspective. Much like the its bigger bro the Varicam 35, the Varicam LT can record 4K in a 10bit 422 codec, but up to 60fps (the Varicam 35 goes up to 120fps and also does 4444 in 4K, which the LT does not), however when in 2K resolution, the slow-motion has been upgraded to 240fps on the LT (Varicam 35 is up to 120fps).
The Panasonic Varicam LT also features that unique to the Varicam Dual Native ISO feature (800 and 5,000), which basically enables the cameras to shoot in very light starved environments without a huge image noise penalty. Check out some amazing low-light night footage from the LT here.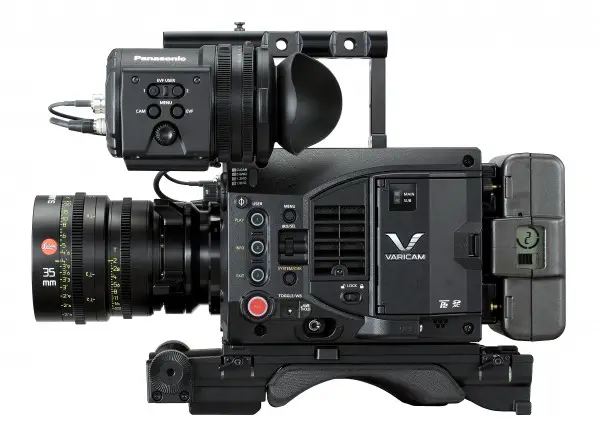 Panasonic Varicam LT Features and Highlights
4K Super35 CMOS Sensor
Native Canon EF mount (PL mount extra option – easily user swappable)
2K/Full HD 240fps Slow-Motion (uses sensor crop)
4K/60p and Full HD ProRes 4444 & 422HQ
4K/60p Raw to Convergent Design Odyssey7Q+
Built-in ND filters: 0.6/1.2/1.8
User Removable IR Cut filter
Single ExpressP2 card Slot for Main 4K/2K/HD recording
SDXC Card slot for Proxy Long GOP recording
Dual Native ISO – 800/5000
Optional OLED viewfinder ($5,400 at B&H)
3 x SDI Out (dedicated one for Viewfinder)
Support for 3rd Party Viewfinders like Zacuto Gratical and BMD URSA Viewfinder
2 x XLR inputs – 4 x Channel Audio 24bit/48kHz LPCM
PreRec / Interval rec / One Shot Rec
V-Gammut – exceeds BT.2020 HDR colour space
14+ Stops Dynamic Range with V-Log
V-Look and BC-Look Presets – similar to WideDR on Canon C300 (mix between V-Log and Rec.709 for faster turnaround)
Weight: 2.7 kg / under 6 lbs.
Upgrading and investing in a new professional 4K camera these days is not an easy task with so many different options to chose from – from the Sony FS7, to the C300 Mark II, RED Raven/Scarlet-W and even Alexa MINI for those with really deep pockets, so learning as much as possible about a potential camera you are interesting in can be very helpful. Some cameras get a ton of reviews, and some like the Varicam LT, not so much, at least not until now.
LA-based filmmaker and DP, Ben Meredith got in touch with us and shared his experience with the Varicam LT in a very informative 50+ minute review, which is very well put together and I highly recommend that anyone even remotely interested in knowing more about the Varicam LT to give it a go below.
Review of the Panasonic Varicam LT from Ben Meredith on Vimeo.
I'll let the review speak for itself, but overall, this is a very great camera, that beats many competitors in a variety of ways. It does have its pros and cons, but ultimately I fell in love with the image and usability of the Varicam LT right away.

Even taking on a review of this magnitude, I am sure I still managed to miss some things, so please feel free to ask me any questions! I am happy to answer.

Quick final thoughts are: FILMIC. This camera has an extremely natural, organic, filmic look, probably to be compared more to the likes of Arri, which is why, for me, it beats out many of the RED/Sony/Blackmagic/Canon systems. The Canon c300 Mark ii comes close for the price range, but still has that "Canon" look and lack of certain options (I LOVE the Canon look, but Varicam offers an even more natural one with accurate colors straight away).

I hope you enjoy the review, and a few notes.

-This review (and myself) is not affiliated with Panasonic in anyway.
-These are my opinions…it's a matter of taste! I think any camera that works for you is the right choice. They all do amazing things. I just happen to like this one extra :).
-RENT! Don't take my, or anyone else's word for it. Rent cameras, especially when they are this expensive, before you make the choice to purchase.

All footage was shot using the Sigma 18-35.
The review portion filming me was shot using the Blackmagic Pocket Cinema Camera.

Music
"Heartbeat" by Ben Meredith
"Running by the River" by Ben Meredith
"To Wait at the Station" by Ben Meredith
"From Dust" by Ben Meredith
Here's is also the short film that Ben shot with the Varicam LT. Details below the video.
From Dust – Shot On Panasonic Varicam LT from Ben Meredith on Vimeo.
Shot on the Panasonic Varicam LT. Only lens used was the Sigma 18-35mm. It is all shot in the AVC Intra 422 4K codec at 23.97 fps, with one shot in the cropped 1080 AVC Intra LT codec at 240 fps.

You can also find the ungraded footage to view or download here: vimeo.com/171145733
You can order the Varicam LT from authorised dealers such as B&H and Adorama in the US, or Visual Impact UK if you are in the UK.
Claim your copy of DAVINCI RESOLVE 16 - SIMPLIFIED COURSE with 50% off! Get Instant Access!