Vision Research, a brand name synonymous with high-end pro super-slow motion cameras, recently announced the newest addition to their Phantom Flex line-up of cameras – the Phantom Flex4K-GS. The GS in the name stands for "Global Shutter", which eliminates imaging artifacts associated with motion skew; the Flex4K-GS features a custom sensor capable of recording 1,000 fps at True 4K DCI (4096 x 2160) resolution.
Much like the rest of the Phantom Flex lineup, the Flex4K-GS is built like a tank; it has isolated electronics and thermal design that allow for operation in environments within the temperature range of -20°C to 50°C, all the while maintaining a stable image.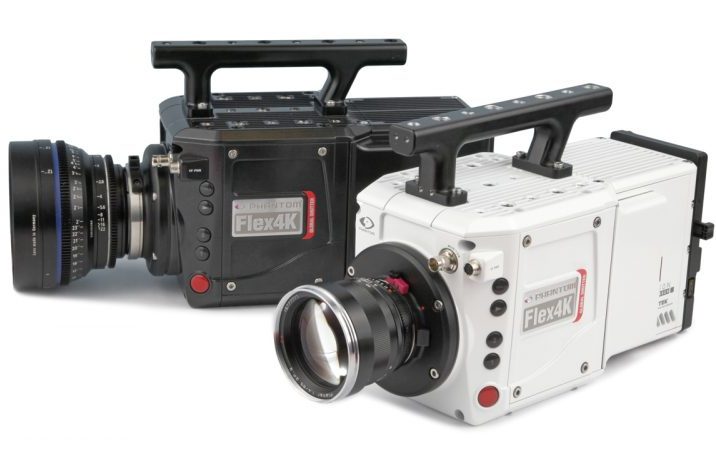 The Phantom Flex4K-GS is available with either 64GB or 128GB of RAM and works with CineMag IV non-volatile memory magazines for the fastest data transfer. Uncompressed raw or compressed video in Apple ProRes 422 HQ is also possible.
When working with ProRes, a 2TB CineMag-IV will hold several hours' worth of footage. The Flex4K-GS is also fully compatible with Phantom PCC software and can be easily synchronized and used in combination with other Phantom camera models.
Phantom Flex4K-GS Highlights
35mm 9.4-megapixel sensor
Global shutter, switchable to rolling shutter for increased dynamic range

4096 x 2304 – 938 fps max
4096 x 2160 – 1,000fps
2048 x 1080 (2K) – 1,975 fps

5 μs minimum exposure
Internal mechanical shutter for black references
4 x 3G-SDI video outputs
Dual-SDI mode for simultaneous live video and playback
Phantom CineMag IV recording media (1TB & 2TB)
Cine Raw and Apple ProRes 422 HQ recording formats at full resolution
Up to 128GB of internal memory
Optional Integrated battery mount supporting industry standard batteries
Lens mount (interchangeable):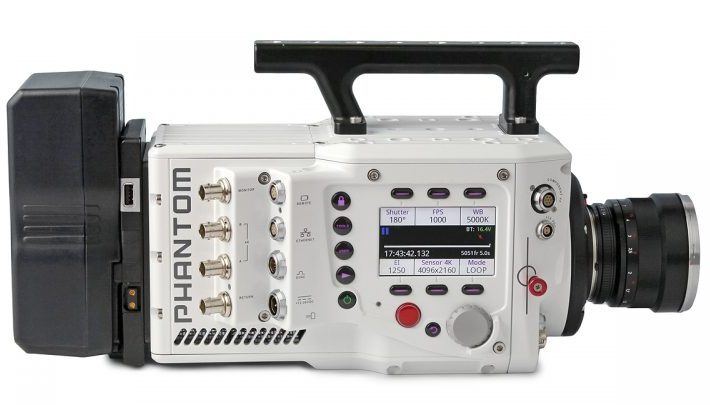 "There have always been trade-offs between speed, sensitivity and resolution in modern CMOS-based cameras, but Vision Research is changing the game with the new Flex4K-GS," says Product Manager Toni Lucatorto. "The camera brings pixel resolution to the forefront, allowing for incredibly fine detail and improved visibility of phenomena and measurements."
Phantom Flex4K-GS Specifications 
Throughput/Speed
8 Gpx/second.
Max speed at full resolution of 4096 x 2304 is 938 fps
At 4096 x 2160 max speed is 1000 fps
At 2048 x 1080 max speed is 1977 fps
Sensor Specifications
CMOS sensor / 12-bit pixel depth
4096 x 2304 pixels / 6.75 µm pixel size
27.6 mm x 15.5 mm
Super-35mm; 31.7mm diagonal
Super-16mm format at 1920 x 1080
Global Shutter (GS): Base ISO 640T Colour; 5000T Mono.
Rolling Shutter (RS): Base ISO 320T Colour; 2000T Monochrome
Recommended Exposure Index range:

1000-1600 Colour;
10,000-20,000 (GS);
4000 – 8000 (RS) Monochrome
Exposure
Exposure time (shutter speed): 5µs to 1/frame rate
Can be set in degrees or microseconds (µs)
Global shutter mode (default); also has rolling shutter mode with 1-millisecond progressive scan shutter
Memory
64 or 128GB high-speed internal RAM
CineMag IV, CineMag IV PRO for non-volatile storage (1TB, 2TB)
Record Times
10 seconds at 1000 fps, 4096 x 2160 resolution and into 128 GB of internal memory
2TB CineMag IV holds 2 hours of 4K Cine raw playback at 24p
2TB CineMag IV holds over 4 hours of 4K ProRes HQ playback at 30p
Special Features
Switchable Global shutter and Rolling shutter modes.
Three main 3G HD-SDI outputs, supporting dual-link 4K video and simultaneous live monitoring / playback
Supports both HD-SDI and component based viewfinders
Standard internal mechanical shutter for automatic/remote Current Session Reference (CSR)
Secondary IP address
Segment memory for multi-cine acquisition
Field-based firmware upgrade capable
Several mounting holes for accessories on camera body
Here's a bit of footage shot with the current Phantom Flex 4K:
For full specs visit Vision Research here. The Flex4K-GS obviously will probably see a lot of use in the realm of high-end commercials, features, and any productions with a decent budget that need that sweet 4K super-slow motion.
The new Phantom camera is expected to be a "strictly rental item" for 99% of productions given its specialist nature and price tag of over $100K to match. For the rest of us mortals, we'll do with a Sony FS5 and a Shogun Inferno/Odyssey7Q+ combo for super slow-mo up to 240fps in 2K.
Disclaimer: As an Amazon Associate partner and participant in B&H and Adorama Affiliate programmes, we earn a small comission from each purchase made through the affiliate links listed above at no additional cost to you.
Claim your copy of DAVINCI RESOLVE - SIMPLIFIED COURSE with 50% off! Get Instant Access!