I've been using the the CalDigit Tuff 2TB external drive as my main footage offload, transfer, and backup drive for the past couple of weeks and in this post I want to share with you my review of this quite awesome external hard drive. The CalDigit TUFF 2TB USB 3.1 Type-C external drive is a rugged, IP57 certified, 2.5″ hard drive that is dust, shock, and water-proof and also comes at a pretty decent price of $180 for the 2TB HDD version.
Yes, this is the HDD version, they are also working on an upcoming SSD version, and despite the fact that it may not be the fastest of drives, it sure does perform quite well when it comes to keeping my data safe (even after a shower).
CalDigit TUFF 2TB USB 3.1 Gen 2 (10 Gbps) Highlights
Bus Powered from your Mac or PC, no external power
Comes pre-formatted for MacOS X, but can be formatted of course for Windows
Arrives in a plastic "archive box" – a nice touch, keeps your drive and cables in one box
Two cables included:

USB 3.1 Type-C to USB Type-C – latest MacBook Pro 2016 owners – this is for you
USB 3.1 Type-C to USB 3.0 Type A – this is for me – MacBook Pro 2015 and any USB 3.0 equipped PC/laptop out there.

Shock and Dust Protection
IP 57 Certified – Water protected – up to 1 meter (3.27 feet) when submerged for up to 30 minutes.
Data Transfer Speeds (depending on whether USB 3.1 or 3.0) around 100 MB/s to 130 Mb/s
Rugged, solid build
Lightweight – 270 grams (0.60lbs)
Choice of 5 colours:

Orange, Blue, Green, Grey, and Black
Build Quality
The CalDigit TUFF 2TB drive just feels well-built as soon as you take it out of the "archival box" it arrives with. And that plastic enclosure box (CalDigit refers to it as – the Archival Box) is actually quite neat – as it lets you store both your drive and cables in one box and protects them.
That plastic enclosure is a bit difficult to open sometimes though; maybe this is just my box, but I did have to use quite a bit of force with the first few times I opened it to disengage the little plastic latch.
Hey, at least I know my drive is safe and won't pop out by accident – and even if it did, I doubt it would get busted – I did drop the drive onto a table from about 1 meter height and it's still working, so it will definitely withstand a few bumps in the field, which is exactly what you need from a rugged backup drive.
Connectivity
Owners of the latest MacBook Pro need not lament the fact they have only Thunderbolt 3/USB Type-C connections on their machine. The CalDigit TUFF 2TB does come with a USB Type-C to Type-C cable included so no adapter dongle needed here. Plus, you get to power it from the actual USB bus saving you an additional plug into your wall.
It is worth to point out here, that this drive supports USB 3.1 Gen 2, which theoretically supports a 10 Gbp/s throughput (through the more universal and "newer" USB Type-C interface) and USB 3.0 speeds of up to 5 Gbp/s.
I myself, was not able to test the benefits of USB 3.1 Gen 2 as my MacBook Pro 2015 has only a Thunderbolt 2 (totally different cable interface as the older TB Gen 1) or USB 3.0 connectivity. This brings us to the Speed Test below.
Speed Test
The bottle neck here really is the spinning disc drive technology employed. Even at 7200 RPM, the drive struggled to move the needle above 115 MB/s write speed with a read speed of 118 MB/s. The test was done with a 5GB test payload. Again, I was expecting similar results and I am not really panning the drive here – after all – this is not a solid state drive, which CalDigit are working on getting out there soon.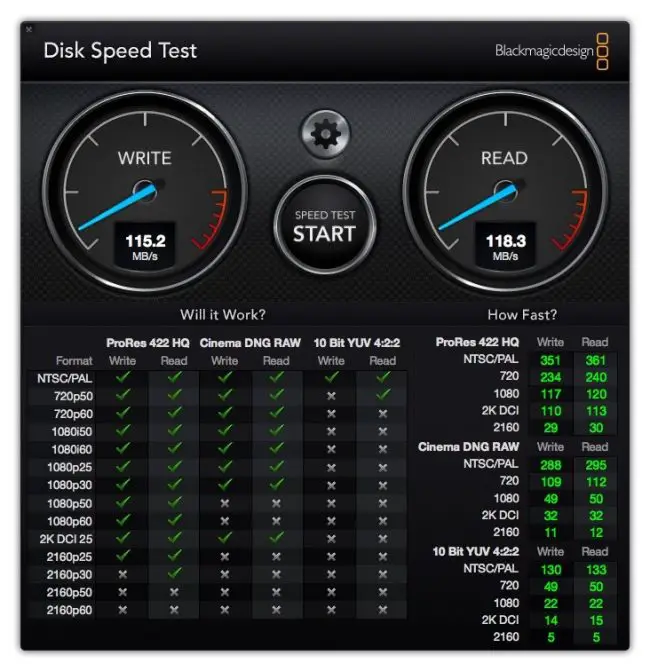 As a real world reference – it took about 5 minutes to move a 45.6 GB selection of 4K GH4 clips, raw stills and JPEGs from my MacBook to the TUFF via USB 3.0, which in itself is a pretty decent result and certainly one I can live with. For those looking for super-fast transfers speeds for backup in the field – you may want to look at some other SSD and Thunderbolt 3 options.
However, for my needs at this stage, when it comes to secure backup for when I am in the field or transferring data between one computer and another or temporary backing up footage from my camera via a laptop – USB 3.0 is a good place to be.
I probably won't use it as my editing drive, unless I have not access to my SSDs for example – but I did edit a quick GH4 video shot in UHD at 25p from the CalDigit TUFF plugged directly into my MacBook Pro with no problems at all.
Conclusion
The CalDigit TUFF 2TB USB 3.0 is an excellent choice for a secure backup in extreme environments and especially when using the drive as a temporary field backup – this way you don't only have your footage copied on your laptop. The included 2 cables ensure that no matter what PC or Mac you have, as long as you have at least a USB 2.0 connection – you'll be able to use it and backup your footage.
Of course, it is not perfect – the speed may be an issue for some, but for me – apart from the archival box can be a bit of a pain to open sometimes and the fact that it has a only a single USB-Type C connector (as opposed to also, maybe Thunderbolt 2?) I found this drive to be quite reliable and a real joy to use.
The CalDigit TUFF lived up to it's name as it survived a few bumps and even a cold shower, and even though I am not planning on shooting in the Arctic anytime soon, I find peace of mind knowing that my footage is safe on an external drive that has been designed to work in extreme environments. And you can even get it with different coloured rubber bumpers, if that's important to you.
I think this drive will be a very nice addition to any landscape or adventure photographer's backpack. Timelapse fanatics and outdoor adventure filmmakers can definitely benefit from the water/dust/shock protection and overall excellent, rugged build quality of the CalDigit TUFF.
The fact that it is bus powered and also comes in a 2TB capacity ticks two major boxes for content creators, who often shoot in the field. For me, the rugged build quality is very important as well, after years of using only LaCie rugged drives, I am definitely considering replacing all my external drives with the CalDigit TUFF.
I have ordered one and plan on revisiting the performance of the CalDigit TUFF 2TB in six months time to see if it can still cut the proverbial mustard. Plus, CalDigit are apparently working on an SSD version, which I hope to get my hands on soon.
To learn more about the CalDigit Tuff head over to their official website here.
Order links:
Disclaimer: As an Amazon Associate partner and participant in B&H and Adorama Affiliate programmes, we earn a small comission from each purchase made through the affiliate links listed above at no additional cost to you.
Claim your copy of DAVINCI RESOLVE - SIMPLIFIED COURSE with 50% off! Get Instant Access!