DJI continues to expand its Osmo lineup with the introduction of the latest Osmo Mobile. Now even your kid can produce buttery smooth cinematic videos with ease. It was predictable in a way that DJI will roll out such a device sooner rather than later, and what a better way to deliver one by overhauling their beloved Osmo and add a smartphone mount on top. In fact, the company has been able to build various functionalities into the trigger control of the gimbal, allowing users to access different modes on their smartphone. For instance, with the Osmo Mobile you can now long press the trigger to isolate your movement entirely for even smoother video, tap twice to re-center the camera, or triple tap to start Selfie mode, etc. Simply snap on your phone and leave the Osmo Mobile to do the rest.
By utilising an optimized Bluetooth connection, the Osmo Mobile can detect your smart device and sync it up automatically and quickly if it has been paired before. Furthermore, users can control their phone camera directly with dedicated buttons for the shutter and record, as well as modify manual ISO, Shutter Speed, and White Balance settings. There is also a mobile joystick that allows you to set sensitivity, invert pan or tilt, or tweak the gimbal so that it can move in specific directions.
In conjunction with the DJI GO App, you can live stream videos and photos or share them instantly on social media. The app also brings a decent amount of other handy tools such as time-lapse, panorama, long exposure for still photos and more. The ActiveTrack technology built into the DJI GO app, on the other hand,  allows the Osmo Mobile to automatically follow moving objects and keep them continuously in the frame, whereas the SmoothTrack feature helps compensate for shaking and other small movements.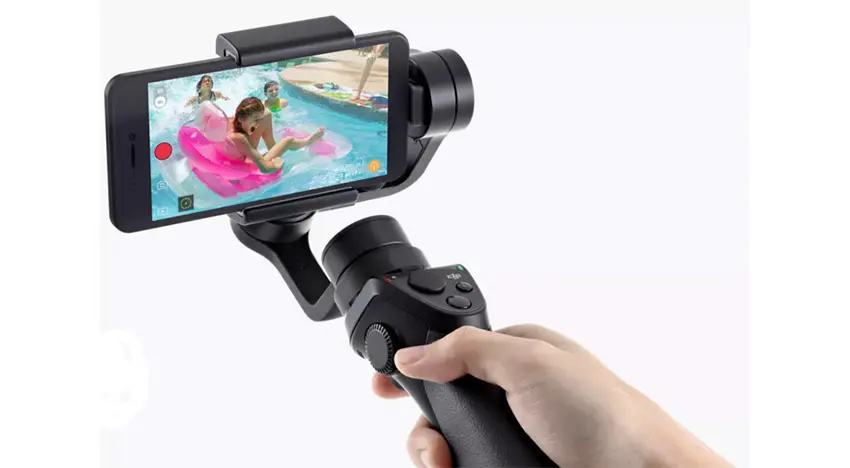 Beyond that, the latest Osmo Mobile gimbal features high capacity batteries that provide a maximum run time of 4.5 hours. Batteries can be quickly and effortlessly swapped out. Alternatively, an external battery extender can be utilised to keep the Osmo Mobile up and running for even longer periods of time. You can also use the dedicated USB charging port for both charging and firmware upgrades.
Ultimately, Osmo Mobile features the same high-quality materials and technologies found in the rest of the Osmo family. It is compatible with a broad range of smartphones with a width between 2.31″ (59mm) and 3.34″ (85mm). The Osmo Mobile is instantly available at the DJI Store selling for $299.
[source: DJI]
B&H Order Link:
DJI Osmo Mobile Gimbal Stabilizer for Smartphones
Claim your copy of DAVINCI RESOLVE - SIMPLIFIED COURSE with 50% off! Get Instant Access!