With the widespread adoption of 4K acquisition, there's a high demand for fast and reliable mobile storage solutions like never before. Unfortunately, the choice is still limited in a way, especially when it comes to well-built SSDs that support either of the latest generations of USB 3.1 interface. An obvious option in that regard is the Samsung T3 with USB 3.1 (Gen. 1) on board providing data transfer rates of up to 450MB/s. For some creative professionals, however, the Elite USB 3.0 Portable SSD from PNY Technologies is even more appealing alternative considering the reduced price and much smaller size it provides. So, which one of the two will fit your needs better? Let's try to find the answer in the video review of HardwareCanucks that puts both portable drives to the test.
Besides the slightly lower cost and smaller form factor compared to the Samsung counterpart, the PNY Elite SSD allows users to transfer files with almost identical read speeds of up to 430 MB/s and write speeds of up to 400 MB/s respectively.
In one of the benchmark tests of HardwareCanuchks, the PNY SSD even slightly outperformed the Samsung T3. With this type of performance, you can easily store your 4K ProRes files on the drive itself and edit them in real-time while using the full capacity of the available USB 3.0 ports on your workstation.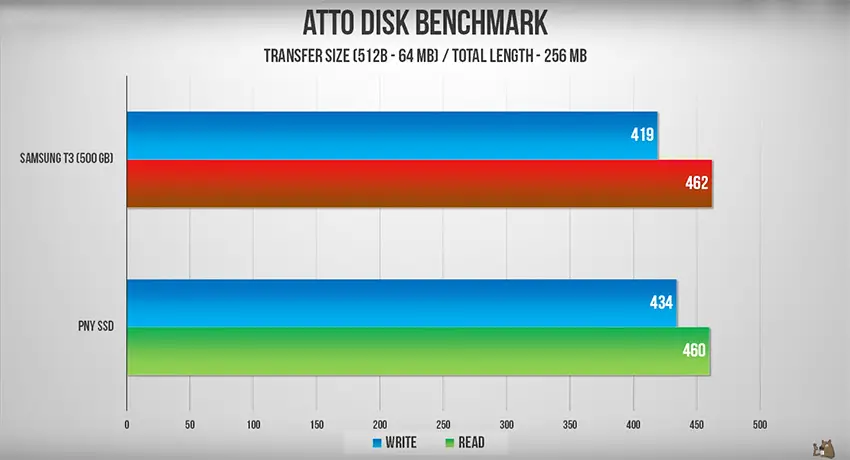 An apparent downside, however, is that the PNY SSD is currently limited to 240Gb and 480GB versions only. You may also experience a lower performance when transferring larger files onto the drive itself due to its SLC buffer limitations, so keep that in mind before you take the plunge.
Another small difference is the USB 3.0 Micro B 10-pin port on the PNY Elite SSD compared to the standard USB 3.1 Type-C interface on the Samsung T3. Since the actual transfer speeds that both protocols provide are virtually the same, it really comes to personal preferences which one of the two options will suit you better.
Rather than that, the ultra-portable PNY Elite SDD seems to be a feasible alternative to the Samsung T3 sibling especially when you consider the lower price, comparable transfer speeds, and of course, the three times smaller form factor. Currently, the PNY 240GB Elite USB 3.0 Portable SSD sells for $89.99 whereas the 480GB version will cost you $179.99 at B&H.
[source: HardwareCanucks]
B&H Order Links:
PNY Technologies 240GB Elite USB 3.0 Portable SSD
PNY Technologies 480GB Elite USB 3.0 Portable SSD
Samsung 250GB T3 Portable Solid State Drive
Samsung 500GB T3 Portable Solid State Drive
Claim your copy of DAVINCI RESOLVE - SIMPLIFIED COURSE with 50% off! Get Instant Access!